---
Welcome to my Council Page where I will try and post everything Official; Council links, agendas, official press releases, anything the Town releases or other information that might be important to residents of Ward 2 and the Town.
May 2
I am in Pembroke, Ontario for the Ontario Small Urban Municipalities Conference, the small urban municipal voice of the Province.
Delegates from Ontario Towns are discussing their latest initiatives; growing challenges; innovative solutions and ongoing changing landscapes of small, Urban Ontario. Pictured is Bob Kwapis asking a question of the Guest speaker.
In case you are wondering, Pembroke is on the Ottawa River about 90 minutes north west of Ottawa and is another Town experiencing spring flooding.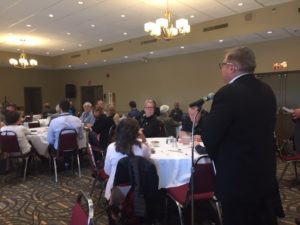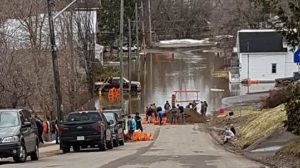 March 30
The Newmarket Annual Community Open House is on Wednesday, April 3 from 4 to 8 p.m. at the Municipal Offices, 395 Mulock Dr.
What does Newmarket have planned for 2019?
Learn about exciting projects and share your feedback on initiatives such as: Vision for Mulock property, job creation & economic development, development initiatives, Newmarket's Energy Efficiency Retrofit Program and Smart water meter program. Residents can also meet Newmarket's new Chief Administrative Officer, Jag Sharma. Light refreshments will be served. More info here.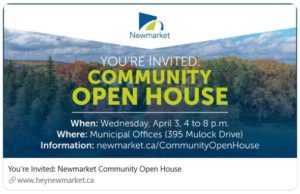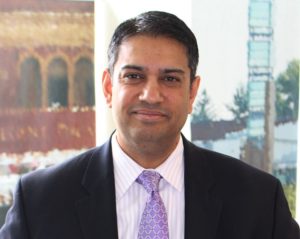 March 15
Newmarket announces new CAOJag Sharma has accepted the role as Chief Administrative Officer (CAO) for the Town of Newmarket after a thorough recruitment process. Mr. Sharma has been with the City of Oshawa since 2011 and will start his new role with the Town on April 1. The CAO reports directly to Council and oversees all departments within the municipality. The CAO is responsible for delivering on both Council's and the Town's strategic plans, priorities and overall development goals. The CAO is also responsible for implementing policies, budgets and appropriations and is accountable for managing the effectiveness of the Town's administration, including financial planning and management.
Your can meet and speak with Mr. Sharma at the Town's upcoming annual Community Open House eventon April 3, from 4 to 8 p.m. at the Municipal Offices (395 Mulock Drive).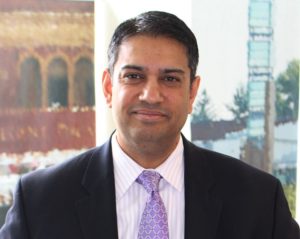 March 11
On March 8th, Mayor Taylor and business leaders celebrated with local Newmarket company, Completely Managed, with a ribbon cutting for the Official Launch of their new offering, LANAWARE. www.CompletelyManaged.com is an innovative high tech firm producing one of Canada's best manufacturing and tech sector eco-systems, engineering operational technology networks with best-practice design that mitigates cybersecurity vulnerabilities. A Cisco Industrial Partner offering 24/7 in- house managed network operations. It is wonderful to have this leading tech firm in Newmarket. Congratulations and we will watch for additional solutions in the future.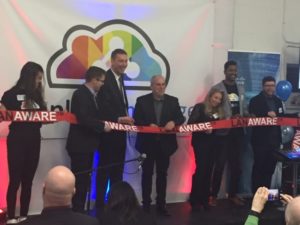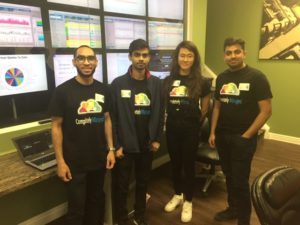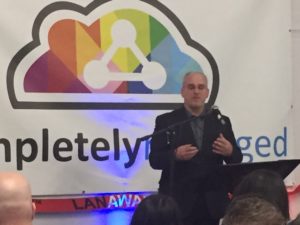 March 5
Town of Newmarket Council approved a 2.2 per cent tax increase, combined with 0.75 per cent for asset replacement for a total 2.95 per cent tax increase (Town portion) for the 2019 Operating and Capital Budgets for the Town of Newmarket. Based on an average property assessment value of approximately $607,000, residents will see an increase of $58 on the Town portion of their tax bill, a water/wastewater rate increase of $58 (5.10 per cent) and a stormwater rate increase of $4 (11.8 per cent).
"Council and staff worked hard to ensure this budget strikes the right balance between investing in our future, while keeping the tax level below the GTA average," says Mayor John Taylor. "Financial sustainability is one of Council's top Strategic Priorities, and we will continue to review operations for efficiencies, while ensuring Newmarket is poised for success in the short and long term."
Highlights from the 2019 budget include:
*   $2.4 million towards trails and active transportation
*   $1 million for replacement of bridges and culverts
*   $4.8 million for completion of CYFS Station 4-5
*   $6.6 million for road rehabilitation
*   $1.7 million for fleet replacement
*   $1.6 million for road resurfacing
*   $150,000 for Mulock Farm will be put into reserves for future use.The Town of Newmarket continues to take a responsible and sustainable approach to asset management, with an additional $440,000 for annual contributions to the tax supported Asset Replacement Fund (ARF). The ARF was created in 1998 to ensure appropriate funding is available to replace and repair the Town's $1 billion (replacement cost) worth of capital assets both now and long into the future.An extensive public engagement campaign for the 2019 Budget ran from August 2018 to March 2019, encouraging residents to Get Involved and provide their input on the process. Residents had the opportunity to play the "Put Your Money Where it Matters" Budget game online and at events including the Newmarket Farmers' Market, the Central York Fire Services Newmarket Open House and the Town's Princess and Superhero party. Residents were also encouraged to stream or attend all Budget Meetings and contact Members of Council or the Town with their ideas, comments or questions.
The total approved 2019 Operating Budget is $130.8 million and the Capital Budget is $27.7 million, with a combined total of $158.5 million.
For more information related to the 2019 Budget, visit newmarket.ca/2019budget

February 25
Erin Cerenzia of the Newmarket Historical Society attended the Committee of the Whole meeting and provided a wrap-up presentation of the WWI Trench display featured at the Old Town Hall during the last 3 years. Initially their Mission was to: Commemorate Newmarket's First World War Veterans and their sacrifice; to educate and engage residents of the Town of Newmarket; and to honour the great patriotism of our small town in the First World War.
This highly successful exhibit attracted 7000 visitors, including 2,000 students and received National News Coverage. The Interactive Trench Exhibit will now be housed at the Georgina Miltary Museum.  Many thanks to Erin and the Newmarket Historical Society for their great work in educating us and reminding us of Newmarket's and Canada's commitment to ensuring our freedom. Great work NHS.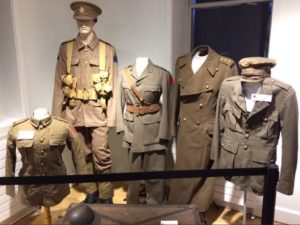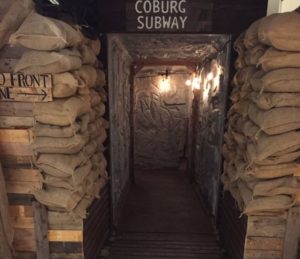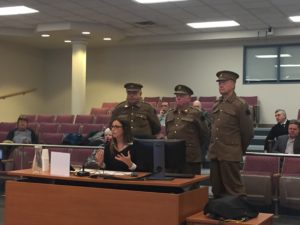 February 1
Council meetings are open to the public and held at the Municipal Offices, in the Council Chambers.  In addition, Council meetings are live streamed on the Agendas, Minutes and Meetings page.  Meetings are held on Monday, unless otherwise indicated and begin at 7:00 PM. Special Council meetings may be called from time to time and will be published on the Agendas, Minutes and Meetings page.
The remaining Council meeting dates for 2019 are: February 11, March 4, March 25, April 15, May 6, May 27, June 24, September 9,
September 30, October 21, November 11 and December 2
For more information on other Town of Newmarket Meetings, please visit the Town of Newmarket Council Meetings page.
January 29, 2019
In spite of a case for her broken ankle, Councillor Grace Simon was at Committee of the Whole this as afternoon. That's commitment.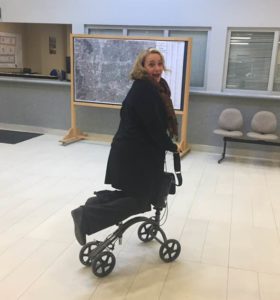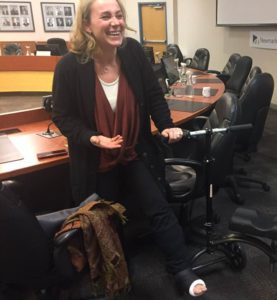 January 28, 2019
There is a Public Information night scheduled for Wednesday, February 6 from 7 PM to 9 PM at the Town Office, 395 Mulock Dr regarding the Mulock GO Station Area Secondary Plan. The Mulock GO Station proposed by the provincial government is to be located at the intersection of the railway line and Mulock Drive and the Secondary Plan includes the lands that surround the site. You can find out more on the Town site by clicking this link.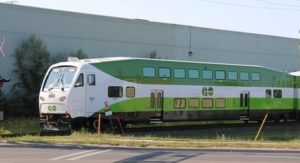 January 16, 2019
A recording of the January 15th, special Town Hall Cannabis meeting with all Members of Council that includes resident presentations is now available. The Meeting portion of the recording starts at about the 12 minute mark. A reminder that all public meetings of the Council are available via live streaming or you can watch a recording of it afterwards.
It's official, there will be no cannabis stores in Newmarket for the foreseeable future. Council ratified its decision to opt out of permitting retail outlets for recreational cannabis, voting 7-2 against the Staff recommendation of the opting-in of allowing cannabis stores in town.
January 7, 2019
Members of the Newmarket Town Council meet regularly at council and committee meetings throughout the year, as well as at special council meetings as needed.  There is a Town of Newmarket Committee of the Whole Meeting scheduled for January 14, 2019. Please click the link to review the agenda: Town of Newmarket_Agenda_Jan14_2019. Any questions or concerns, please get in touch.
December 21, 2018
I visited Prince Charles Public School to present a cheque for $200 from the Town in support of and their Student breakfast program. I know young students learn better when they are not hungry. Thanks Staff for all your work!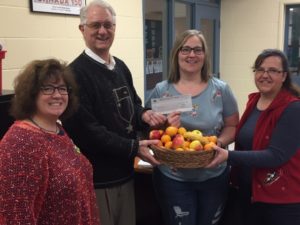 December 19, 2018
The Town has decided to start a new textile recycling program in January 2019 that will help support textile diversion in our community. The contract, awarded to Diabetes Canada, accepts all adult and children's clothing and footwear, including undergarments, towels, pillows, and curtains. Items are accepted in all conditions, including items that are worn, torn, or stained. Textile collection bins will be located at the Magna Centre, Ray Twinney Recreation Complex, and Community Centre and Lions Hall.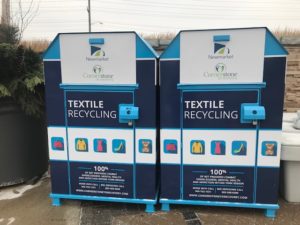 December 19, 2018
Many of the Town of Newmarket public Events and Programs occur because local businesses and individuals sponsor them. The Town sponsored a luncheon to thank them for their ongoing contributions. It is important that everyone know program attendance and involvement continues to increase as a result of these valued Sponsors. Yea Newmarket!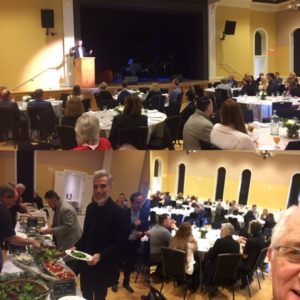 As part of the new Council orientation, we took an 18 stop, 3 hour bus tour. Stops included development areas, key facilities, the Mulock Estate plus our impressive Public Works facility just off Harry Walker Parkway. Lots of great properties and lots of opportunity as Newmarket continues to grow and grow-up.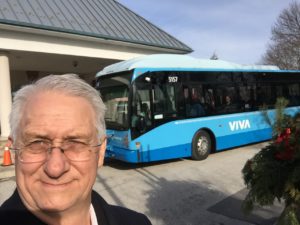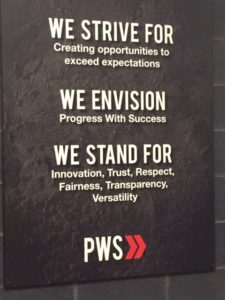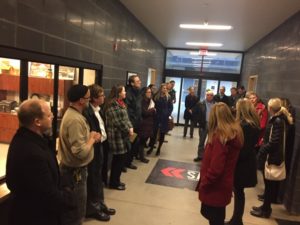 95% of residents surveyed are satisfied with Newmarket as a place to live. 2018 Community Survey even better than 2014 survey results.      See the full survey results here.