---
Welcome to my Council Page where I will try and post everything Official; Council links, agendas, official press releases, anything the Town releases or other information that might be important to residents of Ward 2 and the Town.
August 19, 2020
As most of us all know, due to the COVID-19 pandemic, all Council, Committee of the Whole, Board and Advisory Committee regular meeting schedules are being held electronically.
The Meeting of the Committee of the Whole is being streamed live August 24, 2020 starting at 1:00 PM directly from the Municipal Offices. The next regular Council Meeting will be next Monday, August 31, 2020 at 7:00 PM streamed live from the Municipal Offices. You can watch the meeting live here. The Agenda for every meeting is also available on that page. You can watch the meeting live here: https://bit.ly/31Z6chM. The Agenda for every meeting is also available on that same page. If you want to get involved, click here: https://bit.ly/3genyfy
August 12, 2020
Proposed Official Plan and Zoning By-Law Amendment
As your Ward 2 Councillor, I need to and want to inform you that the Town of Newmarket has received an application to develop the property at 849 Gorham Street. The developer shows 20 Townhomes and 2 single homes proposed for the property. As a Ward 2 resident and having lived in the area for many years, I believe this potential development may be of interest to you and your family as I know it is for mine.
Click this link to see the plan and Notice of Electronic Public Meeting taking place on August 31st.
It is important to remember that this is the start of the process for this development. This electronic meeting is only to hear concerns from residents about the proposal. Following that meeting, residents can still submit any written concerns by email, mail a letter to the Town Council through Canada Post or drop one off at the Town mailbox in front of Town Hall at 395 Mulock Drive.
Once Council and Staff have received input from residents, a report from Staff will indicate the next steps to be taken. Council will meet publicly and make decisions to either grant or deny the Official Plan Amendment and Zoning changes required to accommodate the Plan. Council Members will also provide input on all aspects of the site plan before a final decision is provided to the developer.
Residents will have opportunity to have your say about the site plan at a future public meeting. This may be done electronically or possibly in person, depending on where we are in the pandemic.
If you would like to be updated on the process and progress of the Plan, I highly recommend you send an email to planning@newmarket.ca and ask to be updated on 849 Gorham Street.  Click here to see the plan.
August 6, 2020
Attention Home Owners, this may affect you….
New single-lot residential construction Interim Control By-law Exemption Applications will be accepted until Aug 24, 2020.
Full details here: https://bit.ly/2XxKFeC  At the most recent Council Meeting, a cut-off date for those looking to apply for an exemption to the Interim Control By-law was established.
July 30, 2020
Newmarket Parks
If you haven't heard the good news yet, every Newmarket park and playground will have reopened by this coming Saturday, August 1st. There will be signage reminding parents and children of the COVID-19 pandemic safety protocols which remain in place; the need for social distancing, wearing a mask if you can't keep your distance, as well as using hand sanitizer before and after enjoying the playground equipment.
July 28, 2020
Earlier this summer I joked about there being two seasons, winter and construction….. and there is just a whirlwind of projects that have started or re-started recently! And I know some people have complained about the early construction start times. It seems that the Ontario Government amended its own noise-law regulations back in April, which overrules our Noise By-law allowing for construction to start at 6 AM on weekdays and at 8 AM on weekends. So yes, this time I get to blame the Provincial Government too! This law is in place until October 2021.
July 28, 2020
As many of us know, the Town of Newmarket continues its cautious reopening procedures with the health and safety of our community and staff in mind. We are slowly opening playgrounds, then some select facilities will be opened now through the fall. The Magna Centre will be the first facility to reopen starting with a COVID-19 protocol modified Fitness Centre along with one ice pad. We will be opening a few smaller playgrounds spread across each Ward.
Each week, we have activity ideas for kids and families. Get outside and see your friends & neighbours, following Public Health guidelines, of course. Staying indoors? We offer at-home family adventure night with easy, themed, DIY fun activities. Discover the fun at newmarket.ca/summerpopups.
If you would like more information or if you have questions, please call Customer Service: Monday to Thursday, 8 AM to 5 PM and Friday 8 AM to 4:30 PM at 905-895-5193 or via email: info@newmarket.ca

July 23, 2020
A few months back I wrote about the old Fire Hall on Main Street being available as part of a Request for Proposal (RFP) for a 10-year lease agreement for the adaptive re-use of the Old Fire Hall property.
Well, congratulations are in order to the Old Flame Brewing Co who will be a welcome addition to Newmarket's Main Street when they open their doors early next year. Located at 140 Main St at the corner of Main and Millard Ave, the Old Fire Hall is a unique 5,000 square foot property in downtown Newmarket with significant potential to enhance the vibrancy of Main Street and act as a catalyst for further development north on Main Street towards Davis Drive.
July 20, 2020
As mentioned previously, due to the COVID-19 pandemic, all Council, Committee of the Whole, Board and Advisory Committee regular meeting schedules are being held electronically.
The Meeting of the Committee of the Whole is being streamed live today, July 20th starting at 1:00 PM directly from the Municipal Offices. The Committee of Adjustment is being held July 22, at 9:30 AM via ZOOM video call. The next regular Council Meeting will be next Monday, July 27 at 1:00 PM streamed live from the Municipal Offices.
July 15, 2020
The Newmarket Library starts its limited re-opening July 28!
We are following the York Region Public Health's recommendations in order to keep our users and staff safe. All visitors will be required to:
– Wear a mask or a face covering.
– Sanitize their hands prior to entry.
– Follow physical distancing rules at all times.
We must ask visitors to wait in line outside as a maximum number of visitors inside the library will be in effect at all times.
Library services will initially be limited to:
– Picking up and checking out items on hold.
– Issuing and renewing library cards.
– Using public computer workstations for one hour only.
– Returning materials using the outside drop-off slots only.
Sorry, but no browsing of shelves or use of study or lounge furniture will be permitted.
Hours of operation will be:
Tuesday to Thursday 11 a.m. to 7 p.m. and Friday and Saturday 11 a.m. to 5 p.m.
July 14, 2020
Two important things happen effective this Friday, July 17, as of 12:01 a.m., 1) most of Ontario, excluding Newmarket and all of the GTA enters Stage 3 and 2) we must start wearing a mask in enclosed public spaces throughout York region as well as the GTA. Other places where mask wearing is mandatory: https://toronto.ctvnews.ca/a-list-of-where-masks-are-becomi…
In Stage 3, more restrictions will be loosened and many businesses and public spaces will reopen providing they follow public health advice and workplace safety guidance
necessary to keep everyone safe. Newmarket is still in Stage 2, but you can read about Stage 3 here: https://files.ontario.ca/mof-framework-reopening-province-s…
July 13, 2020
We may not have Kids summer Camps this year, but the Town is providing a variety of free and low cost options for family fun!
Pop Up Park Program – Kids on the Move – Age: 6-12. $5
This two-hour program features a variety of games, sports, arts and crafts and outdoor activities that are designed to allow participants to have fun while practicing physical distancing. Pre-registration required.
When: Mondays, Wednesdays and Thursdays from July 16 to August 28 from 10 a.m. to noon. Locations:
– Mondays: Paul Semple Park, 145 Savage Rd
– Wednesdays: Ken Sturgeon Park, 1035 Lockwood Circle
– Thursdays: George Richardson Park, 395 Bayview Pkwy
Cost: $5 per child per day. Register at www.play.newmarket.ca
Pop Up Bicycle Obstacle Course – Wheeling Through Summer. Ages: 6 to 12 years old. Cost: FREE
This drop-in cycling obstacle course is geared towards beginner and intermediate cyclists providing skills development and challenging riders to a variety of obstacles that will help improve balance, control, heads-up reaction riding and safety while having fun. The cycling course will take approximately 5-10 minutes to complete.
When: Tuesdays and Fridays beginning on Friday, July 17 until Friday, August 28 from 9 a.m. to 12 p.m. locations:
– In July, on Tuesdays and Fridays at the Magna Centre, 800 Mulock Dr., south parking lot.
– In August. on Tuesdays and Fridays at the Ray Twinney Recreation Complex, 100 Eagle St W., north west parking lot
No registration is required. Sign-in is required upon arrival to allow for contact tracing.
Family Scavenger Hunt – Seek and Search- FREE
Families are encouraged to join the Town for this weekly fun scavenger hunt that will take place in each of the seven wards in Newmarket. Come together to explore their neighbourhood. Wednesdays from 6:30 to 8:30 p.m. from July 15 to August 26. Ward locations:
– July 15 – Magna Centre, 800 Mulock Dr., south parking lot (Ward 1)
– July 22 – College Manor Park, College Manor Dr., (Ward 2)
– July 29 – George Richardson Park, at Leslie St. (Ward 3)
– August 5 – Marilyn Powell Park, 435 London Rd. (Ward 4)
– August 12 – Fairy Lake Park, Water St. (Ward 5)
– August 19 – Paul Semple Park, Savage Road (Ward 6)
– August 26 – Environmental Park, Woodspring Ave. (Ward 7)
Age: Suitable for families with kids of all ages. Cost: Free
Register: No registration is required. Sign-in is required upon arrival to allow for contact tracing.
DIY Thursday Adventure Day
Each Thursday, the Town will be updating its website 
http://www.newmarket.ca/summerpopups with new adventures and activities that you can do at home. Each weekly activity will be a new experience and families are encouraged to share their experiences on social media by using the #TONSummperPopUps.
When: Every Thursday from July 16 to August 27
Where: In the comfort of your own home
Moonlight Movies – Drive In Style
We will be scheduling three movies – one per week during the last two weeks of August and the first week of September. These movies will be held drive-in style and will be located at Ray Twinney Recreation Complex as we want to ensure we have appropriate space to accommodate.


July 8, 2020
40 Days of Summer Camper Kits
In response to the COVID-19 pandemic and to help fill the void of full-day summer camps for the 2020 season, the Town of Newmarket is introducing a "40 Days of Summer Camper Kit" offering parents a ready-to-go activity kit to help keep kids busy this summer within the safety of their home.
Each Camper kit includes 40 activities, supplies and directions to entertain and educate children's curious minds with a range of self-directed and hands-on learning experiences. Geared towards children 4 to 12 years old, each kit provides 10 activities in each of these areas:
Sports and Physical Activity
Arts and Crafts
Games and Adventures
STEM (Science, Technology, Engineering and Mathematics)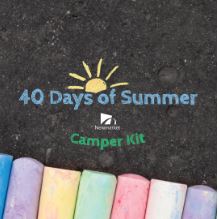 July 7, 2020
The Town has opened the Magna Centre at 800 Mulock Dr as a temporary cooling facility to assist those who need to escape the heat. The cooling area is in the East Lobby & will remain open as long as the York Region Heat Warning is in effect. Hours of operation are 11 am to 4:30 pm. The rest of the building will be closed to the public.
Please follow public health guidelines by practicing proper hand hygiene and physical distancing when using the facility.
Residents will be screened by staff when they arrive and asked to sanitize their hands and wear a mask / face covering before entering. Disposable masks will be provided for those who do not have their own.  read all the details here: https://bit.ly/3e38UH2


June 17, 2020
The Town of Newmarket will be unveiling a Land Acknowledgement plaque in recognition of National Indigenous Peoples Day. This Land Acknowledgement and plaque will be unveiled to the Chippewas of Georgina Island First Nation.
"This Indigenous Land Acknowledgement plaque may be the first to be permanently erected on a Town or City Hall in Ontario and we are proud as a Council to be taking this step" said Mayor Taylor.
Due to COVID-19 emergency orders, this event taking place at the Municipal Offices, 395 Mulock Dr., will be streamed live this Friday, June 19 at 11 AM on the the Town's Facebook account: www.Facebook.com/TownofNewmarket.
The agenda includes:
Smudging Ceremony by Hayley Williamson
Drumming Ceremony by Hayley Williamson
Remarks by Mayor John Taylor
Remarks by Chief Donna BigCanoe, Chippewas of Georgina Island First Nation
Plaque Unveiling
Closing remarks by Mayor John Taylor
Physically distanced photo opportunity
You can read more here: https://bit.ly/3fBVuTo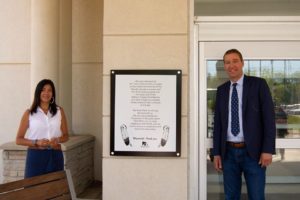 June 15, 2020
If you are business owner you may be interested in the Newmarket Mentorship Access Program.
This is a platform created by the Town of Newmarket allowing businesses to connect with potential mentors to receive support during COVID-19. Mentors are volunteers with extensive experience in business, whether as executives at international brands or seasoned business owners themselves.
If you are a business seeking mentorship, please connect with the Newmarket Business Assistance Concierge here: https://bit.ly/30DeNYv.
Those wishing to participate in the program as mentors should visit: https://app.tieit.io/content/page/496/newmarketmentors.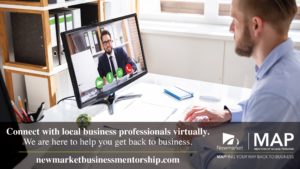 June 11, 2020
Here's a few highlights from the June 8th Special Council Meeting:
– Newmarket-Tay Power is working with customers to help manage the financial impacts of COVID-19 including mitigating interest, applying deposits to help manage payments and making payment arrangements to help customers get through these unprecedented times.
– Since 2018, the Town has worked with Newmarket Hydro Holdings to launch Envi, a community-owned ultra-high speed broadband network delivering service to municipalities, hospitals and the business sector in Newmarket and they now have over 100 customers in the community.
– The town is helping restaurants respond to COVID-19 challenges by:
waiving patio licensing fees for 2020
offering more flexibility in hours of operation and the encroachment on town lands
set up and tear down of pedestrian zones that directly involve the use of Town property be funded by the Town for the 2020 season
– The Main St. parking restrictions of a 30-minute maximum parking limit to accommodate curbside pickup and delivery has been extended to September 21.
See full details here:


June 10, 2020
Curbside pick-up at the Library is worth the wait!
If you have been contacted regarding an item available for you, you can pick it up any Wednesday or Saturday, including today June 10, from 9:30 to 5. The following are the steps required to take advantage of the service:
Go to www.newmarketpl.ca, select an item from the library's catalogue and place it on hold. .
If you need assistance related to curbside pickup, or don't have specific items in mind, contact the library and leave a message at 905-953-5110, text 905-769-0433 or e-mail npl@newmarketpl.ca.
On pickup service days staff will be at the library to answer calls in person. After placing a hold, you will receive an email or phone call letting you know that your items are ready for pickup.
Visit the library on curbside pickup service days, line up where indicated to maintain social distancing of 2 metres, and wait to be called to the door.
When it's your turn, present your library card and staff will retrieve your items and leave them for you at a safe distance.
It's important to remember that curbside pickup service is only for items already placed on hold. To avoid disappointment, the library is asking people not line up and request items at the door. Due to safety concerns, only a small number of staff will be present and they will only have time to process on hold items.
June 8, 2020
As part of the Town's Active Transportation Plan, new bicycle lanes will be constructed this summer/fall. For 2020 in Ward 2, bicycle lanes will be installed on Alexander Road, north of Srigley St and elsewhere in Town, on London Rd, and on Bonshaw Avenue, west of Woodspring Ave. Normally, the line painting for bicycle lanes would be completed during summer months but, because of the COVID-19 pandemic, the scheduling could be delayed into the fall.
Back on Feb 27th, the Town held a Public Information Centre highlighting the 2020 plans and affected residents received a direct-mail invitation to attend. All the picture boards that were presented that day can be found here.  There are many benefits to bike lanes including reducing vehicle speeds, promoting active transportation, greenhouse gas reduction and better cycling connectivity throughout the Town which is a Council and community priority.
The Town's Parking By-Law still allows delivery vehicles, taxis and other vehicles to stop momentarily in the bike lanes to access your home for pick-ups and drop-offs. Additional parking has been identified in your neighbourhood, within 100 metres of the road, see the map below, or click here to see an expandable .pdf document.

June 4, 2020
The Construction Crews are back at it and hard at work at the 2 construction sites in Ward 2. The little boy in me could watch for hours!! This commercial development at the corner of Harry Walker and Davis Dr is in full swing again. Rumor has it there may be some personal services like a salon, pet care, fitness, and maybe even some health care specialists. The second site, the one behind No Frills is all closed in with crews finishing inside and out.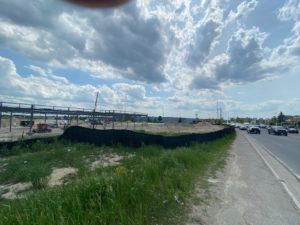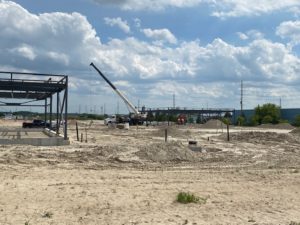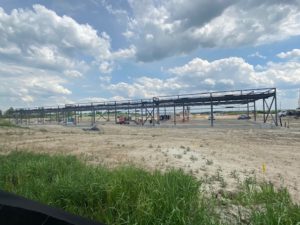 June 4, 2020
Great news: Newmarket is gradually re-opening more outdoor recreational amenities to the public.
By June 5, the Town will add all sports fields and ball diamonds to its list of open outdoor recreation amenities which currently includes:
All trails and open spaces
Boardwalk along the Tom Taylor Trail (one-way traffic only)
All tennis courts
All pickleball courts
Newmarket Dog Park
Sports Fields (open by June 5)
Artificial Turf Field at Dr. Denison Secondary School will remain closed (York Region District School Board)
Ball Diamonds (open by June 5)
Whipper Watson Diamond and Fairgrounds Diamond will remain closed as these two diamonds are normally reserved for permit holders only. The Town is not issuing any permits at this time.
Please note that open amenities are for recreational use only. The Town is currently not issuing any permits to use these amenities. Organized sports, league play or any type of game play is not allowed.
Please remember to stay at least 6ft / 2m away from people outside of your immediate household and to follow COVID-19 orders around social gatherings of no more than 5 people.
Please see all the details here.


May 26, 2020
The Town released a special Mulock Farm video showcasing the wide range of ideas and inspiration we received from the community during the extensive public consultation. Over 3,000 residents shared their input and vision for the Mulock Property and if you watch the video, you'l get a little taste of what's to come. Click here to watch the video.
Or visit www.heynewmarket.ca/mulock-property to read the complete Engagement report & stay in-the-know.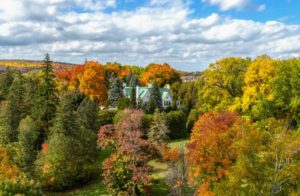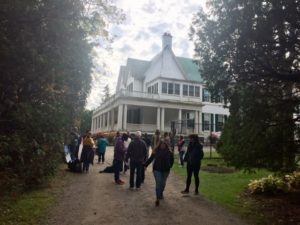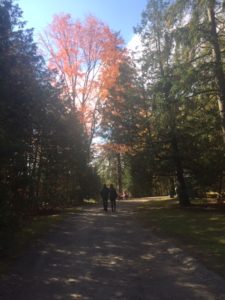 May 25, 2020
Attention College Manor & Bogart Pond area residents. Be prepared for Forcemain Twinning Bypass Work & Pumping Station Shutdowns. The first shutdown is planned for 8 hours from Wed., May 27 starting at 11 PM to 7 AM the following morning. Two more shutdowns will be scheduled at a later date.
During the overnight shutdown, wastewater will be loaded from Bogart PS and hauled to an unloading station. A temporary pipe will be routed through College Manor Park, see map. Pumps would move wastewater south through College Manor Park via the temporary pipe into tanker trucks. Wastewater will be loaded into tanker trucks on the south frontage of College Manor Park using a temporary trailer‐mounted overhead loading arm. The park will be restored to pre‐existing condition when the shutdowns are completed. You can read the complete information here. YORK-#10839517-v3-FAQs_for_the_Town_of_Newmarket
May 14, 2020
A reminder that a Special Council Meeting will be streamed live online at newmarket.ca/meetings starting on Tuesday, May 19 at 2 PM.
Individuals who wish to make a live deputation, through video conferencing or phone call, in relation to an item on the agenda will need to notify clerks@newmarket.ca by 12 p.m. tomorrow, Friday, May 15.
Individuals who wish to submit comments in relation to an item listed on the agenda may submit their feedback in writing to clerks@newmarket.ca. All comments must be received no later than 2 hours prior to the start of the meeting. All written comments will be read aloud by the Mayor during the meeting and will form part of the public record.


May 11, 2020
Over the weekend, the Town of Newmarket amended the parking restrictions on Main Street by imposing a thirty (30) minute maximum parking limit to facilitate curbside pickup or delivery. The 30 minute maximum parking restriction applies to the east and west side of Main Street from Water Street to Davis Drive, where there was previously a two hour limit. Ordering online and requesting curb pickup may help some great local merchants weather this Covid storm a bit better.
As COVID-19 restrictions are loosened, retail stores with a street entrance can begin to provide curbside pickup and delivery starting today, May 11.
"We're fortunate to have such great shops and restaurants right here on our Historic Main Street," says Mayor Taylor. "But today, they operate in a unique environment. The 30 minute parking limit will support their curbside business opportunity and help our downtown through a very difficult time. We'll continue to do all we can to make it easier for our community to safely support its local businesses."
May 8, 2020
As the Municipal Offices are closed, a Special Council Meeting on Tuesday, May 19 at 2 PM will be streamed online at newmarket.ca/meetings. The agenda will appear online today. Individuals who wish to make a live deputation, through video conferencing or phone call, in relation to an item on the agenda will need to notify clerks@newmarket.ca by 12 p.m. on Friday, May 15, 2020.
Individuals who wish to submit comments in relation to an item listed on the agenda, may submit their feedback in writing to clerks@newmarket.ca. All comments must be received no later than 2 hours prior to the start of the meeting. All written comments will be read aloud by the Mayor during the meeting, and will form part of the public record.


May 7, 2020
The latest CANCELLATION updates from the Town regarding Spring & Summer activities.
The state of emergency has been extended by the Province of Ontario and the Town of Newmarket continues to focus on essential work in an effort to protect the health and safety of our staff and community.
Spring:
All facilities and buildings in the Town of Newmarket remain closed until further notice, and all spring recreation and culture programs remain cancelled.
Summer Camps & Programs
The Town will make a final decision on operating its Camps and Summer Programs prior to May 20. If Summer Programs are operational, registration will start on May 20 for residents and May 27 for non-residents. Summer Guide information is available online at newmarket.ca/activityguide

May 4, 2020
Attention Devanjan Circle, College Manor area Residents.
We wanted to provide notice of some urgent storm water pond restoration work staring today. It is deemed essential work and appropriate work procedures will be adhered to respecting COVID-19 policies.
Water has been accumulating to higher levels than normal in the Pond and we need to complete repairs to the outlet structure to ensure that the pond can once again drain as required. The scope of the works includes, but is not limited to:
• Draining of the pond
• Removal of sediment and debris from the outlet structure
• Repairs to the outlet structure
April 29, 2020Here are a few things from Special Town Council Meeting held on April 27. You can read the details here.
~ Newmarket Council approved a Financial Relief Program to assist residents and businesses during the COVID-19. All about payments, penalties and interest charges.
~ The Emergency Measures By-law was enacted allowing By-law Officers to enforce physical distancing, allow essential business to operate and to issue fines and collect penalties.
Officers will always take an education-first approach.
~ Newmarket has been extremely responsive to the changing COVID-19 landscape. You can always find the latest updates and important links here. 
April 28, 2020
Due to Covid-19 issues, Public Works is currently focused on servicing only specific areas. The Town sweeper has completed the bike lanes as this is a priority. The sweeper will next work on hot spots, low lying areas and streets that have historically seen more debris and are prone to ponding & flooding issues.
It is important to know that the Town does not apply sand during its winter operations. This ensures a safer and cleaner roadway, particularly compared to other municipalities. Public Works strives to ensure streets remain safe and in the best condition possible, given the pandemic and limited resources. Thank you to everyone for your patience & understanding during these unprecedented times.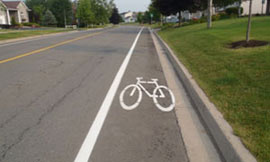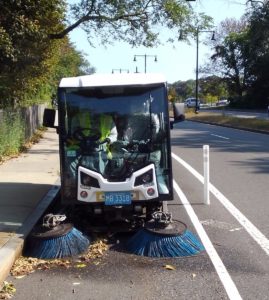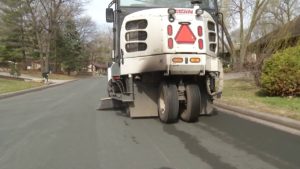 April 27, 2020
Newmarket Bylaws News & Other Things
Dog off-leash bylaw is being enforced because an off-leash dog may be a risk to physical distancing as it brings people together. When a dog is off leash, it may approach another dog on-leash or even other people out for walks. The owner is then forced to approach the other person to retrieve their dog, causing an interaction with the other person/dog and inability to maintain physical distancing of at least 6 feet apart, creating weariness for contact.
April 21, 2020
The Town of Newmarket along with the Newmarket Chamber of Commerce are collaborating to help local business respond to COVID-19. The Newmarket Business Assistance Concierge (BAC) program is a virtual business support service to provide immediate and long-term support for the local business community and the economy.
Led by the Town's Economic Development department, the team will use their collective knowledge to support local businesses and share their stories with Newmarket Council and the Chamber of Commerce to continue to shape the Economic Resiliency Action Plan. Businesses who participate in the program will continue to be actively supported even after physical distancing measures are loosened.
April 17, 2020
Re-opening of York Regional Forest
Walking in the York Region Forest tracts is one of my absolute favourite things to do. The fresh air, the quiet, the change of scenery, beauty of the different trees and exercise it provides are my main reasons for loving it. And I miss it. The pictures here were taken just a couple of days before the Region closed the Forests to the public for our own safety. This tract is the Davis Drive tract. Just a few kilometres outside Newmarket are other tracts including the North tract with over 700 acres to enjoy and Bender and Graves tract offering over 200 acres of nature.
The Regional Municipality of York's primary concern is for safety of visitors. If we all follow the rules of social distancing just like we do when we go to the grocery store or for a walk near our homes, the Forest tracts should remain open for us all to enjoy. The Regional Municipality of York has re-opened the York Regional Forests and has issued these statements.
• In our continued response to the COVID-19 pandemic, the number one priority for The Regional Municipality of York continues to be the health and well-being of our residents, businesses and staff.
• Our residents are responding well to messages from York Region Public Health on the importance of physical distancing and the role it plays in reducing the transmission of COVID-19 across our communities.• With our collective efforts to help flatten the curve working, York Region is in the process of re-opening public access to the York Regional Forest by this weekend, with stricter guidelines for all users.
• With measures that include maintaining physical distancing in both the forest and within parking facilities, and ensuring dogs are leashed at all times, the Regional Forest will re-open for residents to enjoy the much-needed benefits our public tracts provide.
April 17, 2020
A reminder for those of you who are interested, our next Newmarket Town Council Meeting is being streamed live online here as the Municipal Offices is closed to the public. The agenda for this meeting will be available online April 24. Individuals who wish to submit comments in relation to an item listed on the agenda, may submit their feedback in writing to clerks@newmarket.ca. All comments must be received no later than 2 hours prior to the start of the meeting. All written comments will be read aloud by the Mayor during the meeting, and will form part of the public record.


April 13, 2020
Is yard waste pick-up still happening? What's the garbage bag limit during COVID19? Can I still dispose large items? How do I replace a broken blue/green bin? All of your Newmarket Waste and Recycle questions are answered on our website! Check the FAQ section.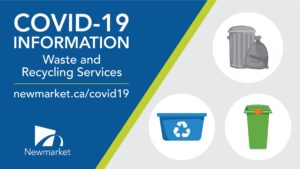 April 6, 2020



Newmarket will start to issue fines for social gatherings during the COVID-19 Pandemic. The Province of Ontario granted Municipal Bylaw Enforcement Officers the ability to issue fines under the Emergency Management and Civil Protection Act in an effort to limit the spread of COVID-19.
The Town of Newmarket will issue fines to individuals who fail to comply with the following emergency orders:
* Social gatherings of more than five (5) people
* Trespassing outdoor recreational areas that are closed to the public, like playgrounds, tennis courts, basketball courts, baseball diamonds, sport fields and baseball diamonds etc.
* Closure of non-essential businesses
* Price gouging on necessary goods such as disinfectant products.
Newmarket's Municipal Bylaw Enforcement Officers will be deployed to ensure the community complies with these emergency orders.
Failure to comply with an Emergency Order carries a starting fine of $750 or could carry punishment of up to one-year imprisonment or a fine of up to $100,000 for an individual.
April 4, 2020
A message from Central York Professional Firefighters Association
In the event you need to call 9-1-1 for Emergency Services (in particular, a Medical Emergency) PLEASE follow these guidelines:
-Do not approach Emergency Services until they have their PPE donned and can assess the scene and Patients. (For the large part, let us come to you)
-If able, please meet us at the front door or outside
-We ask family/ bystanders to keep a minimum of 2M between both us and our patient (unless otherwise directed)
-If you have been directed to wear a mask, please ensure it covers your nose and mouth and is worn continuously.
Thank you for your continued support and cooperation. We will get through this together. Isolate, sanitize & stay positive.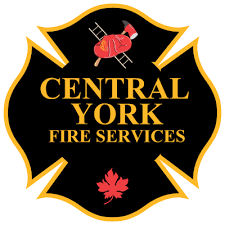 Fitness Centre Membership
All Fitness Centre Memberships were placed on hold as of March 13, 2020. Membership fees are not being charged for the duration of the closure of the Magna Centre. Email questions about your membership to fitness@newmarket.ca 
Stay home and stay safe.
March 29, 2020
Newmarket essential services for residents during COVID-19 to ensure our staff and residents remain safe and our critical services and infrastructure are maintained. In an effort to maintain social distancing, staff members will continue to provide services online and by telephone, while working from home. Staff that work out of facilities and in the public will work in smaller teams and on shifts.
March 24, 2020
COVID 19 – Information Resources for you and to share.
The Town of Newmarket's website has a dedicated web page where we continue to add the most recent information on https://www.newmarket.ca/covid19
This page includes the following helpful information:
COVID-19 self assessment
https://covid-19.ontario.ca/self-assessment/#q0
March 20, 2020
Newmarket closes all playgrounds.
In an effort to limit the spread of COVID-19, all playgrounds and outdoor parks with fitness equipment within the Town of Newmarket will be closed until further notice.
Signage indicating this closure will be posted at all playgrounds and parks. The public is reminded to please refrain from using playground and/or fitness equipment to help break the chain of transmission of COVID-19. Larger playgrounds will be fenced off from the public.
March 17, 2020
Newmarket Council to hold Emergency Council meeting
Council will meet Wed. March 18 for a Special Meeting to discuss property tax deferral (2 PM) and matters related to the changing COVID-19 landscape, (3 PM).
The draft agenda for this meeting is available at newmarket.ca/meetings. As the Municipal Offices are now closed to the public, residents may watch the meeting live online at newmarket.ca/meetings. The video link is available 15 minutes before the meeting start time.
Residents who wish to submit comments, which will form part of the public record, may write to the Town Clerk at clerks@newmarket.ca
March 16, 2020
Mackenzie Health and Southlake Regional Health Centre have both opened its own COVID-19 assessment centre. Markham-Stouffville Hospital will open on Wednesday. The centres are located in or adjacent to each of the respective hospitals.
Each York Region hospital will manage their assessment centre based on their operational capacity. Ensure to check your local hospital's website for specific hours of operation and procedures:
• Mackenzie Health: https://www.mackenziehealth.ca/…/get-the-latest-information…
• Markham-Stouffville Hospital: https://www.msh.on.ca/about-us/covid-19-information-page
• Southlake Regional Health Centre: https://southlake.ca/news/coronavirus-2019-ncov/
Not all people who attend a COVID-19 assessment centre will be tested for COVID-19.
For more information about COVID-19 visit York.ca/covid19
March 16, 2020
Following the closure of Newmarket Recreation and Culture facilities, the Town is closing its Municipal Offices, 395 Mulock Dr, Robert N. Shelton Operations Centre, 1275 Maple Hill Court and all Central York Fire Service Offices to the public as of 5 pm Monday, March 16. This closure will be in effect until further notice. The Town will continue, where possible, to provide services to residents by email info@newmarket.ca or by phone 905-895-5193.
These measures have been taken in support of the Province of Ontario's direction to facilitate social distancing to protect staff and residents from the spread of COVID-19. Read the full press release here:


March 13, 2020
COVID-19 – facility closures & program cancellations
With an abundance of caution, the Town of Newmarket is closing all recreation and culture facilities and cancelling its programs, drop-in activities and March Break camps effective midnight, Friday, March 13 until Sunday, April 5. Facilities and programming will resume on Monday, April 6, pending further developments.
Cancelled Recreation & Culture facilities & programs:
Ray Twinney Recreation Complex, 100 Eagle St. West
Magna Centre, 800 Mulock Drive
NewRoads Performing Arts Centre / Newmarket Theatre, 505 Pickering Crescent
Newmarket Seniors' Meeting Place, 474 Davis Dr
Newmarket Youth Centre & Sk8 Park, 56 Charles St)
Hollingsworth Arena, 35 Patterson St
Old Town Hall, 460 Botsford St
Elman W. Campbell Museum, 134 Main St South
Newmarket's Community Centre & Lions Hall, 200 Doug Duncan Drive
Newmarket Public Library, 438 Park Ave
Those enrolled in the March Break camps and registered programs will receive a credit. This cancellation also impacts outside organizations with bookings at Town facilities. The Town is in the process of notifying organizations directly. Read the full press release here:


February 7, 2020
On Friday, Jill Dunlop Associate Minister of Children and Women's Issues announced an investment of $133,000 for safety improvements at the supportive housing service on Gorham St. in Newmarket. Joining Minister Dunlop was local MPP and Deputy Minister Christine Elliott along with Michael Braithwaite of Blue Door. "Helping our community partners maintain and upgrade their buildings just makes sense. We want to make sure their buildings are safe for years to come," said Elliott. The funding totalling $334,000 will be distributed between Yellow Brick House, Blue Door and Community Living. Blue Door is located in Ward 2, Newmarket.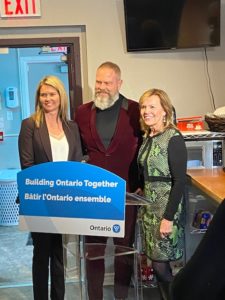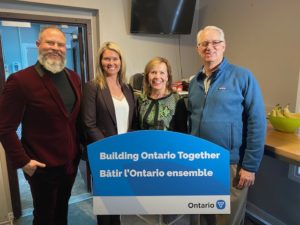 February 6, 2020
All the tables were filled at the Old Town Hall last evening as residents came to work through a visioning exercise for the Mulock Estate. The evening was lead by the consultants hired to bring the property to life. The Mayor and Council came but the stars of the evening were the residents who showed up and participated in the process as the open house was designed to hear from those of us who will use and enjoy the old Mulock "Farm" now and for the generations to follow.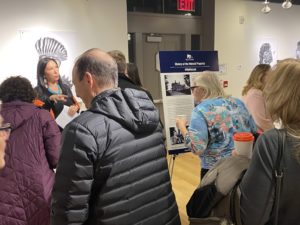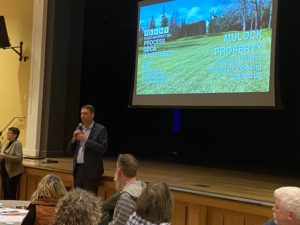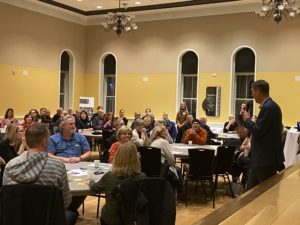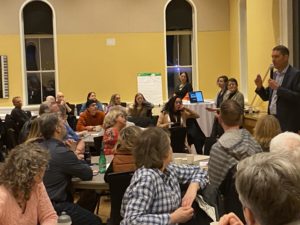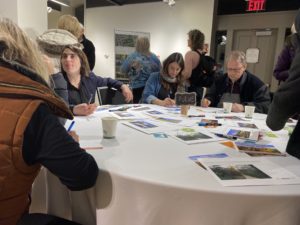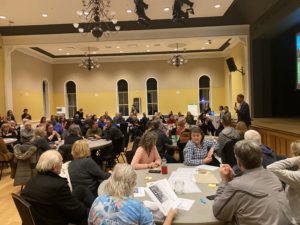 January 29, 2020
Mulock Estate Property
I am working with other Town Representatives along with our consultants on a workshop/workforce to educate and engage with the community on this landmark property. Our objectives are to collect feedback on the "Community" vision for the site, to better understand any concerns/considerations and continue to generate excitement and community support.
There are a number of community engagement opportunities in the near future including a Community Open House Workshop on February 5th from 6:30 to 7 pm followed by a facilitated workshop until 9 pm at the Old Town Hall, 460 Botsford Street. Please join us on February 5th, or at other opportunities you can read about here: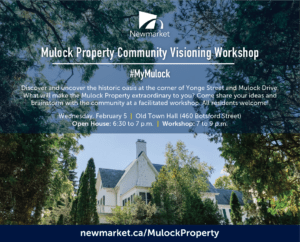 January 27, 2020
The Intelligent Community Forum, see ICF below, has ranked Newmarket as a 2020 "Top21 Intelligent Community". This is a world wide annual competition and we have now submitted our application for the Top7, the next round of this process, which then leads to the ICF Intelligent Community of the Year announcement in June.
The ICF released another list; the Top30 Sustainable Communities and summarized Newmarket's strengths in this area, and the reason for being included on this latest list. Sustainability is considered a success factor because it offers multiple benefits to the economic, social and cultural life of communities. Quality of life in a community is tied to the environment within the community, from air quality to water pollution.
ICF…….The Intelligent Community Forum is a global network and "think tank". It connects hundreds of cities and regions on five continents for collaboration on economic development and expertise that drives progress. Through this network, ICF researches how Intelligent Communities use information and communications technology to build inclusive prosperity, solve social problems and enrich their quality of life in our connected century. You can read the complete list here: http://bit.ly/38G5tDV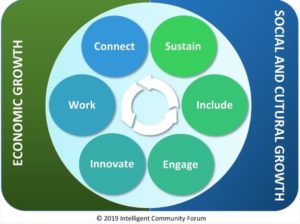 January 22, 2020
Animal Control & Licensing
Nnewmarket is exploring changes to its animal control by-law and the introduction of licensing pet stores.  The Town wants to hear from residents and stakeholders in an open forum on Thursday, January 23 from 6:30 to 8:30 PM at the Municipal Offices, 395 Mulock Drive in the Council Chambers.
On January 1, the Provincial Animal Welfare services (PAWS) Act came into force, creating the first fully provincial government-based animal welfare enforcement system in Canada. The introduction of pet store licensing would establish regulations surrounding the sale of pets, the ethical sourcing of pets for sale and how permitted retailers can treat the animals they sell.
Please get involved and have your say at a Public Information Centre drop-in event. Speak with staff and community partners about our current animal services program as well as proposed changes. Following the event, an online survey will be available here.


January 17, 2020
I would like to share with everyone a highlight of how the Town has an ongoing desire to be innovative as well as look for opportunities at environmental impacts and cost savings. The Town ran a pilot program using a treated salt compound as the primary de-icing material for winter maintenance in the 2017/18 winter season using Thawrox versus a salt/salt mixture.
As a result of the testing done by Public Works Services….
• Less fuel used for winter maintenance equipment
• Less time was needed for street sweepers to clean the streets in the spring and for catch basin cleaning, due to less sand on the road
• Smaller amounts of harmful storm water run-off going into our storm water ponds, wetlands, lakes and streams, which in turn promotes fish reproduction and the health of benthic invertebrate populations (bugs in the water).
• Overall cost savings to the Town and taxpayers, and
• The Town of Newmarket was awarded a Healthy Water Award at the 2019 Lake Simcoe Region Conservation Awards.
You can read the full report here: Public Works Report.


January 16, 2020
Starting January 15, there is a new parking ticket resolution under the new Administrative Monetary Penalty System (AMPS)
Newmarket residents and visitors have a new way to pay for or to dispute parking tickets, which replaces the current provincial court dispute system. AMPS is more cost effective allowing for the Town to resolve parking ticket escalations much faster and rewards motorists who pay early. "AMPS allows us to do more with less, while enforcing our roadways to protect our community" says Newmarket Mayor John Taylor.
The new parking enforcement system provides residents with an "early payment" option which offers a 25 per cent discount for paying within 15 days. After an individual receives a ticket, they have 15 days to dispute their ticket. Individuals can go online to the self-serve parking portal to pay or request to dispute their ticket. Motorists may also pay or request to dispute at a Town Customer Service desk. For more info, please visit here.


January 10, 2020
Attention Entrepreneurs!
The Town of Newmarket has issued a Request for Proposal (RFP) for the adaptive re-use of the Old Fire Hall property, 140 Main Street, at Millard Avenue. The Town hopes to secure a long-term lease for the property for commercial use that is consistent with the Town's vision and plans for the continued development of Main Street and downtown Newmarket.
"The Old Fire Hall presents a very unique opportunity to continue to build on the momentum of our award-winning Main Street," says Newmarket Mayor John Taylor. The Old Fire Hall is a unique 5,000 sq ft property in downtown with significant potential to enhance the vibrancy of Main Street!
Proposals will be accepted until February 12 at newmarket.bidsandtenders.ca For more information, please contact the Town of Newmarket's procurement department at 905-895-5193. More details: http://bit.ly/2R7WeFz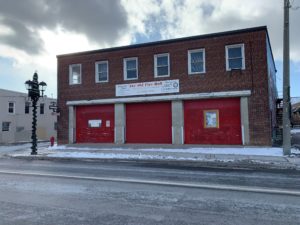 January 9, 2020
Flags are flying at half-mast at all Town of Newmarket facilities in honour and in memory of the 63 Canadians and all others whose lives were tragically cut short when Ukraine International Airlines Flight PS752 crashed en route from Tehran, Iran to Kyiv, Ukraine.
"On behalf of the Town of Newmarket, I offer my deepest condolences to those who have lost family, friends, and loved ones in this tragedy" says Mayor John Taylor. I want our Iranian community to know that your Town and your friends are standing beside you in sympathy. The Iranian community must feel a loss and an impact that many of us can only imagine. As the days and weeks unfold, please know that your neighbours, your colleagues and your friends are all thinking about you and are ready to support you."
Flags will fly at half-mast until further notice. Photo by Debora Kelly/NewmarketToday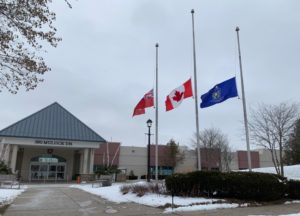 December 17, 2019
Newmarket is one of 39 municipalities that received a grant from the Ontario Audit & Accountability Fund to conduct a review of our Administrative and Service Delivery.
As a result, Newmarket launched its REV it up (REVenue, Efficiencies & Value Add) campaign. The goal was to find ways to improve operational efficiencies and effectiveness thereby improving services to families and businesses while enabling the Town to better support its community and staff members.
This three-month campaign helped the Town realize 150+ improvement opportunities, approximately $1.9 to $2.6 million in direct cost savings over seven years and identified initiatives that will save money and found $300,000 to $350,000 in new revenues without any job loss or reduction of service levels for our residents.
We are always looking for ways to make the Town of Newmarket even better and the findings of this campaign demonstrate the Town's commitment to long-term sustainability and a responsible use of taxpayer dollars. You can read more here.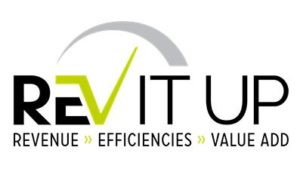 December 14, 2019
About two weeks ago, I posted that the Town of Newmarket is moving to regulate the booming in town short-term rental industry, the Airbnb-type lodging. On December 10th at the Town Office, about 2 dozen local homeowners took part in a public meeting to discuss the subject and learn about the Town's intention of creating policies and regulations to deal with the challenges of this new industry.
Newmarket Today has a good article about the meeting which you can read here.
Residents can complete an online survey up to Jan 3, 2020, here.
December 12, 2019
Crisis Counselling
As many of you know, I sit on the Newmarket Public Library Board and the Library has partnered with York Support Services Network to offer residents an opportunity to speak with a professional crisis worker on two Wednesdays each month from 1 to 4 p.m. Residents experiencing any type of mental health issue can "walk-in" to the Library and have a private conversation with a crisis worker on these dates Dec. 18, and Jan. 8, at the Newmarket Public Library, 438 Park Ave.
If you have a friend or familiy member who might benefit from this service, please mention it to them. For more info about York Support Services Network, please click here.
December 5, 2019
We're proud to be a recipient of a grant from the Low Carbon Economy Fund through Environment and Climate Change. In total, the Town will receive up to $589,565 that will be used to fund energy savings and greenhouse gas reduction-centered projects that will take place between 2019 to 2024. Read more here.
December 4, 2019
The Town of Newmarket Council has approved the 2020 budget. I understand that any tax increase is not appreciated, but we anticipate a small tax increase of about 2.39%. (subject to tax shifting & finalized tax rates from York Region & the School Board). Based on a property assessment of $618,750, residents will see an increase of $59.74 on their tax bill, water/wastewater rate increase of $59.72 and a stormwater rate increase of $4.12.
The total approved 2020 is $172.4 million, $134.6 million Operating Budget and $37.8 million Capital Budget.
You can read more details here.
December 2, 2019
Short Term Rental – Airbnb, VRBO, etc.
Are you a Newmarket homeowner who rents some or all of your home for short-term stays? Newmarket is exploring the regulation of "short-term rental accommodations" and wants to hear from all residents! Short-Term Rental Accommodations refer to people renting some/all of their residence for less than 30 days. Short-Term Rentals are a popular, growing trend across the world and in Newmarket there are various sites, such as Airbnb, VRBO, HomeAway and Booking.com that residents can use to list their rental accommodations. Learn about best practices, what's working in other municipalities and how zoning impacts rental housing stock. Join us on Tuesday, Dec 10, 6:30 to 9 p.m at the Municipal Offices, 395 Mulock. A formal presentation begins at 7 p.m . Please drop in to have your say and to find out more. Learn more here
November 28, 2019
Starting in January 2020, Central York Fire Services is implementing a cost-recovery program when responding to vehicle collisions in the Towns of Newmarket and Aurora. It is a two-year pilot program to recover costs associated with responding to collisions on municipal roadways in both Towns.
This affects drivers who are deemed at-fault and invoices will be sent directly to the insurance company of the at-fault driver. Fees are typically paid by the insurer. Currently, Central York Fire Services is the only fire service in York Region that does not charge a service fee for attending motor vehicle collisions on municipal roadways. You can read the full media release here.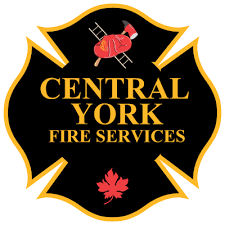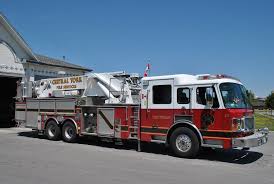 November 19, 2019
The Town held a Drop-in session at the Magna Centre to illustrate the new Denison Daycare located on the Stickwood-Walker Farm, just east of the Magna Centre. The daycare will feature outdoor and farm themed care and learning for little ones up to age 5. The Walker sisters were in attendance to view the plans for their old home. Construction changes will begin with the farmhouse before new buildings construction begins in the spring. This will be an incredible opportunity for Newmarket, the children attending and their parents. Additional information can be found here.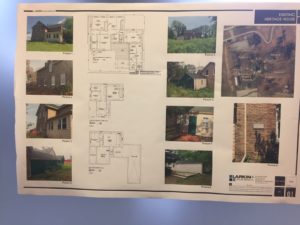 November 22, 2019
Mayor John Taylor hosted a "Town Hall" at th old Town Hall last night and provided an overview of initiatives, Council priorities, the budget and a view ahead. The Mayor then answered questions from the floor as well as those sent-in online and via Facebook. Displays of a few Town facts and initiatives were on display both before and after the formal part of the meeting.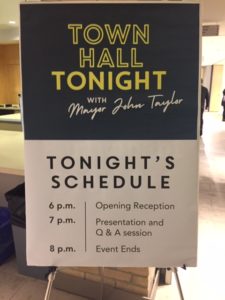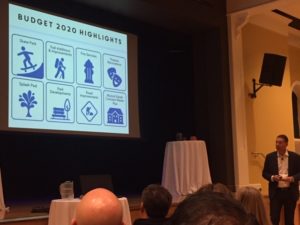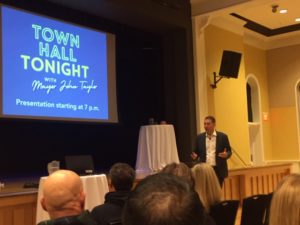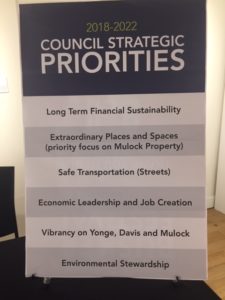 November 7, 2019
Safe Drinking Water
There have been reports in the news recently regarding levels of lead found in municipal water systems. The Town would like to remind residents that Newmarket does NOT have any lead pipes in the Town's water distribution system and that Newmarket is committed to providing high quality, safe drinking water to our residents.
The Town regularly conducts water tests, including samples for lead, to ensure that we continue to provide safe, high-quality water to our residents. After completing rigorous rounds of multi-year residential lead testing, the Town of Newmarket consistently reported concentrations well below the standard in accordance with the Safe Drinking Water Act. In 2019, our samples for lead displayed concentrations of less than or equal to 0.0005mg/L, the lowest detectable limit, and well below Health Canada's maximum acceptable concentration (0.005mg/L). In addition, when conducting repairs and replacements to the municipal water distribution system, there has been no records of lead pipe having been discovered within the Town's infrastructure.
Lead pipes on private property were banned for use in 1975. Residents who are concerned about lead pipes on their private property, can contact the Town of Newmarket by calling 905-895-5193. For more information on lead sample testing and requirements set out by the Province of Ontario and the Safe Drinking Water Act 2002, please visit the Town's frequently asked questions webpage about lead in water. http://bit.ly/36FXqXu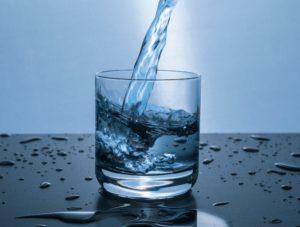 October 22, 2019
Main Street Clock Tower update.
The investigation into the unauthorized demolition of 184/186 Main Street, part of the Main Street Clock Inc. development continues. The Town's "Stop Work" Orders remain in place on two of the buildings (184/186 and 188/190/192), as the Town continues its investigation.
The Chief Building Official has authorized bracing work to proceed in order to maintain safety and preserve the heritage aspects of the middle building (188/190/192).
The Town will have a significant presence throughout this work. The Town is strongly committed to protecting the heritage of the Downtown Area and more information will be provided to the community once the investigation is complete.
For more information, visit www.newmarket.ca/clocktower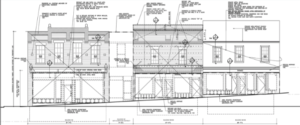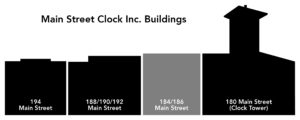 October 2
BUDGET 2020!
As part of the Town of Newmarket's 2020 Budget process, residents are invited to share feedback by participating in the Town's 2020 Budget Survey.
Visit https://www.surveymonkey.com/r/3S5TTBD and rank each municipal service provided by the Town of Newmarket. You can also earn a chance to win a $100 credit towards a Recreation and Culture program.
"Resident engagement and participation are crucial when building our budgets…" says Mayor John Taylor. It is a strategic priority to ensure that we provide long-term financial sustainability while balancing great services and low tax rates. "Your feedback will help us determine your priorities, so we can ensure we are investing your tax dollars in the municipal services that matter to you."
You can read more about the budget and process at: https://www.newmarket.ca/2020budget.
Please share your thoughts and concerns, it's your Town too!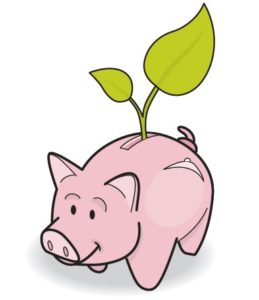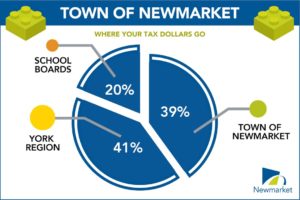 February 1
Council meetings are open to the public and held at the Municipal Offices, in the Council Chambers.  In addition, Council meetings are live streamed on the Agendas, Minutes and Meetings page.  Meetings are held on Monday, unless otherwise indicated and begin at 7:00 PM. Special Council meetings may be called from time to time and will be published on the Agendas, Minutes and Meetings page.
The remaining Council meeting dates for 2019 are: February 11, March 4, March 25, April 15, May 6, May 27, June 24, September 9,
September 30, October 21, November 11 and December 2
For more information on other Town of Newmarket Meetings, please visit the Town of Newmarket Council Meetings page.
January 29, 2019
In spite of a case for her broken ankle, Councillor Grace Simon was at Committee of the Whole this as afternoon. That's commitment.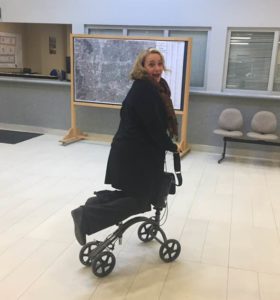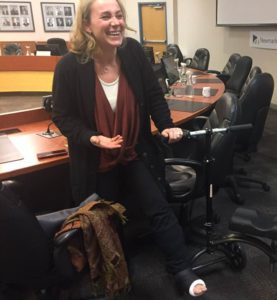 January 28, 2019
There is a Public Information night scheduled for Wednesday, February 6 from 7 PM to 9 PM at the Town Office, 395 Mulock Dr regarding the Mulock GO Station Area Secondary Plan. The Mulock GO Station proposed by the provincial government is to be located at the intersection of the railway line and Mulock Drive and the Secondary Plan includes the lands that surround the site. You can find out more on the Town site by clicking this link.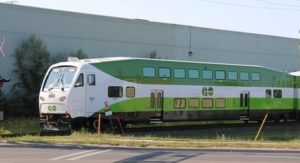 January 16, 2019
A recording of the January 15th, special Town Hall Cannabis meeting with all Members of Council that includes resident presentations is now available. The Meeting portion of the recording starts at about the 12 minute mark. A reminder that all public meetings of the Council are available via live streaming or you can watch a recording of it afterwards.
It's official, there will be no cannabis stores in Newmarket for the foreseeable future. Council ratified its decision to opt out of permitting retail outlets for recreational cannabis, voting 7-2 against the Staff recommendation of the opting-in of allowing cannabis stores in town.
January 7, 2019
Members of the Newmarket Town Council meet regularly at council and committee meetings throughout the year, as well as at special council meetings as needed.  There is a Town of Newmarket Committee of the Whole Meeting scheduled for January 14, 2019. Please click the link to review the agenda: Town of Newmarket_Agenda_Jan14_2019. Any questions or concerns, please get in touch.
December 21, 2018
I visited Prince Charles Public School to present a cheque for $200 from the Town in support of and their Student breakfast program. I know young students learn better when they are not hungry. Thanks Staff for all your work!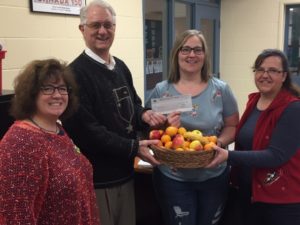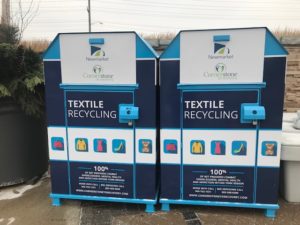 December 19, 2018
Many of the Town of Newmarket public Events and Programs occur because local businesses and individuals sponsor them. The Town sponsored a luncheon to thank them for their ongoing contributions. It is important that everyone know program attendance and involvement continues to increase as a result of these valued Sponsors. Yea Newmarket!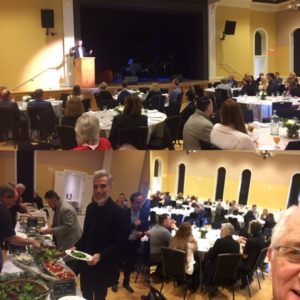 As part of the new Council orientation, we took an 18 stop, 3 hour bus tour. Stops included development areas, key facilities, the Mulock Estate plus our impressive Public Works facility just off Harry Walker Parkway. Lots of great properties and lots of opportunity as Newmarket continues to grow and grow-up.