---
Welcome to my Council Page where I will try and post everything Official; Council links, agendas, official press releases, anything the Town releases or other information that might be important to residents of Ward 2 and the Town.
January 27, 2020
The Intelligent Community Forum, see ICF below, has ranked Newmarket as a 2020 "Top21 Intelligent Community". This is a world wide annual competition and we have now submitted our application for the Top7, the next round of this process, which then leads to the ICF Intelligent Community of the Year announcement in June.
The ICF released another list; the Top30 Sustainable Communities and summarized Newmarket's strengths in this area, and the reason for being included on this latest list. Sustainability is considered a success factor because it offers multiple benefits to the economic, social and cultural life of communities. Quality of life in a community is tied to the environment within the community, from air quality to water pollution.
ICF…….The Intelligent Community Forum is a global network and "think tank". It connects hundreds of cities and regions on five continents for collaboration on economic development and expertise that drives progress. Through this network, ICF researches how Intelligent Communities use information and communications technology to build inclusive prosperity, solve social problems and enrich their quality of life in our connected century. You can read the complete list here: http://bit.ly/38G5tDV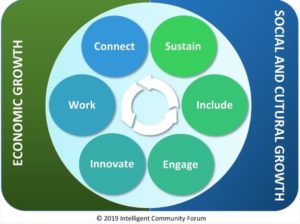 January 22, 2020
Animal Control & Licensing
Nnewmarket is exploring changes to its animal control by-law and the introduction of licensing pet stores.  The Town wants to hear from residents and stakeholders in an open forum on Thursday, January 23 from 6:30 to 8:30 PM at the Municipal Offices, 395 Mulock Drive in the Council Chambers.
On January 1, the Provincial Animal Welfare services (PAWS) Act came into force, creating the first fully provincial government-based animal welfare enforcement system in Canada. The introduction of pet store licensing would establish regulations surrounding the sale of pets, the ethical sourcing of pets for sale and how permitted retailers can treat the animals they sell.
Please get involved and have your say at a Public Information Centre drop-in event. Speak with staff and community partners about our current animal services program as well as proposed changes. Following the event, an online survey will be available here.


January 17, 2020
I would like to share with everyone a highlight of how the Town has an ongoing desire to be innovative as well as look for opportunities at environmental impacts and cost savings. The Town ran a pilot program using a treated salt compound as the primary de-icing material for winter maintenance in the 2017/18 winter season using Thawrox versus a salt/salt mixture.
As a result of the testing done by Public Works Services….
• Less fuel used for winter maintenance equipment
• Less time was needed for street sweepers to clean the streets in the spring and for catch basin cleaning, due to less sand on the road
• Smaller amounts of harmful storm water run-off going into our storm water ponds, wetlands, lakes and streams, which in turn promotes fish reproduction and the health of benthic invertebrate populations (bugs in the water).
• Overall cost savings to the Town and taxpayers, and
• The Town of Newmarket was awarded a Healthy Water Award at the 2019 Lake Simcoe Region Conservation Awards.
You can read the full report here: Public Works Report.


January 16, 2020
Starting January 15, there is a new parking ticket resolution under the new Administrative Monetary Penalty System (AMPS)
Newmarket residents and visitors have a new way to pay for or to dispute parking tickets, which replaces the current provincial court dispute system. AMPS is more cost effective allowing for the Town to resolve parking ticket escalations much faster and rewards motorists who pay early. "AMPS allows us to do more with less, while enforcing our roadways to protect our community" says Newmarket Mayor John Taylor.
The new parking enforcement system provides residents with an "early payment" option which offers a 25 per cent discount for paying within 15 days. After an individual receives a ticket, they have 15 days to dispute their ticket. Individuals can go online to the self-serve parking portal to pay or request to dispute their ticket. Motorists may also pay or request to dispute at a Town Customer Service desk. For more info, please visit here.


January 10, 2020
Attention Entrepreneurs!
The Town of Newmarket has issued a Request for Proposal (RFP) for the adaptive re-use of the Old Fire Hall property, 140 Main Street, at Millard Avenue. The Town hopes to secure a long-term lease for the property for commercial use that is consistent with the Town's vision and plans for the continued development of Main Street and downtown Newmarket.
"The Old Fire Hall presents a very unique opportunity to continue to build on the momentum of our award-winning Main Street," says Newmarket Mayor John Taylor. The Old Fire Hall is a unique 5,000 sq ft property in downtown with significant potential to enhance the vibrancy of Main Street!
Proposals will be accepted until February 12 at newmarket.bidsandtenders.ca For more information, please contact the Town of Newmarket's procurement department at 905-895-5193. More details: http://bit.ly/2R7WeFz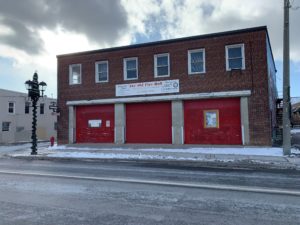 January 9, 2020
Flags are flying at half-mast at all Town of Newmarket facilities in honour and in memory of the 63 Canadians and all others whose lives were tragically cut short when Ukraine International Airlines Flight PS752 crashed en route from Tehran, Iran to Kyiv, Ukraine.
"On behalf of the Town of Newmarket, I offer my deepest condolences to those who have lost family, friends, and loved ones in this tragedy" says Mayor John Taylor. I want our Iranian community to know that your Town and your friends are standing beside you in sympathy. The Iranian community must feel a loss and an impact that many of us can only imagine. As the days and weeks unfold, please know that your neighbours, your colleagues and your friends are all thinking about you and are ready to support you."
Flags will fly at half-mast until further notice. Photo by Debora Kelly/NewmarketToday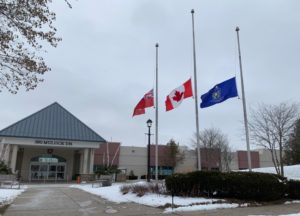 December 17, 2019
Newmarket is one of 39 municipalities that received a grant from the Ontario Audit & Accountability Fund to conduct a review of our Administrative and Service Delivery.
As a result, Newmarket launched its REV it up (REVenue, Efficiencies & Value Add) campaign. The goal was to find ways to improve operational efficiencies and effectiveness thereby improving services to families and businesses while enabling the Town to better support its community and staff members.
This three-month campaign helped the Town realize 150+ improvement opportunities, approximately $1.9 to $2.6 million in direct cost savings over seven years and identified initiatives that will save money and found $300,000 to $350,000 in new revenues without any job loss or reduction of service levels for our residents.
We are always looking for ways to make the Town of Newmarket even better and the findings of this campaign demonstrate the Town's commitment to long-term sustainability and a responsible use of taxpayer dollars. You can read more here.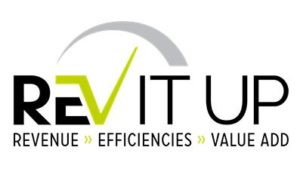 December 14, 2019
About two weeks ago, I posted that the Town of Newmarket is moving to regulate the booming in town short-term rental industry, the Airbnb-type lodging. On December 10th at the Town Office, about 2 dozen local homeowners took part in a public meeting to discuss the subject and learn about the Town's intention of creating policies and regulations to deal with the challenges of this new industry.
Newmarket Today has a good article about the meeting which you can read here.
Residents can complete an online survey up to Jan 3, 2020, here.
December 12, 2019
Crisis Counselling
As many of you know, I sit on the Newmarket Public Library Board and the Library has partnered with York Support Services Network to offer residents an opportunity to speak with a professional crisis worker on two Wednesdays each month from 1 to 4 p.m. Residents experiencing any type of mental health issue can "walk-in" to the Library and have a private conversation with a crisis worker on these dates Dec. 18, and Jan. 8, at the Newmarket Public Library, 438 Park Ave.
If you have a friend or familiy member who might benefit from this service, please mention it to them. For more info about York Support Services Network, please click here.
December 5, 2019
We're proud to be a recipient of a grant from the Low Carbon Economy Fund through Environment and Climate Change. In total, the Town will receive up to $589,565 that will be used to fund energy savings and greenhouse gas reduction-centered projects that will take place between 2019 to 2024. Read more here.
December 4, 2019
The Town of Newmarket Council has approved the 2020 budget. I understand that any tax increase is not appreciated, but we anticipate a small tax increase of about 2.39%. (subject to tax shifting & finalized tax rates from York Region & the School Board). Based on a property assessment of $618,750, residents will see an increase of $59.74 on their tax bill, water/wastewater rate increase of $59.72 and a stormwater rate increase of $4.12.
The total approved 2020 is $172.4 million, $134.6 million Operating Budget and $37.8 million Capital Budget.
You can read more details here.
December 2, 2019
Short Term Rental – Airbnb, VRBO, etc.
Are you a Newmarket homeowner who rents some or all of your home for short-term stays? Newmarket is exploring the regulation of "short-term rental accommodations" and wants to hear from all residents! Short-Term Rental Accommodations refer to people renting some/all of their residence for less than 30 days. Short-Term Rentals are a popular, growing trend across the world and in Newmarket there are various sites, such as Airbnb, VRBO, HomeAway and Booking.com that residents can use to list their rental accommodations. Learn about best practices, what's working in other municipalities and how zoning impacts rental housing stock. Join us on Tuesday, Dec 10, 6:30 to 9 p.m at the Municipal Offices, 395 Mulock. A formal presentation begins at 7 p.m . Please drop in to have your say and to find out more. Learn more here
November 28, 2019
Starting in January 2020, Central York Fire Services is implementing a cost-recovery program when responding to vehicle collisions in the Towns of Newmarket and Aurora. It is a two-year pilot program to recover costs associated with responding to collisions on municipal roadways in both Towns.
This affects drivers who are deemed at-fault and invoices will be sent directly to the insurance company of the at-fault driver. Fees are typically paid by the insurer. Currently, Central York Fire Services is the only fire service in York Region that does not charge a service fee for attending motor vehicle collisions on municipal roadways. You can read the full media release here.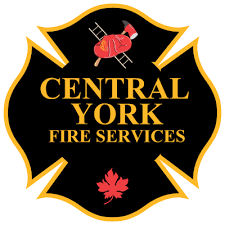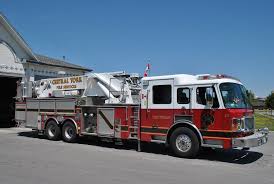 November 19, 2019
The Town held a Drop-in session at the Magna Centre to illustrate the new Denison Daycare located on the Stickwood-Walker Farm, just east of the Magna Centre. The daycare will feature outdoor and farm themed care and learning for little ones up to age 5. The Walker sisters were in attendance to view the plans for their old home. Construction changes will begin with the farmhouse before new buildings construction begins in the spring. This will be an incredible opportunity for Newmarket, the children attending and their parents. Additional information can be found here.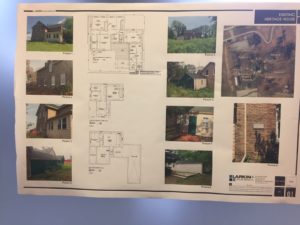 November 22, 2019
Mayor John Taylor hosted a "Town Hall" at th old Town Hall last night and provided an overview of initiatives, Council priorities, the budget and a view ahead. The Mayor then answered questions from the floor as well as those sent-in online and via Facebook. Displays of a few Town facts and initiatives were on display both before and after the formal part of the meeting.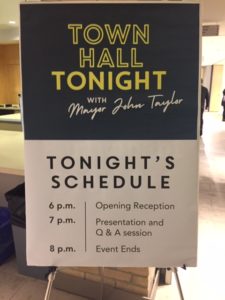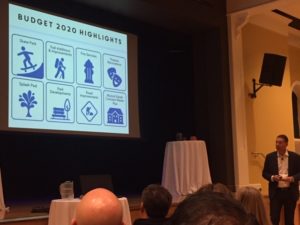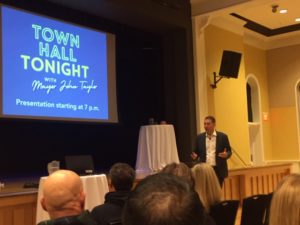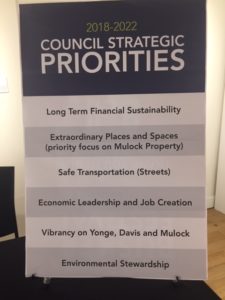 November 7, 2019
Safe Drinking Water
There have been reports in the news recently regarding levels of lead found in municipal water systems. The Town would like to remind residents that Newmarket does NOT have any lead pipes in the Town's water distribution system and that Newmarket is committed to providing high quality, safe drinking water to our residents.
The Town regularly conducts water tests, including samples for lead, to ensure that we continue to provide safe, high-quality water to our residents. After completing rigorous rounds of multi-year residential lead testing, the Town of Newmarket consistently reported concentrations well below the standard in accordance with the Safe Drinking Water Act. In 2019, our samples for lead displayed concentrations of less than or equal to 0.0005mg/L, the lowest detectable limit, and well below Health Canada's maximum acceptable concentration (0.005mg/L). In addition, when conducting repairs and replacements to the municipal water distribution system, there has been no records of lead pipe having been discovered within the Town's infrastructure.
Lead pipes on private property were banned for use in 1975. Residents who are concerned about lead pipes on their private property, can contact the Town of Newmarket by calling 905-895-5193. For more information on lead sample testing and requirements set out by the Province of Ontario and the Safe Drinking Water Act 2002, please visit the Town's frequently asked questions webpage about lead in water. http://bit.ly/36FXqXu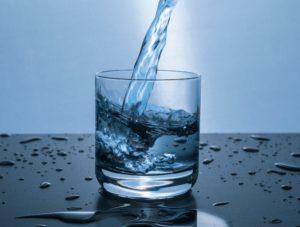 October 22, 2019
Main Street Clock Tower update.
The investigation into the unauthorized demolition of 184/186 Main Street, part of the Main Street Clock Inc. development continues. The Town's "Stop Work" Orders remain in place on two of the buildings (184/186 and 188/190/192), as the Town continues its investigation.
The Chief Building Official has authorized bracing work to proceed in order to maintain safety and preserve the heritage aspects of the middle building (188/190/192).
The Town will have a significant presence throughout this work. The Town is strongly committed to protecting the heritage of the Downtown Area and more information will be provided to the community once the investigation is complete.
For more information, visit www.newmarket.ca/clocktower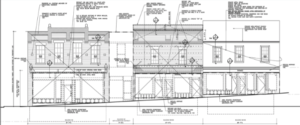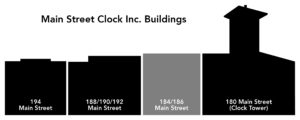 October 2
BUDGET 2020!
As part of the Town of Newmarket's 2020 Budget process, residents are invited to share feedback by participating in the Town's 2020 Budget Survey.
Visit https://www.surveymonkey.com/r/3S5TTBD and rank each municipal service provided by the Town of Newmarket. You can also earn a chance to win a $100 credit towards a Recreation and Culture program.
"Resident engagement and participation are crucial when building our budgets…" says Mayor John Taylor. It is a strategic priority to ensure that we provide long-term financial sustainability while balancing great services and low tax rates. "Your feedback will help us determine your priorities, so we can ensure we are investing your tax dollars in the municipal services that matter to you."
You can read more about the budget and process at: https://www.newmarket.ca/2020budget.
Please share your thoughts and concerns, it's your Town too!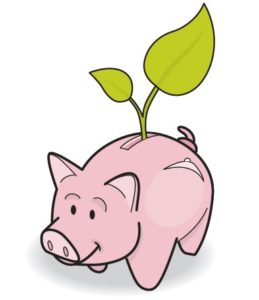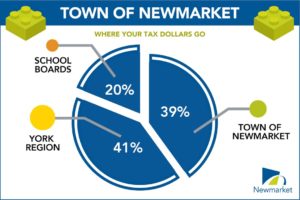 July 24
Moonlight Movies in the Park!
Join me and our neighbours at College Manor Park for the Disney movie Dumbo, playing outdoors on the big screen on Wed., August 14, at dusk,
approximately 8:30 pm. (trailer: http://bit.ly/2YiaUaJ, rated PG )
This Ward 2 neighbourhood event will feature free popcorn courtesy of the Newmarket Scouts and free Mr. Softy Ice Cream. For other Moonlight Movies this summer, check the Town site here. 
IMPORTANT: please remember to bring your own chairs, a blanket and snacks. Inclement weather location is at Magna Centre, Honda  Floor.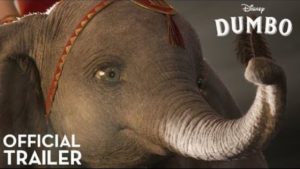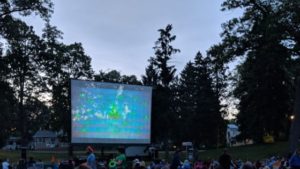 July 9
Over the next five months, vivaNext will be working on the parapet walls (the raised walls along the sidewalks) of the Keith Bridge on Davis Drive. This work will involve the repair of the walls along the north and south sides of the bridge and may result in some delays along Davis Drive.
Davis Drive will remain open, but the westbound curb lane on the Keith Bridge will remain closed for the duration of this project. The Town identified some cracking on the walls and the reconstruction work will be completed under the builder's warranty.
The Tom Taylor Trail will remain open for the duration of this work but due to the nature of this work, intermittent lane closures on Davis will be required to ensure everyone's safety. For more information, please visit VivaNext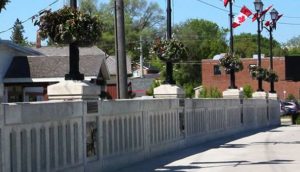 June 26
Great news for Newmarket! BYD (Build Your Dreams), which manufactures zero emission buses, will  build their first Canadian assembly facility at 185 Harry Walker Parkway North in Newmarket.
Newmarket will also be the first Municipality in York Region to begin operating with six Electric buses. And the power will be supplied by our own utility Newmarket-Tay Power which will be responsible for maintaining the charging stations at the Go station at Eagle and Davis.
The 45,000-square-foot BYD facility in Newmarket is the first new electric bus plant to open in Ontario in a generation. And while the Newmarket facility is BYD's first Canadian assembly plant, the company is already active in the Canadian market with buses on order (or in operation) in Toronto, Victoria, Longeuil, St. Albert and Grand Prairie. The new plant will first focus on assembling buses for the Toronto Transit Commission, which will receive ten pure electric buses with an option for 30 more.
According to the U.S. Department of Transportation, each zero-emission bus like those manufactured by BYD, eliminate approximately 10 tons of nitrogen oxides, 350 pounds of diesel particulate matter and approximately 1,690 tons of CO2 over the 12-year lifecycle of the vehicle.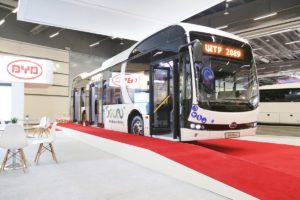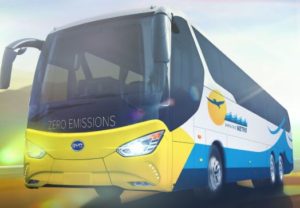 June 12
Stormwater Invoice
As many of you know, the Town mailed out Stormwater invoices last week and it was a surprise to many of us. In light of the high volume of calls and emails, the finance department has made some changes to better accommodate residents. I am pleased with the quick response by staff and would like to pass along this information:
1) there will be no late payment fee applied if payment is made by July 31, effectively providing over 7 weeks for payment.
2) PAP participants, if you don't pay it, the amount will automatically be added to the second half of the year tax calculation and divided evenly in your payments through to the year end. There are NO interest penalties if you are on a PAP plan.
2A) If you are on an installment PAP plan, the amount will be added to the your remaining payment (s). For those who pay at the counter it can be added to the July payment without any penalty.
3) why a separate invoice? It was a separate fee this year but we will look at ways to avoid the time and cost of processing it separately.
If you read the cover letter that came with the invoice, it explained why the Stormwater Invoice process was different this year, but if you need more information, please call the Town Tax Department at 905-953-5300 ext. 2140
Subsequently the Town published this information and Press Release on their website:
May 27
A while back, the administrator for the Leslie and Davis (between Gorham and Davis) Neighbourhood Facebook Group page asked about having a garbage bin at the corner of Srigley/Carlson by the mailbox. People had thrown garbage and dog soil bags into and under the trees. The Town does not put out garbage bins, but I asked if Town Staff could trim the lower branches and pick up the garbage. This was done today and I believe it is big improvement. Thanks Staff!!! I am hopeful folks will take their garbage home following the cleanup. Thanks for your patience.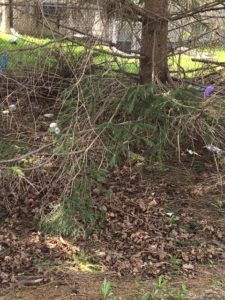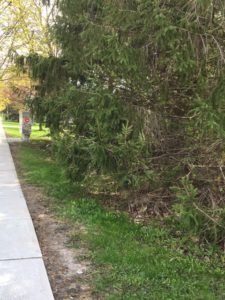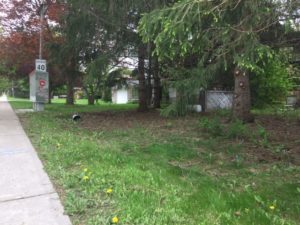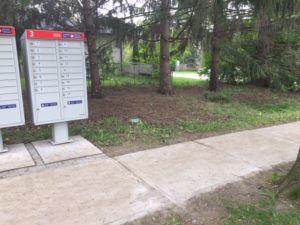 May 24
Proposed development at Roxborough & Queen Streets
Many thanks to the approximately 50 residents who attended a developer's presentation for the corner of Roxborough and Queen Streets.
The idea that 9 town homes should be built in a single family home spot was met with loud opposition. Residents clearly expressed their concern for traffic, neighbourhood fit, flooding and much more.
As I explained as the meeting started, this is the start of a process. A complete application must submitted to the Town, it must fit with many regulations including the new bylaw currently being developed by staff for council's approval. Residents will have a number of opportunities to voice their concerns.
As your Councillor I will be listening, expressing those concerns and asking Council to listen as decisions need to be made. I will also keep residents informed and involved. Please contact here or email through my Town email at vwoodhouse@newmarket.ca.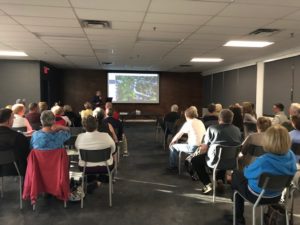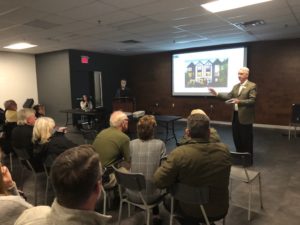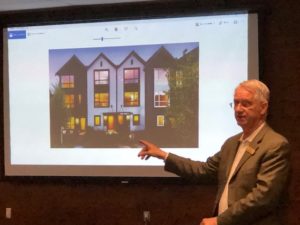 May 2
I am in Pembroke, Ontario for the Ontario Small Urban Municipalities Conference, the small urban municipal voice of the Province.
Delegates from Ontario Towns are discussing their latest initiatives; growing challenges; innovative solutions and ongoing changing landscapes of small, Urban Ontario. Pictured is Bob Kwapis asking a question of the Guest speaker.
In case you are wondering, Pembroke is on the Ottawa River about 90 minutes north west of Ottawa and is another Town experiencing spring flooding.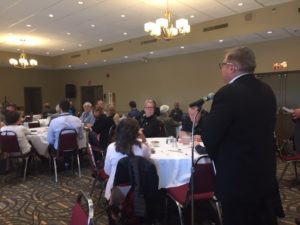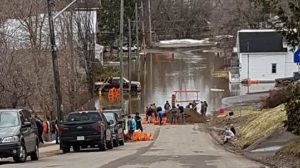 March 30
The Newmarket Annual Community Open House is on Wednesday, April 3 from 4 to 8 p.m. at the Municipal Offices, 395 Mulock Dr.
What does Newmarket have planned for 2019?
Learn about exciting projects and share your feedback on initiatives such as: Vision for Mulock property, job creation & economic development, development initiatives, Newmarket's Energy Efficiency Retrofit Program and Smart water meter program. Residents can also meet Newmarket's new Chief Administrative Officer, Jag Sharma. Light refreshments will be served. More info here.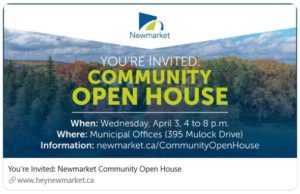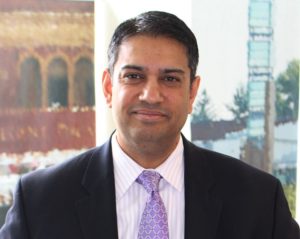 March 15
Newmarket announces new CAOJag Sharma has accepted the role as Chief Administrative Officer (CAO) for the Town of Newmarket after a thorough recruitment process. Mr. Sharma has been with the City of Oshawa since 2011 and will start his new role with the Town on April 1. The CAO reports directly to Council and oversees all departments within the municipality. The CAO is responsible for delivering on both Council's and the Town's strategic plans, priorities and overall development goals. The CAO is also responsible for implementing policies, budgets and appropriations and is accountable for managing the effectiveness of the Town's administration, including financial planning and management.
Your can meet and speak with Mr. Sharma at the Town's upcoming annual Community Open House eventon April 3, from 4 to 8 p.m. at the Municipal Offices (395 Mulock Drive).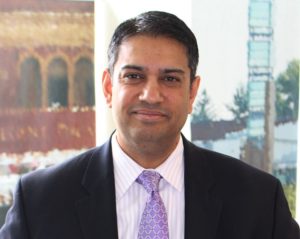 March 11
On March 8th, Mayor Taylor and business leaders celebrated with local Newmarket company, Completely Managed, with a ribbon cutting for the Official Launch of their new offering, LANAWARE. www.CompletelyManaged.com is an innovative high tech firm producing one of Canada's best manufacturing and tech sector eco-systems, engineering operational technology networks with best-practice design that mitigates cybersecurity vulnerabilities. A Cisco Industrial Partner offering 24/7 in- house managed network operations. It is wonderful to have this leading tech firm in Newmarket. Congratulations and we will watch for additional solutions in the future.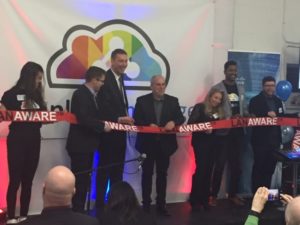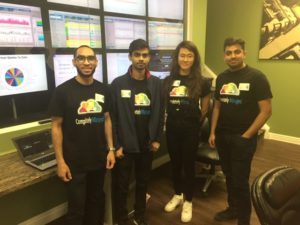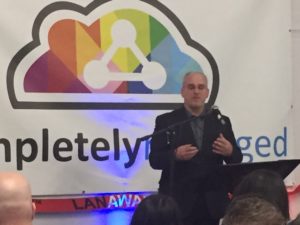 March 5
Town of Newmarket Council approved a 2.2 per cent tax increase, combined with 0.75 per cent for asset replacement for a total 2.95 per cent tax increase (Town portion) for the 2019 Operating and Capital Budgets for the Town of Newmarket. Based on an average property assessment value of approximately $607,000, residents will see an increase of $58 on the Town portion of their tax bill, a water/wastewater rate increase of $58 (5.10 per cent) and a stormwater rate increase of $4 (11.8 per cent).
"Council and staff worked hard to ensure this budget strikes the right balance between investing in our future, while keeping the tax level below the GTA average," says Mayor John Taylor. "Financial sustainability is one of Council's top Strategic Priorities, and we will continue to review operations for efficiencies, while ensuring Newmarket is poised for success in the short and long term."
Highlights from the 2019 budget include:
*   $2.4 million towards trails and active transportation
*   $1 million for replacement of bridges and culverts
*   $4.8 million for completion of CYFS Station 4-5
*   $6.6 million for road rehabilitation
*   $1.7 million for fleet replacement
*   $1.6 million for road resurfacing
*   $150,000 for Mulock Farm will be put into reserves for future use.The Town of Newmarket continues to take a responsible and sustainable approach to asset management, with an additional $440,000 for annual contributions to the tax supported Asset Replacement Fund (ARF). The ARF was created in 1998 to ensure appropriate funding is available to replace and repair the Town's $1 billion (replacement cost) worth of capital assets both now and long into the future.An extensive public engagement campaign for the 2019 Budget ran from August 2018 to March 2019, encouraging residents to Get Involved and provide their input on the process. Residents had the opportunity to play the "Put Your Money Where it Matters" Budget game online and at events including the Newmarket Farmers' Market, the Central York Fire Services Newmarket Open House and the Town's Princess and Superhero party. Residents were also encouraged to stream or attend all Budget Meetings and contact Members of Council or the Town with their ideas, comments or questions.
The total approved 2019 Operating Budget is $130.8 million and the Capital Budget is $27.7 million, with a combined total of $158.5 million.
For more information related to the 2019 Budget, visit newmarket.ca/2019budget

February 25
Erin Cerenzia of the Newmarket Historical Society attended the Committee of the Whole meeting and provided a wrap-up presentation of the WWI Trench display featured at the Old Town Hall during the last 3 years. Initially their Mission was to: Commemorate Newmarket's First World War Veterans and their sacrifice; to educate and engage residents of the Town of Newmarket; and to honour the great patriotism of our small town in the First World War.
This highly successful exhibit attracted 7000 visitors, including 2,000 students and received National News Coverage. The Interactive Trench Exhibit will now be housed at the Georgina Miltary Museum.  Many thanks to Erin and the Newmarket Historical Society for their great work in educating us and reminding us of Newmarket's and Canada's commitment to ensuring our freedom. Great work NHS.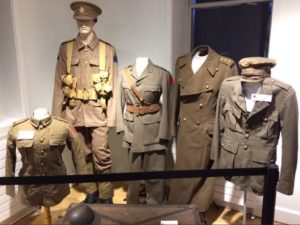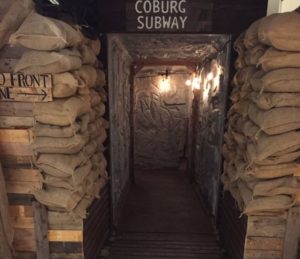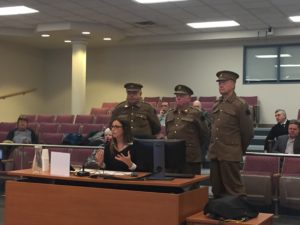 February 1
Council meetings are open to the public and held at the Municipal Offices, in the Council Chambers.  In addition, Council meetings are live streamed on the Agendas, Minutes and Meetings page.  Meetings are held on Monday, unless otherwise indicated and begin at 7:00 PM. Special Council meetings may be called from time to time and will be published on the Agendas, Minutes and Meetings page.
The remaining Council meeting dates for 2019 are: February 11, March 4, March 25, April 15, May 6, May 27, June 24, September 9,
September 30, October 21, November 11 and December 2
For more information on other Town of Newmarket Meetings, please visit the Town of Newmarket Council Meetings page.
January 29, 2019
In spite of a case for her broken ankle, Councillor Grace Simon was at Committee of the Whole this as afternoon. That's commitment.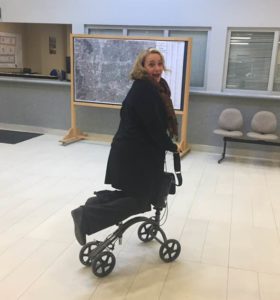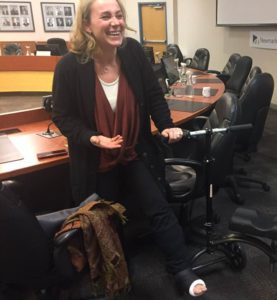 January 28, 2019
There is a Public Information night scheduled for Wednesday, February 6 from 7 PM to 9 PM at the Town Office, 395 Mulock Dr regarding the Mulock GO Station Area Secondary Plan. The Mulock GO Station proposed by the provincial government is to be located at the intersection of the railway line and Mulock Drive and the Secondary Plan includes the lands that surround the site. You can find out more on the Town site by clicking this link.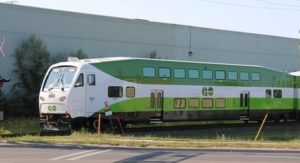 January 16, 2019
A recording of the January 15th, special Town Hall Cannabis meeting with all Members of Council that includes resident presentations is now available. The Meeting portion of the recording starts at about the 12 minute mark. A reminder that all public meetings of the Council are available via live streaming or you can watch a recording of it afterwards.
It's official, there will be no cannabis stores in Newmarket for the foreseeable future. Council ratified its decision to opt out of permitting retail outlets for recreational cannabis, voting 7-2 against the Staff recommendation of the opting-in of allowing cannabis stores in town.
January 7, 2019
Members of the Newmarket Town Council meet regularly at council and committee meetings throughout the year, as well as at special council meetings as needed.  There is a Town of Newmarket Committee of the Whole Meeting scheduled for January 14, 2019. Please click the link to review the agenda: Town of Newmarket_Agenda_Jan14_2019. Any questions or concerns, please get in touch.
December 21, 2018
I visited Prince Charles Public School to present a cheque for $200 from the Town in support of and their Student breakfast program. I know young students learn better when they are not hungry. Thanks Staff for all your work!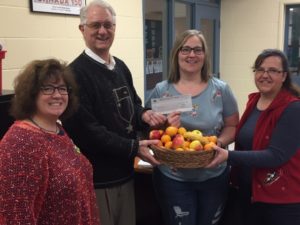 December 19, 2018
The Town has decided to start a new textile recycling program in January 2019 that will help support textile diversion in our community. The contract, awarded to Diabetes Canada, accepts all adult and children's clothing and footwear, including undergarments, towels, pillows, and curtains. Items are accepted in all conditions, including items that are worn, torn, or stained. Textile collection bins will be located at the Magna Centre, Ray Twinney Recreation Complex, and Community Centre and Lions Hall.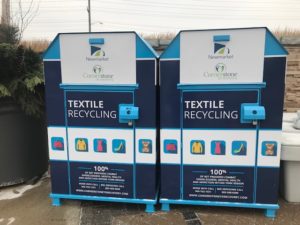 December 19, 2018
Many of the Town of Newmarket public Events and Programs occur because local businesses and individuals sponsor them. The Town sponsored a luncheon to thank them for their ongoing contributions. It is important that everyone know program attendance and involvement continues to increase as a result of these valued Sponsors. Yea Newmarket!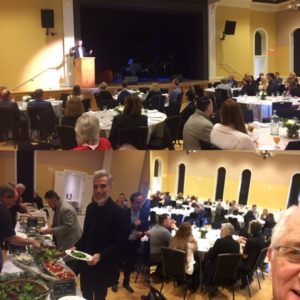 As part of the new Council orientation, we took an 18 stop, 3 hour bus tour. Stops included development areas, key facilities, the Mulock Estate plus our impressive Public Works facility just off Harry Walker Parkway. Lots of great properties and lots of opportunity as Newmarket continues to grow and grow-up.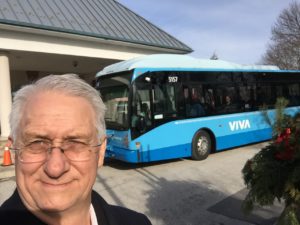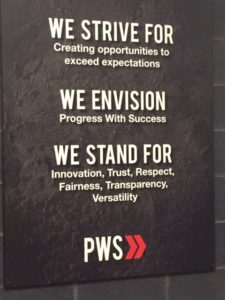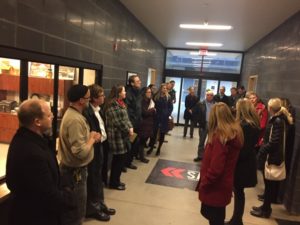 95% of residents surveyed are satisfied with Newmarket as a place to live. 2018 Community Survey even better than 2014 survey results.      See the full survey results here.