Included below is an assortment of content that I also post on Facebook, plus photos I have taken during events that I have attended as a Town Councillor and/or during my travels in Town as a resident of Ward 2.
August 4, 2021
York Regional Police Investigators are seeking a suspect and witnesses after property damage occurred in Newmarket on Thursday, July 29, 2021. Sixteen planters were tipped over along Main Street in Newmarket. Officers obtained video surveillance and determined that a lone male suspect pushed over the planters at approximately 3:45 a.m. Investigators learned that the suspect had been at the Grey Goat Pub on Main Street prior to the incidents. Anyone who can identify him, please contact the York Regional Police at 1-866-876-5423, ext. 7142, Crime Stoppers at 1-800-222-TIPS or leave an anonymous tip online at www.1800222tips.com.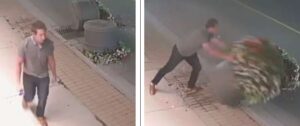 July 30, 2021
From the Newmarket African Caribbean Canadian Association. . . . .
In 1793, our first Lieutenant Governor John Graves Simcoe, passed an Act Against Slavery which ended the importation of enslaved Africans to Upper Canada. Emancipation Day! Simcoe Day is celebrated annually, but very few people are aware of Emancipation Day.
August 1, 2021 has been proclaimed Emancipation Day in the Town of Newmarket. This morning at 10 am, an official flag raising ceremony in recognition of this significant historic milestone in (Black) Canadian history took place at Peace Park (Cane Pky). The Pan-African flag will be flown from July 30th-August 2nd in recognition of Emancipation Day. In addition, the Riverwalk Commons and Fred A. Lundy Bridge located on Water Street will be illuminated in green on July 30th from sunset until 11:00 PM.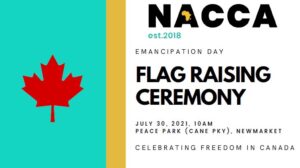 July 29, 2021
The Civic Holiday long weekend has once again arrived too early. There's still lots to do and enjoy this summer and I can ignore those early back to school sales for another couple of weeks.
A reminder that Fireworks are NOT permitted over the Civic Holiday weekend whether on public or private property in Newmarket. The only weekends when fireworks are permitted are Victoria Day and Canada Day.
A reminder of a few closures this weekend.
~The Town Customer Call Centre will be closed on Monday with regular hours resuming on Tuesday, at 8 am. For municipal emergencies, please call 905-895-5193 and press 3 to be connected to our after-hours service.
~All the splash pads in Town as well as Gorman pool will be OPEN on Monday. The Pool requires advance registration.
~The Magna Centre and the Town Skate Park will both be closed on Monday.
~The Farmers Market will be open on Saturday as usual.
~Recycle and yard waste pick-up will not be affected, pick-up is on your regular days and times.
For power outages, please call Newmarket Hydro at 905-895-2309.     Enjoy the long weekend!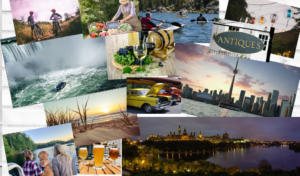 July 22, 2021
Moonlight Movies is coming back!
Join us outdoors, under the stars, to enjoy moonlight movies on the big screen to wrap up the summer! Covid protocols will be in place. Grab your family or social circle, bring snacks, a cozy blanket and prepare to have some fun. Advance registration will be required and the events are for Newmarket households only.
The dates and locations are available here: https://www.newmarket.ca/moonlightmovies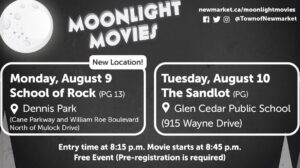 July 21, 2021
The event schedule for this weekend has been postponed, and when I have a new date, I will post it. . . . If you haven't heard yet, this weekend (July 24/25) at Upper Canada Mall is a Food Truck Festival. There should be delicious food for you to sample and purchase, live music, and a variety of local artisans, vendors and a Market Place all in the parking lot in one place. It runs from about noon to 8 pm. No charge to attend. Covid protocols will be in place and must e followed. More info at: https://foodiesevents.ca/
July 19, 2021
It's summer and if you can, it's wonderful being outside. Go for a walk, ride or get fit with one of Newmarket's outdoor fitness opportunities. You can take an Aqua Fit class at the outdoor Gorman Pool or an outdoor fitness class at the Magna Centre. Participants must pre-register ahead of time at play.newmarket.ca. New time slots will be open to Newmarket residents one day in advance at 8 a.m. or more information on programs, schedules,
registration information and how the Town is keeping participants safe, please visit newmarket.ca/swimming or newmarket.ca/fitness
July 18, 2021
Great news! Tree leaves have begun to regrow in Newmarket and are recovering from Lymantria dispar dispar (LDD) caterpillar feedings. LDD moths are currently in between the cocoon/pupae and moth phase of the lifecycle. If you have a trap set up on your tree, you can remove them and save the burlap for next season. Town staff continue to monitor areas prone to LDD and are preparing for the next phase when the LDD moths begin to lay their eggs. Learn more at newmarket.ca/lddmoth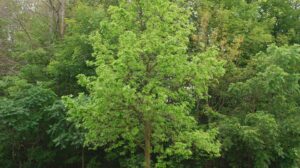 July 16, 2021
Town of Newmarket Council has appointed Ian McDougall as the new Chief Administrative Officer of Newmarket effective on July 19. Mr. McDougall has been with the Town since 2003, progressing through various roles, including Director, Recreation & Culture and most recently holding the position of Commissioner, Community Services for the past nine years.
July 13, 2021
The Town of Newmarket's Library Board is pleased to announce the appointment of Tracy Munusami as the Library's new Chief Executive Officer, effective Tuesday, August 3, 2021. Tracy brings with her, extensive experience in public libraries, including the past four years as Manager of Service Excellence with the Oshawa Public Libraries. Previous experience includes the Barrie Public Library and Innisfil Public Library, where she held a variety of positions from Manager of Adult and Community Services to Youth Services Librarian.
July 9, 2021
Newmarket's First Fully Accessible Splash Pad is scheduled to open this summer. Located at Dr. Margaret  Arkinstall Park, right next door to Terry Fox Public School on Sawmill Valley Drive. Work on the harvest-themed splash pad began in February 2020 and offers the community a recreational amenity complete with a soft water play surface, as well as shade sails, site furniture, connecting pathways, and a picnic area surrounded by soft landscaping.  The whole park is accessible, the apple carousel is wide enough for wheelchairs, all surfaces are designed to be slip-resistant, and braille is included in the signage. Read more about it here.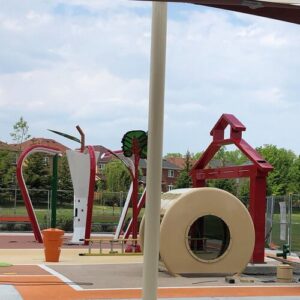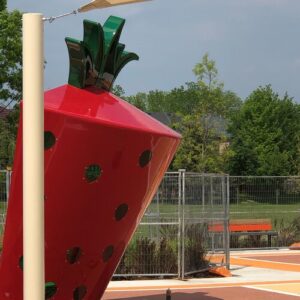 July 1, 2021
This Canada Day, we look back on our past and ahead towards our future. We will respect and honour. We will always remember. We commit to doing more as a community. Together, we will learn, share and grow as we each reflect in our own way.

June 30, 2021
Canada Day Reminders
In Newmarket, fireworks are only permitted for use during Canada Day, the day before and the day after. Fireworks are NOT allowed on public property, including parks, streets and open fields/spaces.
Fines for improper use of fireworks in Newmarket start at $600 in accordance with Fireworks By-law 2015-18. Newmarket residents can report bylaw infractions, such as the use of fireworks, by calling the Town's After Hours Line at 905-895-5193 (press 3).
For more information, safety tips and links to Town by-laws, visit cyfs.caIf your waste & recylce pick-up is on Thursday this week, it will be moved to Friday. Friday pick-up will be on Saturday.
Happy Canada Day!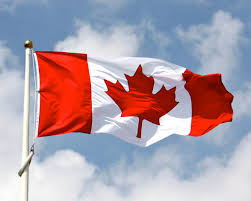 June 29, 2021
Flags at all Town of Newmarket and Central York Fire Services buildings are flying at half-mast to mourn the 751 unmarked graves discovered at a cemetery near the former Marieval Indian Residential School in Saskatchewan. "Having taught at an Indigenous run school in Saskatchewan and Manitoba I find this revelation deeply troubling and I recognize the impact it will have on multiple generations of Indigenous families across the country. "says Mayor John Taylor. "On behalf of the Town of Newmarket, I would like to extend my condolences to the Chippewas of Georgina Island and all Indigenous communities across Canada. We mourn with you and stand with you during this difficult time."
June 21, 2021
Upper Canada Mall expansion application meeting. A reminder that the Town of Newmarket is holding an electronic Public Meeting today, June 21 at 1:00 PM which will be streamed live at newmarket.ca/meetings. The purpose of the meeting is to hear from anyone who has an interest in the above noted applications. Upper Canada Mall's has submitted a plan for changes. While it will still exist, this plan proposes to add 5,100 residential units, a new road system, 4,500 parking spaces above/below ground and approximately 4.5 acres of new public parks. You can find out more and see the application on the town website here: https://bit.ly/34GVOgu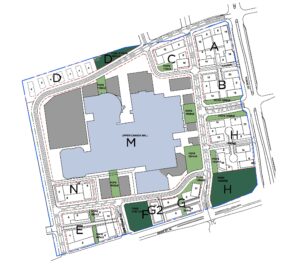 June 17, 2021
We're seeing the LYMANTRIA DISPAR DISPAR (LDD) – GYPSY MOTHS everywhere these days along with our neighbours wrapping tape and burlap on trees to help decrease the population. But some people are asking why isn't the Town spraying public trees.
In short, the wrong spray might have too little effect or in the other extreme, kill the good bugs and insects our gardens need to stay healthy. More research needs to be completed to determine what and when to spray. At this time in the season, burlap traps are the most effective way for residents to trap LDD caterpillars on their property. Once trapped, place the LDD caterpillars into a container of soapy water for a few days, then dispose of them. Learn more: https://www.newmarket.ca/…/Environment…/LDD-Moth.aspx


June 15, 2021
Flushing, not blushing. . . Our annual Watermain Cleaning Program is now underway and you may see the Town's contractor IQ Environment performing uni-directional flushing around Town this summer. You may also notice a slight drop in water pressure, or some water discolouration in your neighbourhood. This iis not a health risk and to clear up the water, simply run your faucets for a few minutes until the water clears up. For additional Information click: http://bit.ly/3q3rQNkWaterMain
June 10, 2021
The Town is expanding dates and pick-up times for the free burlap giveaway to trap Lymantria dispar dispar (LDD). The Town is now offering pick-up on Saturday, June 12 and Sunday, June 13 from 9 a.m. to 12 noon at the Magna Centre (800 Mulock Drive) west parking lot area. More details are available here: https://www.newmarket.ca/mediareleases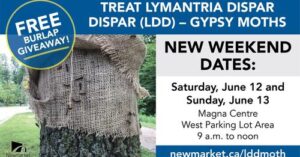 June 10, 2021
This needless and senseless loss brings to light that hatred exists in every community including ours. As Mayor John Taylor said, there are far more who are caring, compassionate and accepting. We must do all we can, to encourage acceptance by our personal example of how we treat others.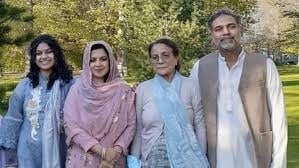 From Mayor Taylor's Facebook post:
Like so many people my mind is reeling at the thought of the mass murder and hate crime that occurred in London Ontario. I can't imagine the depth of loss the extended family must be feeling at this time. My continual thoughts are with the 9 year old son of this family as he recovers and deals with his tragic loss that is beyond his comprehension. I am also finding myself thinking about how the Muslim community in London and in Newmarket and across the Country must feel – there must be a sense of isolation and fear and anger. I simply want to speak out today as Mayor of Newmarket to the Muslim community here in our town and say " You are valued and your loss is our loss. Please know that your Mayor and your community grieve with you and for you. Please know that while hatred and racism circulate in every community there are greater amounts of love, respect and inclusion." We will continue to build a better, more inclusive community in spite of this act and other cowardly acts of hatred and violence. Love will always triumph over evil.
June 9, 2021
Flags at all Town of Newmarket and Central York Fire Services buildings are flying at half-mast on June 10 in memory of the Afzaal family who were targeted and killed because of their Islamic faith. "Sunday's senseless attack on a London family as we are now learning was fueled by hatred. This act of terrorism can not be tolerated and we must all work together to stand against hatred and prejudice." says Mayor John Taylor "Newmarket sends our sincerest condolences and joins the rest of the country in mourning the loss of the four members of the Afzaal family, and we hope Fayez Afzaal has a quick recovery as he heals in hospital." The Town of Newmarket condemns this tragic act of hate and stands in solidarity with the Muslim community.

June 8, 2021
The Town of Newmarket is providing free burlap to residents to create burlap traps for Lymantria dispar dispar (LDD) – gypsy moth caterpillars for trees on private property. The giveaway will begin on Wednesday, June 9 until June 18, or while supplies last, at the Municipal Offices, weekdays from noon until 3 p.m. through a curbside drive through pick-up. Residents will be provided three sheets of burlap and a 'how-to' information guide on how to set-up burlap traps. More information can be found at http://www.newmarket.ca/lddmoth


June 7, 2021
The Town of Newmarket is excited to announce the return of Summer Camps and Park Programs for summer 2021. Registration opens to Newmarket residents on Tuesday, June 15, at 6:30 am. Residents are encouraged to register early to reserve a spot. To see a preview of the different camps, including general camps, art camp, sports and specialty camps, visit newmarket.ca/camps
Newmarket is offering a Kids on the Move Park Program giving children an opportunity to engage and socialize in a safe and friendly atmosphere. Each program is $9/day, for two hours in length and geared for ages 6 to 12 years. As participant numbers are limited, camps and park programs will be open to non-residents on June 22, 2021, should there be any availability remaining after resident registration on June 15.

June 7, 2021
Give us your thoughts on the future Multi-Use Path along Mulock Drive! The Town is looking at building a multi-use path (MUP) along Mulock Drive that will run from Bathurst Street to Harry Walker Parkway. This east-west path will be designed to allow for a wide-range of recreational uses such as cycling, walking, jogging and wheelchair access. The goal for the Mulock Drive MUP is to allow the community to connect to key destinations in Town such as the future Mulock GO Station, existing trails, schools and the future Mulock Property.
June 5, 2021
Some updates of interest. . . .
This week second dose appointments for the 70 plus age group opened up and currently almost 74 per cent of eligible York Region residents (18 plus) have now received at least one COVID-19 vaccination.
Summer Camp Staff have been working on programming for modified camps and will be announcing when registration opens on Monday, June 7. Registration will be scheduled for mid-June.
The Town of Newmarket is providing free burlap to residents to create burlap traps for Lymantria dispar dispar (LDD) – gypsy moth caterpillars for trees on private property. The giveaway will begin on Wednesday, June 9 until June 18, or while supplies last, at the Municipal Offices, weekdays from noon until 3 p.m. through a curbside drive through pick-up. Residents will be provided three sheets of burlap and a 'how-to' information guide on how to set-up burlap traps. More information can be found at http://www.newmarket.ca/lddmoth



June 3, 2021
Upper Canada Mall's owner, Oxford Properties Retail Holdings Inc. has submitted a plan for changes. While Upper Canada Mall will continue to exist, this plan proposes to add approximately 5,100 residential units, a new road system, 4,500 parking spaces above/below ground and approximately 4.5 acres of new public parks. The Town of Newmarket will hold an electronic Public Meeting on Monday, June 21 at 1:00 PM which will be streamed live at newmarket.ca/meetings. The video will be available after the meeting as well.
The purpose of the meeting is to hear from anyone who has an interest in the above noted applications. Council will not be making any final decisions at this time. You can find out more and see the application on the town website here: https://bit.ly/34GVOgu If you want to get involved, written comments may be emailed to clerks@newmarket.ca by end of day June 20th, 2021. If you wish, you can speak to Council during the live meeting through video conferencing. Provide a remote (live) deputation through the Zoom platform during the Council meeting. Due to the technical requirements of joining an electronic meeting, residents are strongly encouraged to pre-register for a remote (live) deputation by completing the form provided at newmarket.ca/meetings or by providing their full name and contact information by registering via clerks@newmarket.ca or by calling 905-953-5300 extension 2203.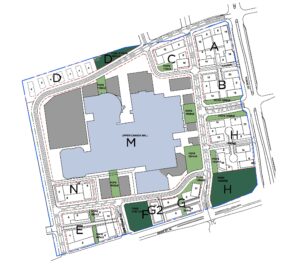 June 2, 2021
Are you a Newmarket resident? Do you have a few hours per month that you would like to volunteer and contribute to the Townn in issues of Accessibility or how about Heritage, History and Museums?
The Town of Newmarket is actively recruiting for vacant positions on two different Committees. Accessibility Advisory Committee & Elman W. Campbell Museum Board. The Accessibility Advisory Committee encourages and facilitates accessibility for all persons with disabilities in the Town of Newmarket. Details: https://bit.ly/34F9h8v The Elman W. Campbell Museum Board is responsible for advising on the development of policies and programs for the operation of the Museum. Details: https://bit.ly/3yUjGer
More information and the application forms can be found here. https://www.newmarket.ca/…/Committees-and-Boards.aspx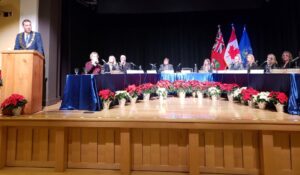 May 31, 2021
It started with 6 year old Phyllis Webstad, It was 1973 and she lived with her grandmother on the Dog Creek reserve. Her granny bought her a new, shiny orange shirt for the first day of school. "It had string laced up in front, and was so bright and exciting – just like I felt to be going to school!" At the Mission School, they took away her clothes, including the orange shirt! They wouldn't give it back. "The color orange has always reminded me of that and how my feelings didn't matter, how no one cared and how I felt like I was worth nothing. All of us little children were crying and no one cared."
Today, Phyllis is married, has one son, a step-son and five grandchildren. She is the Executive Director of the Orange Shirt Society, and tours the country telling her story and raising awareness about the impacts of the residential school system. She has now published two books, the "Orange Shirt Story" and "Phyllis's Orange Shirt" for younger children.
Today, we are wearing an Orange shirt to help create awareness of of the concept that "Every Child Matters"
May 28, 2021
Happy Friday! Well that snow was a little bit of a surprise this morning! Hope it's not too cold for the Farmer's Market Saturday from 9:00 AM until 1:00 pm at Riverwalk Commons.
Wondering what we can do about all those caterpillars?? The Town has some answers, click the link for information.
https://www.newmarket.ca/…/Environment…/LDD-Moth.aspx
The Town is gradually opening facilities as per directives from the Province. Stay tuned. . . .
Saw a street sweeper the other day . . . they're doing a nice job!
Composters on sale from the Town for $20. 905-895-5193
Rain barrels on sale until June 7th. https://rainbarrel.ca/newmarket/
There is a virtual Council Meeting Monday at 1:00 PM. You can join us at www.newmarket.ca/meetings
Enjoy your weekend, stay warm and dry!
May 27, 2021
those pesky moths. . . . Lymantria dispar dispar, or commonly known as Gypsy Moths, are an invasive insect that are currently the talk of the Town. These tiny, pesky caterpillars will eat the leaves of many trees but they find oak species the most delicious! Even after several years of attacks, most healthy will survive defoliation as they can usually regrow their leaves back within two to three weeks.
The Town is taking some action and many residents are wondering what we can do in our own trees. The Town has some answers, so please click the link and find out what to do. https://www.newmarket.ca/…/Environment…/LDD-Moth.aspx
York Region has some additional information here: https://bit.ly/2QXh3r7


May 26, 2021
2 Splash Pads re-opening TOMORROW! Get your towels ready!
Since the Provincial announcement last week, Staff have been working on a schedule to safely re-open the Town's splash pads. There are 4 splashpads getting ready to open.
~Riverwalk Commons- Opening May 27, from 9 am to 8 pm daily. Closed Saturdays during Farmers Market, opens at 2pm.
~the Rogers Spray Park- Opening May 27, from 10 am to 8 pm daily.
~Frank Stronach Spray Pad- Opening June 14, after repairs are completed. Will reopen sooner if possible.
Plus a new ACCESSIBLE pad, the Dr. Margaret Arkinstall Spray Pad in Sawmill Valley Drive and Summerhill South neighbourhood should be competed early this summer. As updates become available, I'll pass them along!

May 21, 2021
Happy Friday! A few reminders for this weekend. . . .
~the Farmer's Market is on at Riverwalk Commons on Saturday from 9:00 AM until 1:00 pm with safety protocols in place.
~lighting of Fireworks on public property is against the law.
~you can light fireworks from your own property if: you adhere to safety protocols; do it between 9:30 PM and 11:00 PM; do it on Victoria Day, or the day before or after; be mindful of your pets, fireworks scares most dogs and cats
~street sweeping continues. . .
~rain barrels are on sale until June 7th. https://rainbarrel.ca/newmarket/
~the Town office is closed from today at 4:30 PM to Tuesday at 8:00 AM. For emergencies, you can call 905-895-5193 and press 3 for an operator.~there is a virtual Meeting of the Committee of the Whole on Tuesday at 1:00 PM. You can join us at www.newmarket.ca/meetings

May 20, 2021
Victoria Weekend Hours. The Customer Call Centre will be closed all weekend, from Friday, May 21 at 4:30 pm to Tuesday, May 25 at 8:00 AM for the Victoria Day Holiday. Regular hours of operation will resume on Tuesday, May 25th from 8 am to 5:00 pm.
For emergencies, please call 905-895-5193 and press 3 to be connected to our after-hours service.
For power outages, please call Newmarket Hydro at 905-895-2309
Find additional closers here: https://www.newmarket.ca/…/Pages/News-Description.aspx…

May 18, 2021
Who does that??? After almost a week of rain and then a week of sunshine, the dandelions are in full bloom! This is the time when the Town's lawn mower brigade hits the parks and fields to keep the grass nice and short and the 'lions under control.
Newmarket has more green space, parks and fields than most communities our size and it takes a lot of staff and equipment to handle the all that mowing. The Town Works has to find that balance of fiscal responsibility versus dandelions and grass so we have a ten day cutting cycle that delivers a good solution for both. In case you're wondering, here is a snippet of what gets done and in what rotation. And if your parkette or grassy area is missing, don't worry, it's on the final list. And remember, they may not cut in the pouring rain.
~Day 1 RJT Complex (including Hydro and Monument) Glenway Yard, Eagle St Blvd. (Inc. Millard St)
Whipper Watson (Inc. Clearmeadow Blvd)
George Luesby Park
Jim Bond Park
Dr Margaret Arkinstall Park
Clair Salisbury Park (Inc. Surgeoner Austin Paul and Woodhaven)
Seneca Cook Parkett
Keffer Parkett and Shanahan Blvd
William Dunn (Bathurst entrance)
~Day 2 Joe Persichini Park
Joe Persichini Park ( Inc. Walkways from Rhhodes to Binns to McCaffery)
Joe Persichini/McCaffery Walkways/Retention Pond (McCaffery to Meegan to Flanagan ; Rushbrook to Denise
Armstrong Family Park
John F Smith Trail (Mulock to Yonge) Inc. Retention pond, Coventry Hill,Wm Dunn and Oaktree Entrances
Paul Semple Park
Tom Taylor Trail (Mulock to Yonge) Inc. Foxtail Parkett
Quaker Park
Cody Cres.
~Day 3 Art Ferguson Park (Inc. interlock at corner)
Audrie Sanderson (Inc. Heddle Cres Blvd)
Willowwick Park (Inc. Carberry Blvd)
Best Family Park/Comfort Lane Parkett
Laurelwood Parkett (Inc. Kinrara Lot, Shadrack and Harry Syratt, and Interlock at Bayview
Arnhem Park
Rourke Place Hill and College Manor Entrance/island
Goodyear Cres Blvd ( between Dutch Elliott and Lexus Cart)
College Manor Park
National Homes Park
~Day 4 Operations Centre
Harry Walker Parkway (Mulock Guard Rail, South of RCMP – Both Sides
Magna, Fernbank and trails
Frank Stronach Park ( must complete cut/trim same day)
Copper Hills
Ken Sturgeon Park (inc.accsess point across from west entrance)
Rene' Bray Park, Kingsmere Open Space
Broughton Lane Pathway (to Sir Ivor and Lockwood
Stone Haven Entrances
~Day 5 George Richardson Park, TT Trail ( Davis to Green Lane
Elgin Street Easement
Irwin/Red Deer Walkways/Easement
Bayview Parkway (3 Locations – Dixon Medical to Madsen's)
Jacarandah/Evanslea Parks
Jacarandah Blvd (Luesby lane to Leslie St)
Leslie Valley Hill
Leslie Valley Retention Pond
St Elizabeth Seaton Hill (and Waratah and Luesby Lane Entrances)
Waratah Open Space
~Day 6 Seniors Centre (interlock at C of C, TTT to Rainbow Bridge)
Youth Centre
Drew Doak Park (inc. Retention Pond and Srigley Entrance)
Huron Heights Open Spaces (Inc. Charles Van Zant, Hill Gate, Columbia Crt.)
Philmore Hamilton Park
Marsh Field/Crusaders Way
Alexander Blvd (across from Three Seasons Dr)
Sunny Hill Park
Harry Walker Parkway (Guard Rail across from Mars Building)
~Day 7 Town Office/395 Mulock
Fairy Lake (Inc. TTT Mulock to Water St)
Dennis Park (Inc. Roadway from Dennis Park to Lorne Ave)
Cane Pwy Islands
Beswick Park
Sandford Parkett
Cotter St (Water To First House) Vacant Lot South East corner of Prospect & Gorham
Lions Park, Gorman Pool
Church St Blvd to Eagle, Habitat, Cenotaph
Lorne St Blvd (Calgain to Woodland Cres – Both Sides)
~Day 8 Fairgrounds
Srigley Open Spaces (Prospect to Stickwood)
John Georges Parkett
AOK Park
Haskett Park
Charles Boyd Park (Inc. Gorham Island)
Gorham Blvd (Opposite Premier Place)
Fred Hagan Crt.
Larry Bubba (Penn) Parkette
Charlotte St. North
~Day 9 Main St N and Deviation Rd
Max Stiles Park
Marilyn Powell Park Inc. Bristol S Bend, Malvern Walkway, and Dorchester Retention Pond
Cardinal Parkett
Proctor Park
Rogers Park
Emma Broadbent Crt (Trail Entrance)
Gilpin Hill
Gilpin Retention Pond
~Day 10 Bonshaw Park
Environmental Park
Woodspring Blvd
Woodland Hills/Labrith Park
NW Hydro Quadrant Trail (cheryl Mews to Dowson Loop)
Upper Canada Mall Paths Knapton to Gail Parks to Mathew Boyd)
Kirby Park
Sykes Rd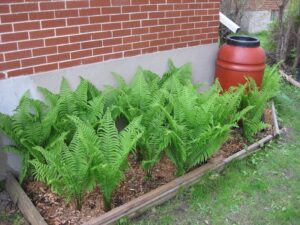 May 10, 2021
A reminder that you'll be seeing our contract Street Sweepers out & about starting today. Beginning in the southern areas of Town, they will work their way north towards Green Lane. The spring clean-up should take up to four weeks to complete. Once this initial spring cleanup is completed, the Town sweeper rotates through all areas keeping up with general sweeping maintenance into the fall.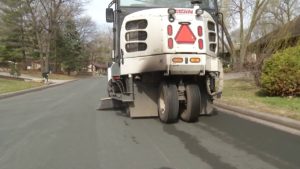 May 6, 2021
Local Heroes, Joshua Mazzotta and Rob Franceschinis, who rescued the family from their Warby Trail house fire received Commendations from Central York Fire Services Fire Chief Ian Laing and Newmarket Mayor John Taylor. Through a Facebook Live event on May 5, our local heroes were recognized for their heroic involvement in saving a family from a local house fire during a virtual commendation ceremony.
"These two individuals acted without hesitation to help someone in need. Their actions speak louder than words. While most people never get presented with this type of challenge, these two young men performed admirably." Says Fire Chief Ian Liang "Courage doesn't mean you don't get afraid. Courage means you don't let fear stop you."
As it is Emergency Preparedness week, the CYFS reminds residents that emergencies and disasters can happen at any time. Develop and practice a home escape plan, and build a culture of preparedness. In an emergency situation, all occupants must know their escape plan and while meeting the needs of their family.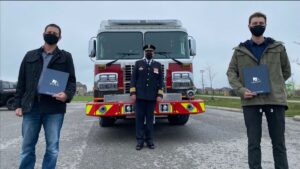 May 5, 2021
Man arrested for Sunday's No Frills parking lot hit & run!
You may remember that on Sunday, May 2, at about 2:35 p.m., a 63-year-old man had been struck by a dark-grey, four-door Mazda 3 that fled from the intersection of Davis Drive and Wilstead Drive. The victim was transported to hospital with serious but non-life-threatening injuries. York Regional Police have laid charges against a 21-year-old male Mohammad Rezaee of Newmarket. On Monday, May 4, the suspect turned himself in to Police. York Regional Police would like to thank the public for sharing the information which resulted in the suspect turning himself in.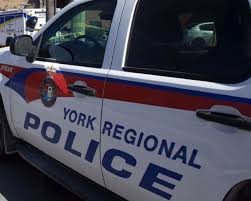 May 4, 2021
Got em'!!!
Two weeks ago on April 22nd, I wrote about York Regional Police Criminal Investigations were seeking witnesses following a suspicious cellphone tower fire in Leslie St and Crowder Blvd area. There have been a series of suspicious fires set and the YRP announced they have arrested and charged Justin Davis, 29, of Newmarket with 8 counts of Arson.
Fortunately, no one was injured during any of the incidents, but the Police are still requesting your help if you have home or office video for any of the crimes. Anyone with information is asked to contact the York Regional Police #1 Criminal Investigations Bureau at 1-866-876-5423, ext. 7142, Crime Stoppers at 1-800-222-TIPS or leave an anonymous tip online at www.1800222tips.com.
The incidents in question are:
Saturday, April 10, three tractor trailers set on fire on Leslie St north of Davis Drive.
Saturday, April 10, vehicle at auto shop on Pony Drive set on fire.
On April 11, at 12:30 a.m., a glass door at a garden centre business on Journey's End Circle was smashed in an attempt to gain entry.
On April 19, 4 a.m., a cherry-picker truck set on fire behind building on Leslie St south of Elgin St.
On April 20, 5 a.m., a vehicle fire at same auto shop on Pony Drive. The fire spread to two other vehicles.
On April 21, fire set at a cell phone tower, Leslie St & Crowder Blvd.
On April 25, 3 a.m., two vehicles set on fire at a car dealership on Leslie Street at Bray Circle. Following this, multiple communication boxes were found damaged and partially burned at locations on Harry Walker Parkway and Kerrisdale Boulevard.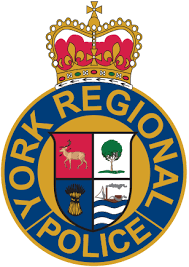 May 3, 2021
Sweet! Dope! Sick! Rad! Awesome! Legit!
That's what people are saying about Newmarket's first outdoor skatepark! (OK, younger people who skateboard are saying that.) The Town of Newmarket is excited to reveal the final concept design to the public. See imagery below. This new outdoor skatepark is scheduled to open in the spring 2022 at the Magna Centre will and include a variety of skate features to accommodate junior to advanced riders. Some main features include:
A junior area with a small quarter pipe, manual pad, flatbar and a bank to curb.
A central sculptural turn-around quarter pipe
Five set with hubba and rail
Wedge to wedge gap / table top
Asymmetrical quarter pipe hip
Slappy bank to curb
Mellow down rail, out ledge, out rail and manual pad
Eight set with rail and bank
Small quarter pipe
Multi-depth flow bowl with extension and pump roller
All I can say is, Wicked!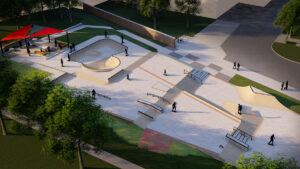 May 3, 2021
Hit & Run, Police require your help.
On Sunday, May 2nd around 2:35 PM, a verbal dispute occurred in and around the No Frills parking lot on Davis Drive at Wilstead Drive. The dispute involved a 63 year old male, a female in a pink jumpsuit and another male. Witness reports suggest that the 63 year old male was then walking East along Davis Drive, crossing at Wilstead Drive when he was struck by a vehicle, possibly a 4-door Mazda 3 sedan, dark grey in colour. It is believed the woman in the pink jumpsuit and the unknown male from the verbal dispute, were driving in the vehicle that struck the victim. The vehicle then fled South on Wilstead Drive. Anyone who has information, but especially pictures or video of either the dispute or the collision with the car and pedestrian, are urged to upload their content. Please click this link: https://yrp.ca.evidence.com/…/public/nofrillsnewmarketftr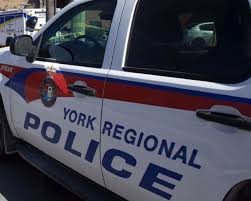 May 2, 2021
Saturday was a great day to be out preparing the garden and checking the perennials pushing their little heads through the soil. Knowing the care required, I was surprised to find tulips growing on my front walkway. A quick check of a few websites indicated tulips are not native to interlock areas.
A further check on local FaceBook sites indicate the likely existence of a mythical being called a "tulip fairy".  To the tulip fairy and to all those who give to others, not expecting anything in return, Thank You. Our community is better because of you.
April 30, 2021
A reminder that the Newmarket Farmers' Market will be open at Riverwalk Commons, every Saturday, starting tomorrow, May 1, from 9:00 AM to 1:00 PM. until October 30th. There will be strict safety measures in place with fewer vendors and offering only essential items. The Farmers' Market will be fenced off with capacity limits. Both Vendors and shoppers are required to wear a mask while within the fenced market area and physical distancing will be enforced.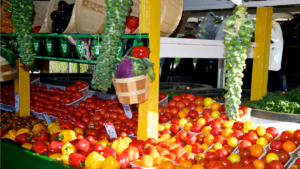 April 27, 2021
Great News! Newmarket Farmers' Market will return to Riverwalk Commons, beginning Saturday, May 1!
Public Health has approved the Farmers' Market to open with strict safety measures in place with fewer vendors and offering only essential items. Outdoor activities are lower risk and the Farmers' Market will essentially operate as an outdoor grocery store, delivering essential, locally grown food. This year, the Farmers' Market will be fenced, there will be capacity limits and physical distancing will be enforced. Vendors and patrons will all be required to wear masks while within the fenced market area. It's a good start, I say!




April 22, 2021
SEEKING WITNESSES
York Regional Police Criminal Investigations are seeking witnesses following a suspicious fire in Newmarket on Wed, April 21 shortly after 1 p.m.
York Police were called to the area of Leslie Street and Crowder Boulevard in response to an arson set at a cellphone tower site. It was determined that the fire had gone out prior to their arrival, but investigators confirmed suspicious activity was detected earlier in the morning, around 2 a.m. Fortunately, no one was injured.
Investigators believe the fire was intentionally set and the scene is being held for further investigation by the Fire Marshal. If you or anyone you know witnessed suspicious activity in the area, or if you have home video surveillance that may have captured suspicious activity, please come forward.
Contact the York Regional Police #1 Criminal Investigations Bureau at 1-866-876-5423, ext. 7142, Crime Stoppers at 1-800-222-TIPS or leave an anonymous tip online at www.1800222tips.com
April 22, 2021
Happy Earth Day!
Since it was first held on April 22, 1970, Earth Day includes a wide range of environmental protection and awareness events coordinated globally by EARTHDAY.ORG. www.earthday.org/
Many streets were named after our early pioneer families, such as merchants, farmers, doctors and other early entrepreneurs or professional people.
I find it fascinating to read the history behind the street names I see or drive along when in Ward 2 or anywhere in town. All those people and families, over many decades, contributed in making Newmarket a Town I'm proud to call home.
April 20, 2021
Are you free at 1 PM today?
The final draft master plan design for the Mulock Property will be unveiled today during a Special Committee of the Whole meeting. That's today, Tuesday, April 20 at 1 p.m. We invite you to watch this meeting that will be streamed live online at newmarket.ca/meetings.
It will be exciting!
April 15, 2021
Emerald Ash Borer Tree Rebate
Once again this spring, residential and business property owners in Town can replace their dying, dead or removed ash trees through LEAF, the Local Enhancement and Appreciation of Forests and be eligible for a $100 Emerald Ash Borer rebate from York Region. Residents may apply for the Full Service Tree Planting Program or the Do-It-Yourself Tree Planting Program. There is a limit of five rebates per property and are issued on a first come, first served basis due to limited supply. Learn more at yourleaf.org/eab-rebate  Email: info@yourleaf.org or call 1-888-453-6504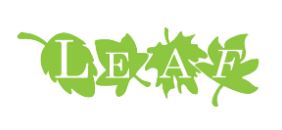 April, 15, 2021
Newmarket signs of spring; the weather begins to warm up, birds start building nests, bulbs breaking through the ground, more bicycles everywhere and the street sweeper comes out!!
"The Town Sweeper", yes we only have one, has started operating! Currently, it is working on Main St. downtown, Gorham, Eagle, & Water Streets and the Industrial areas east of Leslie St, as well as bike lanes.
The contract sweepers will begin Monday, May 10th, starting in the southern areas of Town and will work north towards Green Lane. This schedule ensures all streets get swept and helps with efficiency of service to residents. The spring clean-up should take up to four weeks. Once the initial cleanup is completed, the Town sweeper rotates through all areas keeping up with general sweeping maintenance into the fall. And in case you're wondering, the Town sweeper does not take special requests for sweeping in front of your house first!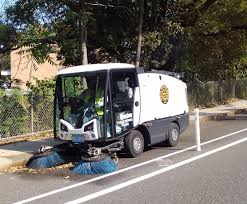 April 13, 2021
I know I'm a little late for International Siblings Day, but this is a picture worth sharing! The Woodhouse Clan. Back row, left to right we have: Vonda, Vince, Veronica, yours truly, Victor, and Virginia. Front left to right, Vanessa, Vicki and Vana.
Yes, I know, and I have heard them all before!
  But what a great bunch of siblings we each have.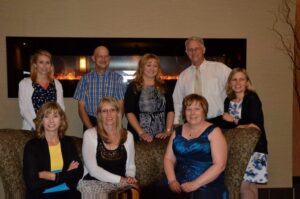 April 12, 2021
Rude Awakening!! At 7:00 AM this morning, Central York Fire Services responded to a residential fire on Londry Court, in Ward 2, Newmarket.
Fortunately, a neighbour was walking by, noticed the fire and then alerted the homeowners that there was smoke coming from their garage and eaves. Fire crews were able to get the garage door open and extinguish the fire. No one was hurt and damage was contained to the garage.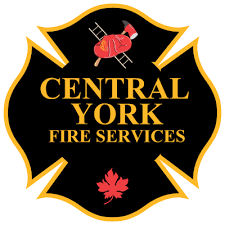 April 12, 2021
There are different vaccine clinics for York Region residents depending on your age and job priority.
Click this link https://bit.ly/3mDSgUt and scroll down to the section "Who Can Book at This Clinic" to select the clinic most appropriate for you.
If you are 65 and in town, call 1-844-301-8080 for an appointment or click here: https://yrh.vertoengage.com/If you are 55 and over, you can book an appointment at pharmacies found here: https://covid-19.ontario.ca/vaccine-locations/


April 8, 2021
A reminder that the Town of Newmarket Recreation & Culture hosts a virtual Home Sweeet Home hub where you can find a collection of healthy, educational and fun ideas for the whole family to enjoy.
We invite you to click www.newmarket.ca/homesweethome to find a variety of activities to enjoy by yourself or with the family while in shutdown and staying at home. Please check back each week for updated content!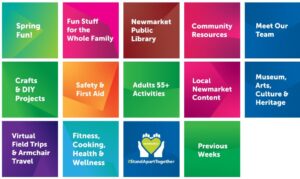 April 7, 2021
Premier Doug Ford announced today that the Province of Ontario is entering a state of emergency and is implementing a provincewide stay-at-home order as of 12:01 am Thursday. It will last 28 days until May 6th. ( I will have a Town of Newmarket information update here soon.)
April 5, 2021
Provincial Shutdown
Newmarket has closed its indoor recreational amenities at the Magna Centre which includes the Fitness Centre, the pool and the ice rinks for the next four weeks in response to the Province's shutdown.
Newmarket trails, parks and outdoor amenities remain open with health and safety measures in place. If the rules aren't followed and safety cannot be assured, the Town will close the amenities.
While in shutdown, residents are encouraged to stay at home and only go out for essential purposes such as work, exercise, groceries, medical appointments etc. Indoor gatherings are only allowed with members of the same household while outdoor gatherings are limited to five (5) people while maintaining physical distancing.
Essential stores remain open at 50% capacity, while other non-essential stores can remain open with a 25% capacity limit. Restaurants will be closed for in-person dining and patios will remain closed, while take-out and delivery options remain available. The Town will work closely with local restaurants to ensure patios are able to open when permitted to do so.
The Town urges all residents to continue to "Choose Local" and support local businesses through curbside pick-up, online shopping, take-out and delivery options and by purchasing gift cards when possible. Please visit newmarket.ca/ChooseLocal for more information.
The Newmarket Public Library remains open with strict health and safety measures in place. Learn more by visiting newmarketpl.ca.
Please continue to do your part by staying home if possible, being vigilant with physical distancing, wearing masks and hand-washing.The Town's Customer Service associates are available Monday (except Friday and Monday for Easter) to Friday from 8 a.m. to 5 p.m. to help guide and assist residents by emailing info@newmarket.ca or calling 905-895-5193. For after-hours service, please call 905-895-5193 and press 3.
April 1, 2021
Fraud Alert
Between March 6, 2020 and February 28, 2021, there have been over 13,000 reports of COVID-19 fraud alone, costing Canadians over 7 million dollars. Don't let this happen to you.
The Canadian Anti-Fraud Centre collects information on fraud and identity theft and provides information on past and current scams affecting Canadians. If you think you're a victim of fraud or cybercrime, report it!
For helpful information, to find out more or to report suspected fraud, please visit: https://antifraudcentre-centreantifraude.ca/index-eng.htm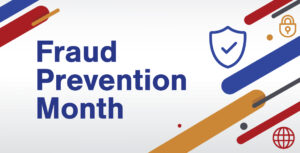 April 1, 2021
Waste & Blue Bin Collection: A reminder that if your pick-up is this Friday, it will be moved to Saturday due to the Good Friday Holiday. Starting Tues, April 6, the Town is collecting a maximum of three bags of garbage per household on your garbage pick up day. Residents wanting to place additional bags at the curb for pick-up need to purchase garbage bag tags @ five for $15. Contact Customer Service at 905-953-5303 or email info@newmarket.ca. The Town will send you your garbage tags by mail.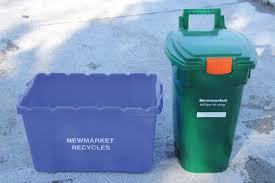 April 1, 2021
The Ontario government increased capacity in its COVID-19 vaccine rollout with the addition of over 350 additional pharmacies today. Search for locations: https://covid-19.ontario.ca/vaccine-locations Those locations will be offering the AstraZeneca vaccine to individuals aged 55 and over, with some locations offering the vaccine as early as Saturday, April 3, 2021. There are 3 Aurora locations and 4 Newmarket locations. Please click on the above link to read more and find the locations closest to you. You will need to book an appointment to get your vaccine.


March 31, 2021
Easter Weekend Hours
The Customer Call Centre will be closed from Friday, April 2 to Monday, April 5 for the Good Friday and Easter Monday Holiday.
Regular hours of operation will resume on Tuesday, April 6 from 8 a.m. to 5 p.m.
For emergencies, please call 905-895-5193 and press 3 to be connected to our after-hours service.For power outages, please call Newmarket Hydro at 905-895-2309
Find additional closers here: http://www.newmarket.ca/…/Pages/News-Description.aspx…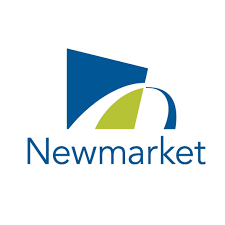 March 31, 2021
York Region is expanding COVID-19 appointments to include people aged 65 and older. York's public health unit says approximately 15,000 new vaccine appointments will open this morning at 8:30. Read more info on eligibility here: https://bit.ly/31DnrVW


March 26, 2021
Earth Hour is this Saturday, March 27 from 8:30 to 9:30 PM. One of the world's largest grassroots movements for the environment, Earth Hour is held on the last Saturday of March every year. In more than 180 countries and territories, people like us switch off our lights to show support for our planet. Find out more here: https://www.earthhour.org/
March 26, 2021
The Newmarket Chamber of Commerce's 2021 Home & Lifestyle Showcase goes virtual this year and kicking off the Show this Saturday at 11:00 AM is TV Personality Frankie Flowers! Frank Ferragine is a best-selling gardening author, award-winning landscape designer and Toronto's most popular weather guy appearing on Breakfast Television and CityLine! Registration is Free, but you must register online to receive the Zoom streaming link. Sign up here: https://www.newmarketchamber.ca/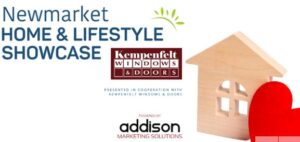 March 25, 2021
We know there is great interest to many of us in Newmarket about the Shining Hill Amendment application, and to help keep you better informed, we have created a HeyNewmarket project page where you can read more about it, follow the process and participate in the process, click here: https://bit.ly/3rq7WLA  In response the Shining Hill submission, a process has begun to consider the long-term vision for these lands, see graphic below. This is a link to it on the Shining Hill application page on the Town site for additional information. https://bit.ly/3vZHwUB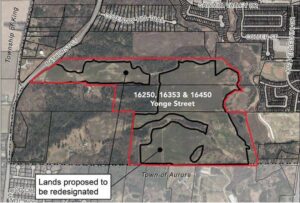 March 24, 2021
Small Business News. The Government of Canada announced that the deadline for new Canada Emergency Business Account (CEBA) applications is being extended from March 31 to June 30, 2021. This deadline extension applies to new applications for CEBA loans of $60,000 or new applications from businesses that have already received the $40,000 loan and will apply for the additional $20,000.
March 23, 2021
A reminder that used latex gloves and masks should be placed in the garbage, even better, in a plastic bag in the garbage. Please do not place these items in the recycling bin. Need a refresher of what goes where, visit www.newmarket.ca/wasteandrecycling
March 22, 202
Are you 75 or older living in Newmarket or elsewhere in York Region? Do you need help to book your COVID-19 vaccination appointment or need a ride to your appointment? You can get free help from a Group called Pink Cars!
Pink Cars is a group of volunteer drivers and administrators that will help arrange transportation for those who need it. They will also help you book your online appointment if necessary. Click this link to complete the form: https://pinkcars.ca/contact/ or email them at info@pinkcars.ca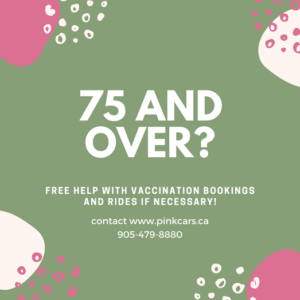 March 19, 2021
The next pick-up date for the Seniors 55+ free activity kit is April 1 from 10 am to 11 am. ( No April Fool's joke!) A reminder that there is a limit of one kit per household and you need to order a kit online here: newmarket.ca/adults55+  Each kit will contain a variety of activities, puzzles, games and creative things to do. These activities will challenge your mind and put a smile on your face.
Pick-up of your kit at the Municipal Offices, 395 Mulock Drive.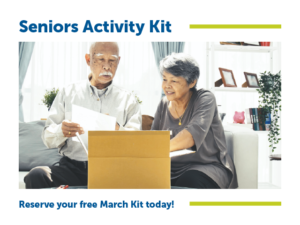 March 17, 2021
As you read here earlier this year, there is a 32 unit, three-storey townhouse development proposed for 415 Pickering Crescent, where the Innova Academy is currently located. Mayor Taylor and I have been involved in the planning process and public consultation meetings will be scheduled for a later date. There is an article in Newmarket Today that may be of interest to you, read it here: http://bit.ly/3qX9vAk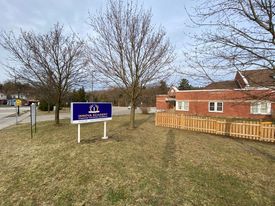 March 12, 2021
Indoor air quality results at the Keith Davis Tennis Club.
The Town is pleased to announce that after the installation of a sub-slab depressurization system, the previous exceedances for chlorinated solvents has been resolved. Mayor John Taylor said, "While the Keith Davis Tennis Club remained safe for use throughout this investigation, the Town is incredibly pleased that the sub-slab depressurization system installed at the KDTC has resolved the indoor air quality conditions."
The Town will continue testing air quality as recommended by the Ministry of the Environment, Conservation and Parks (MECP) and York Region Public Health (YR-PH) to ensure its continued quality levels. Should residents have any questions or concerns, please contact the Town at 905-953-5300 ext. 2040.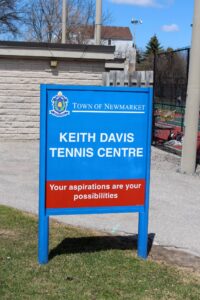 March 10, 2021
Mulock Farm Propoerty
In case you missed the live Facebook Event last night for the Mulock Property Final Design Concept Reveal, you can watch the entire Facebook event presentation here:
https://www.facebook.com/events/750251779226701
The first 3:50 is waiting time so skip to 3:50 on the timer to see Mayor Taylor's introduction and comments. The presentation introduction starts at 11:00 and the video presentation begins at 14:30 on the timer.
Or if just want to see the video, view it here: https://www.heynewmarket.ca/mulock-property   or here: https://youtu.be/7JFjZtVkMoA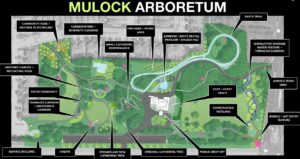 March 5, 2021
Here we grow again!
The Town of Newmarket has received a complete application for Official Plan Amendment and Zoning By-law Amendment for the property located at17680 Leslie Street. The application is proposing to rezone the subject lands to a Residential Stacked Townhouse to permit the removal of the existing structure and to replace with a residential development comprised of eighty-eight townhouse dwelling units, configured in four blocks. A statutory public meeting will be held at a future date to be announced.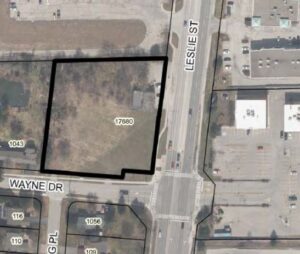 March 5, 2021
It may be freezing outside but believe or not, Newmarket's patio season is just around the corner!
The Town will once again allow new and expanded patios on both Town and private properties. Patios were overwhelmed by residents and visitors last summer and we anticipate demand for outdoor patio dining will be just as enthusiastic as last year. Newmarket patios are permitted to open beginning April 9.
March 3, 2021
Incredible news for Newmarket! Mayor Taylor received a letter of confirmation today that the Government of Ontario has committed financial support to the Town of Newmarket through the 2021 COVID-19 Recovery Funding for Municipalities program in order to support your COVID-19 operating costs and pressures.
Newmarket will receive $2,458,182.00 in funding. Enough money for pizza and tacos for everyone for a long weekend!! BUT, being the prudent Council that we are, we will use it wisely to offset the costs of dealing with COVID recovery in Town and report back to the Government of Ontario all the expenditure details.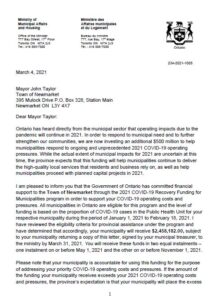 March 3, 2021
Newmarket residents are invited to a COVID-19 Vaccination Community Information Meeting through a Facebook Live public event with Mayor John Taylor and representatives from York Region Public Health. This event will provide residents an opportunity to learn more about the COVID-19 vaccination roll out plan in York Region/Newmarket and ask questions.
When: Friday, March 5, 2021 from 2 to 3:30 p.m.
Where: Facebook Live event at https://bit.ly/389CPgz 
If you need a different way to view/listen to the meeting, please email corporatecommunications@newmarket.ca by 1 p.m. on March 5, 2021.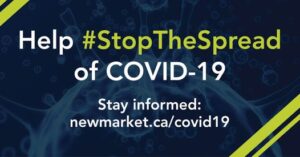 March 2, 2021
It all adds up. . . . The Town of Newmarket continues to try and limit the financial impacts of COVID-19 to our budget. And in consideration of that, the Town will save approximately $500,000 to $600,000 this year with some service changes which include:
Reverting back to the three-bag garbage limit as of April 6, 2021.
February 26, 2021
The Town of Newmarket is pleased to move forward with its reopening plan now that we are within the red-control zone. The Town's reopening plan continues to provide safe recreation opportunities and events to the community while balancing the significant financial impacts of COVID-19. "…the Town is committed to providing much-needed recreational options and modified events that we can all enjoy safely. We will continue to seek support from other levels of government to limit the financial impacts of COVID-19 as much as possible." said Mayor Taylor.
February 25, 2021 
As Black History Month draws to an end, I would like to bring your attention to February 26th, but in 1890, that's the day that Thornton Blackburn died. Born in 1812, Thornton Blackburn was an American slave who along with his wife Lucy, escaped to Canada in 1833. In his wake, he left a riot in his name in Detroit and a court case in Canada that established the principle that Canada would not return slaves to their masters in the United States. This made Canada a safe haven for slaves escaping the US via the Underground Railroad.
After living in Amherstburg in Essex County, in 1834, Thornton and Lucy moved to York, Toronto as it is now called, where he worked as a waiter at Osgoode Hall. He saw the need for a taxi service and by 1837, he had built a red and yellow horse-drawn cab and called it "The City". His taxi, the first one west of Montreal, was able to carry four passengers. This was the beginning of a successful taxicab company.
The Blackburns continued to be active in the Underground Railroad, anti-slavery and community activities, helping to build the nearby Little Trinity Church and participated in the North American Convention of Colored Freemen at St. Lawrence Hall in September 1851. Thornton died on February 26, 1890, leaving an estate of $18,000 and six properties and is buried at Toronto's Necropolis Cemetery. Lucie died five years later, on February 6, 1895.
February 23, 2021
New! Free Seniors 55+ activity kit. Each kit will contain a variety of activities, puzzles, games and creative things to do. These activities will challenge your mind and put a smile on your face. There is a limit of one kit per household and you need to order a kit online by Sunday, February 28, 2021. Order here: https://play.newmarket.ca/Start/Start.asp
February 18, 2021
Have you heard about Home Sweet Home yet? It's the Town of Newmarket's virtual Recreation & Culture hub. The page features a collection of healthy, educational and fun ideas for the family to enjoy while at home and social distancing. Town staff share their favourite links and resources to help stay active, healthy and connected at home. Until the Town can reopen all our facilities, this may provide a healthy alternative for you! Find out more here: https://www.newmarket.ca/homesweethome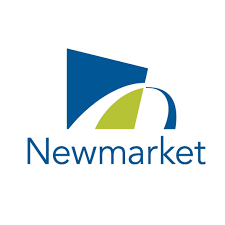 February 17, 2021
Even though it's been extremely cold during the past week, the weather should be warming up a bit within the next week. With that in mind, we are reminding you to NOT skate on Fairy Lake, the Holland River or any of the stormwater ponds around Town.
No matter how thick the ice may appear, changes in temperature can cause variations in the thickness of the ice. What may look safe, isn't, putting you in danger. Please remind your family members to be safe & NICE and stay away from the ICE! There are rinks around town that provide safer alternatives, please click: https://www.newmarket.ca/skating.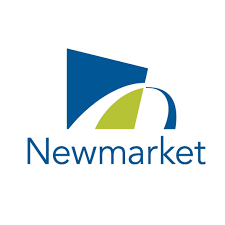 February 15, 2021
Davis Tract new parking.
A quick note to mention that the Region has opened about 35 additional parking spots on the McCowan portion of the Davis Tract this past week. I was out for a walk on Saturday with Becky and was delighted to see the quick response from the Region. The Davis tract is relatively new and has attracted many visitors recently. This parking will also allow visitors to the West side of North Tract an opportunity to park in a lot instead of on the shoulder of McCowan Road, south of Davis Drive. Well Done! Thank you to Region staff that made this happen. It is appreciated.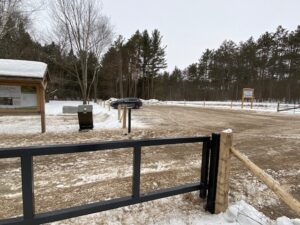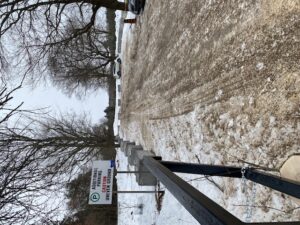 February 11, 2021
The Town of Newmarket has just launched its new online Council Strategic Priorities Dashboard. This dashboard will be updated bi-annually so that residents can track the progress of Council initiatives while viewing the decision-making and planning process. Residents can also see how Council is fulfilling the Town's vision of a "well beyond the ordinary" community. Strategic Priorities were determined through results gathered from the Town's Community Survey Results in 2018, coupled with engagement sessions with Newmarket staff and Council members.
See all the details here: http://bit.ly/3rBQBzY
Watch the overview video here: https://www.youtube.com/watch?v=LbwpHE_bxT8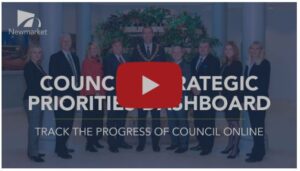 February 9, 2021
Don't tell the kids…. Today is National Pizza Day and it's not a Friday!
National Pizza Day seeks to appreciate the baked flatbread typically topped with tomato sauce and mozzarella cheese. Pizza is believed to have been invented in Naples, Italy around the 10th century. So, what are your favourite toppings?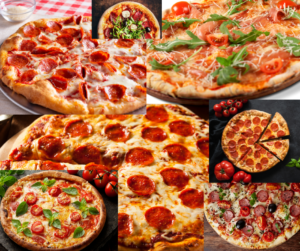 February 7, 2021
What a beautiful day to go for a walk! Sally and Lilly love the winter and to play in the new fallen snow. And I love it when they invite me along!
February 5, 2021
Getting ready for Baseball at Fairgrounds Park-Don McKnight Field. Yes, it is the middle of winter and very cold. However the Town of Newmarket is getting the best baseball diamond in town ready for play….whenever that happens.
Right now a new, higher, stronger fence is being installed around the premier field. Why now?
By doing it now, it is less likely to interfere with your park activities, plus the heavy equipment does not significantly damage the working area as the ground is frozen solid. Baseball will return and we'll be ready!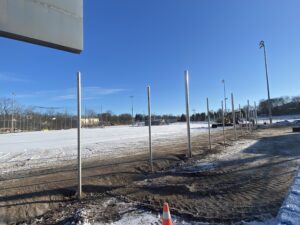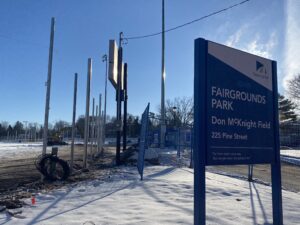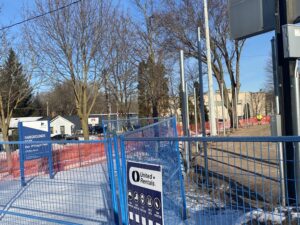 February 4, 2021
Ward 2 building update.
I recently posted about a variety of new and current development applications and building taking place in Ward 2 this year.
A new application has been received by the Town of Newmarket for a Zoning By-law Amendment for 17188 Leslie St, situated between Lemar & Gorham streets, proposing to rezone the land to permit a 3-storey private Montessori school with daycare.
This is the formal application to the Town and all the application documents can be found within the Town website at: https://tonfileshare.newmarket.ca/share.cgi?ssid=0WXIcJO
As always, I will post about any upcoming public meetings concerning this application before they take place. Pictured below is the rendering of the building.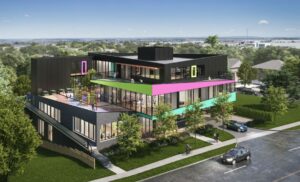 February 3, 2021
It's National Golden Retriever Day! And Becky and I are proud fur-parents to sisters Sally and Lilly, a pair of beautiful Goldens. But they're not getting special treatos, extra-long playtime, and extra loving to help them celebrate National Golden Retriever Day because they get that every day! https://www.daysoftheyear.com/days/golden-retriever-day/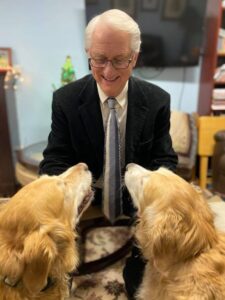 February 2, 2021
Stop signs, speed bumps and bears, oh my.
If you haven't seen it yet, there is an interesting article in Newmarket Today regarding speeding in town. (find it here: http://bit.ly/3toBzzo )
I was quoted stating at the Council meeting on Monday "That seems to be the No. 1 issue we hear at the door, speeding in their neighbourhood"
We hear complaints from residents and when it results in a petition being presented to the Town, we'll send out Staff to check the speeds or analyze the traffic patterns. But what seems like speeding doesn't always prove to be speeding.
February 2, 2021
A Newmarket Doctor was charged with sexual assault. Doctor Sam Naghibi, pictured, worked at a medical clinic on Davis Drive, just west of Prospect Street and was charged by Police in connection with a sexual assault.
February 1, 2021
Keith Davis Tennis Club
You may have heard that indoor air quality testing results for chlorinated solvent impacts (trichloroethylene/ an industrial solvent) inside the Tennis Club were slightly higher than Ministry standards. This is likely attributed to historic industrial or commercial activities in this area of Newmarket. The Ministry of the Environment, Conservation and Parks, York Region Public Health, the Town's environmental consultants all determined that the clubhouse and tennis bubble were safe for use. You can read the full press release here: http://bit.ly/3tkLiGA
Should residents have any questions or concerns, they may contact the Town of Newmarket at 905-953-5300 ext. 2040.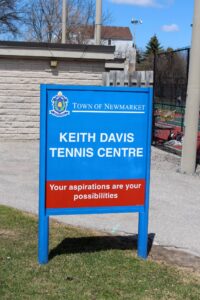 January 29, 2021 
The Newmarket Public Library continues to offer wonderful services including Zoom read along for kids as well as curbside service during lockdown.
1000s of books, DVDs, magazines and more are yours for the asking. Check the library's catalogue to place an item on hold for curbside pickup http://bit.ly/catnpl.
Families can join a Zoom call for an hour every Tuesday and Thursday nights as we read some classic children's novels.
Register online at: http://bit.ly/2L35kUY
There are a variety of great "how to use" topics and online learning opportunities for kids and adults at https://bit.ly/2KYWrLZ
Take a look, our library is more than just a book!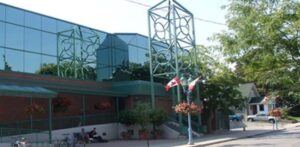 January 27, 2021
Why are they cutting down all those trees?
Trees are important, right! But if you visit the Bendor and Graves Tract at 17689 Kennedy Road and see big machines cutting down a lot of trees, you might get mad, or confused, or both. But don't, there are good reasons for it.
To be clear, I am not an expert in good forest management, nor do I speak for the Region, however here are some things I have learned over the years.
1-Healthy forests need to be managed, just like your garden needs attention.
2-By cutting down trees selectively, other trees are allowed to grow bigger and healthier. Trees compete for light and water and they will not grow as tall and healthy if overcrowded.
3-By removing diseased and suppressed trees, certain species such as beech, maple & black walnut will get a healthy & strong start. When the Region first took over the lands, only pines could grow. Now, because of good forest management, some added topsoil, there is a mixture of both hardwoods and softwoods.
4-A healthy mix of trees ensures that when one species becomes infested, like the ash tree in recent years, the whole forest is not wiped out.
5-The "slash" or the branches cut from the trees aids in increasing/sustaining the forest floor as the branches decompose.
6-Trees to be cut are carefully selected and marked to meet the above mentioned objectives.
In the pictures, you can see the tree stumps where they were cut 15 years ago. So don't get mad. Be thankful. The Region works to an international standard for healthy forests. Enjoy your forests and take some time to find one of the many tracts that are close. Some are busy while you can still find some tracts that are not used as often. https://www.alltrails.com/…/ontario/york-regional-forest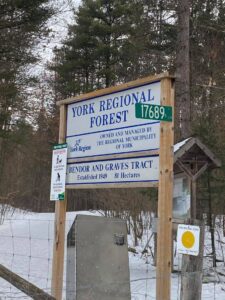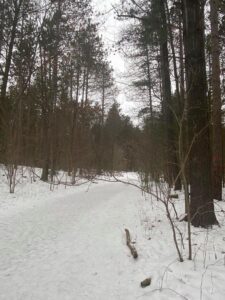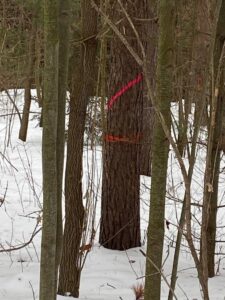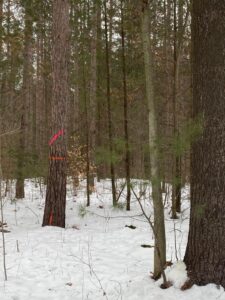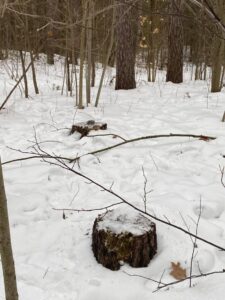 January 26, 2021
Newmarket Council introduced a new Financial Relief Program to replace the 2020 program expiring January 31, 2021. The new Program hopes to will provide relief to residents and businesses experiencing financial challenges during the pandemic, including:
~Waiving penalties & interest on unpaid property taxes for eligible residential property owners (through an application process);
~Increasing the existing property tax assistance rebate to elderly residents from $320 to $450;
~Increasing the existing residential water and waste water rebate from $354 to $420; and,
~Providing a water rebate of $1,000 for eligible small businesses (through an application process)
Please click to read all the details and what may apply to you and/or your business: https://www.newmarket.ca/financialreliefprogram


January 25, 2021
SHOTS FIRED IN NEWMARKET
Investigators with the York Regional Police are seeking witnesses after shots were fired in Newmarket on Sunday, Jan 24, at approximately 1:15 a.m.
Police were called to Maurice Court, in the Yonge St & Davis Dr area for a report of shots fired. When officers arrived, they located two bullet holes in the residence that were fired from a suspect black Mercedes, which had fled before police arrived.
No one was injured during the incident.
Investigators ask for any witnesses to come forward, or with residential video surveillance or dashcam footage from the area at the time. Anyone with information is asked to contact the York Regional Police #1 District Criminal Investigations Bureau at 1-866-876-5423, ext. 7141 or Crime Stoppers at 1-800-222-tips or leave an anonymous tip online at www.1800222tips.com.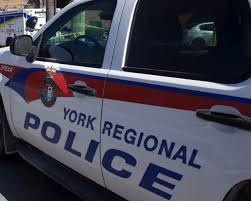 January 21, 2021
If you know me or have read these posts from time to time, you know that I enjoy going for a walk or a hike in one of the many tracts in the regional forests that are in or just minutes away from Newmarket.
These tracts are getting ever so much more popular and I brought up the parking challenges during Monday's council meeting suggesting that the Town seek out some solutions to find more parking.
Newmarket today has an interesting recap of input from the Mayor, Regional Councillor Tom Vegh and myself and you can read it here.
January 21, 2021
I have included some site information on new housing developments below that have started or will be starting this year in Ward 2. There is a lot of building scheduled for this year and based upon inquiries and submissions, next year will be quite busy too.  The good news is this will create many new housing opportunities for people to move into and enjoy Newmarket, and may provide people in town to move up, down or over to a home that better fits their needs. Building in the industrial area is great news too as that usually translates into new jobs in town, something we can always use.
Please take a look at the map for Ward 2 and you will see some photos of the properties in question. To see all the building planned for Newmarket,
the Town has recently created a new interactive website that residents can access to see all the permits and developments that have been applied for or have been approved. Visit it at: www.newmarket.ca/planningapplications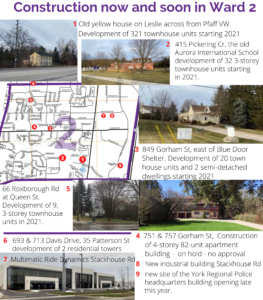 January 18, 2021
The Newmarket Planning Department has been working on a new website that better communicates current planning applications. This website is live at: http://newmarket.ca/planningapplications
The website is map-based, allowing residents to see the geographic location of planning applications and access additional information for each.
~Click on an application and some application highlights are provided, in many instances, a link to the technical report is provided.
~ The ward boundaries can be turned on by clicking on "Ward Boundaries" in the Layer List.
~ The map explains where the planning application falls geographically and provides the staff contact info for each Area.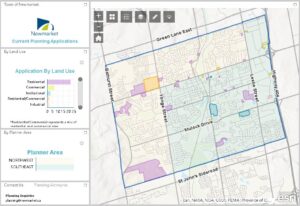 January 15, 2021
Newmarket reopens all outdoor skating, community rinks and allows for tobogganing but with new enhanced measures to prevent against COVID-19. New measures for outdoor skating at Riverwalk Commons
All skaters must register in advance at play.newmarket.ca and can book their spot online one day in advance starting at 9 a.m.
NEW! No walk-ins or stand-by spots will be available
NEW! Skaters must wear a mask while in line and while skating
Skaters must maintain 6ft./2m apart from others outside of their household at all times
Hours of operation remain at 9 a.m. to 10 p.m.
Capacity limits remain at 25 people per skating session
New measures for outdoor skating at community rinks:
Follow the rules posted at Lions Park
NEW! Skaters must wear a mask while in line and while skating
All skaters must maintain 6ft./2m apart from others outside of their household at all times
Capacity limits remain at 25 people per skating session

January 15, 2021
Newmarket reopens all outdoor skating, community rinks and allows for tobogganing but with new enhanced measures to prevent against COVID-19. New measures for outdoor skating at Riverwalk Commons

January 14, 2021
Newmarket temporarily closes all outdoor skating and community rinks until the Town seeks further clarification on stay-at-home orders from the Province of Ontario. The Province of Ontario recently declared a state of an emergency and issued a stay-at-home order requiring everyone to remain at home with exceptions for essential purposes, such as going to the grocery store or pharmacy, accessing health care services, for exercise or for essential work. This order will be in effect as of Thursday, January 14, 2021 at 12:01 a.m.
January 9. 2021
What's cooking in your backyard? It's a beautiful Saturday afternoon in Newmarket and way too nice to be indoors for me.
Stay safe and remember our COVID rules.  Check out me in my backyard making dinner.
https://www.facebook.com/VictorWoodhouseNewmarket/videos/3014724525296694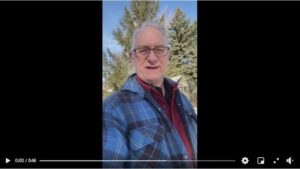 January 5, 2021
Zoning Change Proposal Meeting
The Town of Newmarket Council will hold an electronic Public Meeting on Monday, January 18th, 2021 at 1:00 PM regarding the lands north of St John Sideroad, just west of Yonge St.
It will be a video meeting streamed live at newmarket.ca/meetings to consider a proposed Official Plan Amendment to amend the Official Plan to re-designate the lands shown on the map to Site Specific Emerging Residential, Parks & Open Space, Natural Heritage System & Environmental Protection Area – Oak Ridge Moraine.
The purpose of this amendment is to permit a portion of the lands to be developed for urban uses, such as a mix of low/medium residential, institutional, commercial, office, parks and open spaces uses. Below is a map showing the approximate place of the proposed land use changes where the urban uses would be located.
To find out more information on the application, send an email to planning@newmarket.ca or click here to start: www.newmarket.ca/TownGovernment/Pages/News-and-Notices.aspx
You can get involved with this application in the following ways:
Submit written comments by email to clerks@newmarket.ca.
In order for comments to be received by Council at the statutory public meeting, written comments must be submitted to clerks@newmarket.ca by end of day January 17th, 2021. Written comments will also continue to be received after the public meeting has concluded, after the meeting written comments can be sent to planning@newmarket.ca.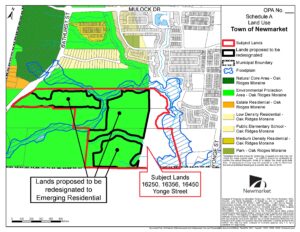 January 4, 2021
Happy New Year Everyone! Here's wishing you and yours health and happiness in 2021.
December 30, 2020
Construction on the Fairgrounds' Don McKnight hardball diamond is scheduled to start on January 4, 2021. The Town is replacing the outfield fence and adding safety netting to help with health and safety issues from baseballs leaving the park and landing on the small diamond, parking lot and Pine Street, including houses across from park.
The work is scheduled to be completed before the season starts. Residents near the Fairgrounds may have received a letter regarding the improvement and service disruption.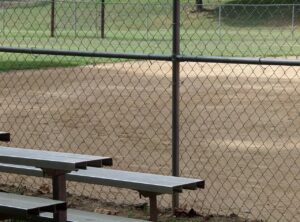 December 30, 2020
One of the few good things about Covid is that it had many of us walking and hiking more than we have in a long time, or more than ever for some!
As many of you know, I enjoy the many York Region Forest Tracts and "go for a walk in the woods" as often as possible. 30 plus years ago, my wife, Becky and I purchased country skis and they still work quite well. As the Christmas season is quieter and less busy this year, we have been out "shussing" more often than last year and plan to get out more often this year.
Pictured is one of the newer tracts for us, Drysdale Woods. The Drysdale family had four generations enjoy the woodlands and provided Christmas trees to Canada's Governor Generals eight times. I have never seen such consistent attendance as I have since Covid hit. I think now that residents have "discovered" the forests, that they will continue to walk, Covid or not. https://www.oakridgestrail.org/…/whit-stouffville…/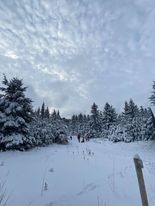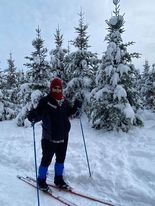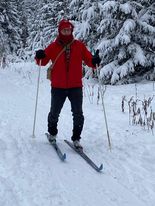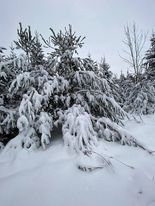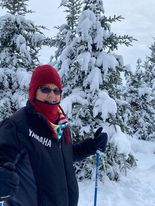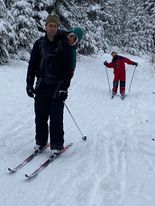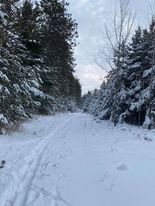 December 29, 2020
This year has been a very unusually "unbusy" Christmas season. In the lead up to Christmas, my wife, Becky suggested we decorate and light our front lawn. Usually I don't take the time, as work and little ones keep us busy.
Yes, it been a different Christmas. But Becky and I decided if this may make it a tiny bit brighter for some, then we should do it. I know that people and families with young children enjoy a display, and they have! Many families and seniors have stopped by during their walks to enjoy a few lights.

December 23, 2020
The Town of Newmarket is asking you to take extreme caution around local bodies of water such as Fairy Lake, the Holland River and stormwater ponds. Please remind the children in your life not to play in pond areas as they may not be safe. The ponds may look safe, but below the surface water flow and water levels can fluctuate quickly without warning making them different and dangerous from regular ponds.

December 23, 2020
Holiday Waste and Recycling Schedule
Pick-up on Friday, December 25 will take place on Saturday the 26th to accommodate the Christmas holiday.
Pick-up on Friday, January 1, 2021 will take place on Saturday, the 2nd to accommodate the New Year's Holiday.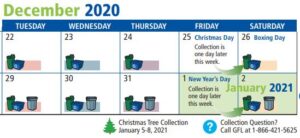 December 22, 2020
Holiday Hours
The Municipal Offices at 395 Mulock Dr remain closed for in-person services due to the COVID-19. Contact the Town by phone at 905-895-5193 or emailing info@newmarket.ca for assistance.
Our Holiday Hours of Operation are:
December 24th from 8 am to 12 pm.
December 25 to 28, we are closed
December 29th, from 10 am to 3 pm.
December 30th, from 10 am to 3 pm.
December 31st, from 10 am to 3 pm.
January 1 to 3, 2021, we are closed.
January 4th, from 8 am to 5 pm.
~ For after-hours emergencies, call 905-895-5193 and press 3 for our after- hours service.
~ For power outages, call Newmarket Hydro at 905-895-2309
For other services availability, please click: http://bit.ly/3haQQ10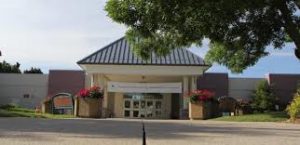 December 21, 2020
There is always time to drop off a food donation this Holiday season or any time. And as you might expect, there is a greater need this year than in years gone by. Your food donation can be dropped off Monday to Friday – 9:00 AM to 1:00 PM, as well as on Saturdays 10:30 AM to 12 PM at the back of our building located at 1251 Gorham Street, doors 7 & 8.
Please check our website for holiday hours. There are also bins located in grocery stores throughout Newmarket where you can purchase some items and drop them off before leaving the store. Or drop off food on Saturday mornings at Good Vibes on Main St.
Visit www.newmarketfoodpantry.ca or call 905-895-6823 for more information. Cash donations are always welcome.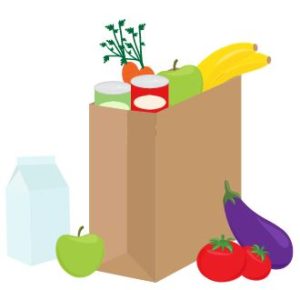 December 18, 2020
For over 30 years, Magna International Inc. has hosted a holiday show to spread cheer to local seniors. Traditionally, attendees enjoy a musical performance, are provided with delicious treats and receive a Holiday gift to take home.
This year, a virtual production of the Home for the Holidays Concert, starring Beverley Mahood, with performances by Leah Daniels and Mac Shepherd is available for viewing online here: https://neighbourhoodnetwork.org/…/magna-seniors…/
Please enjoy the show and share the link with your friends.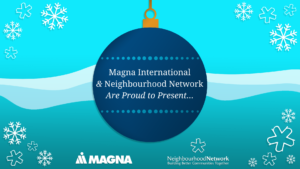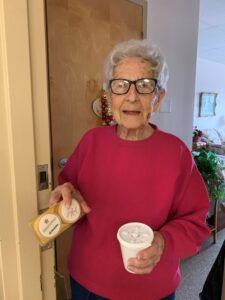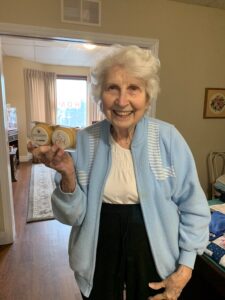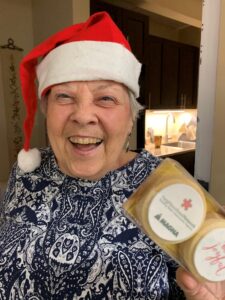 December 18, 2020
Outdoor Winter Fun
If we get some snow soon, many of us will want to head outside and schuss down some of the many fine tobogganing hills we have here in Town. Just be careful please as the Town does not maintain these hills and you are using at your own risk. Something the Town does maintain is the ice pad at Riverwalk Commons, where, weather permitting you can enjoy free skating!
All participants are required to book their skate session in advance, online at https://www.newmarket.ca/RiverwalkCommons.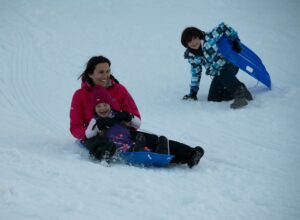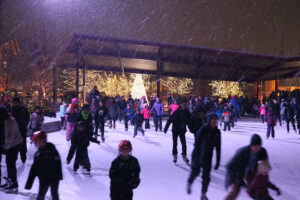 December 15, 2020
This year, the Town has planted approximately 200 trees along the streets and another 300+ trees in local parks, including:
Leslie Valley Park, Red Deer Open Space, Willowick Park, Rene Bray Park and Whipper Billy Watson Park
Due to the invasive species Emerald Ash Borer, in the last few years the Town had to remove many ash trees in our community and replace those trees that were removed. The Town is planting over 13 species of trees to help grow Newmarket's tree canopy.
You can read more about the Town's tree replanting initiatives here: http://bit.ly/3nmzmRf
To read more about the Town's Urban Forestry Management Plan, click this link to open a pdf document: https://bit.ly/3oSvXtY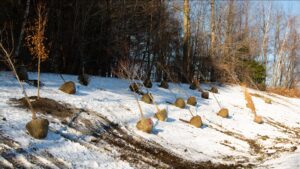 December 11, 2020
Outdoor skating at Riverwalk Commons starts today, December 11, weather permitting.
All participants are required to book their skate session in advance, online at https://www.newmarket.ca/RiverwalkCommons.
In accordance to Provincial COVID-19 guidelines, there will be a separate entrance and exit, strict capacity limits and all participants will be required to complete a health screening questionnaire.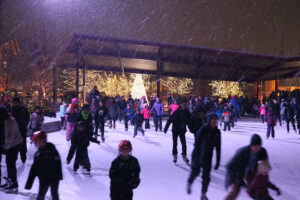 December 9, 2020
In the spirit of the Holidays, each Member of the Newmarket Town Council has video'd his or her Christmas wish in our Newmarket Council Nine Days of Christmas videos. Watch it here: https://www.facebook.com/VictorWoodhouseNewmarket/videos/167211378458236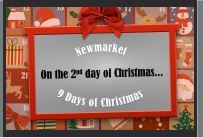 December 8, 2020
As always, it's worth the walk through Riverwalk Commons especially after dark! #RiverwalkCommons is officially a Winter Wonderland as the lights shine bright for the season. As we get into the holiday spirit, Mayor John Taylor and Members of Council would like to wish everyone a very merry holiday season filled with good health and happiness.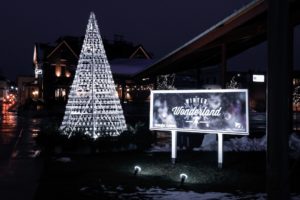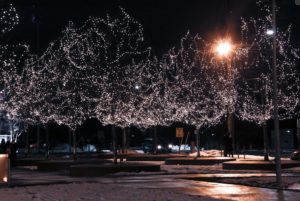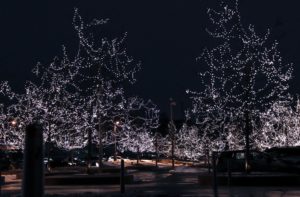 December 7, 2020
In spite of COVID, and in the spirit of giving back, The Town is continuing our tradition of hosting a Toy Drive to help families in need. And as you might expect, need is great this year during the pandemic. We have placed bins outside of the Municipal Offices for residents to drop off unwrapped toys beginning today, Monday, December 7. Bins will be outside daily from 8:30 am to 4:30 pm Monday through Friday.

December 1, 2020
Did you know….
The Newmarket Food Pantry averages 400 visits a month and assists over 1,100 clients each month. More than 30% of clients are under the age of 18. If you are able to help out with a food donation this Holiday season or any time, there are many ways to support the Food Pantry and families in the area.
Donations can be dropped off Monday to Friday – 9:00 AM to 1:00 PM, as well as on Saturdays 10:30 AM to 12 PM at the back of our building located at 1251 Gorham Street, doors 7 & 8. There are also bins located in a number of grocery stores throughout Newmarket where you can purchase some items and drop them off before leaving the store, or drop off food on Saturday mornings at Good Vibes on Main St.
Tel (905) 895-6823 or visit them at www.newmarketfoodpantry.ca for more information. Cash donations are always welcome.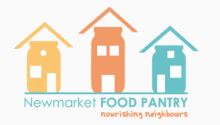 December 1, 2020
Outdoor skating at Riverwalk Commons is scheduled to start on December 11, weather permitting. Because of COVID-19 precautions, all participants will be required to book their skate session in advance, one week at a time, online at https://www.newmarket.ca/RiverwalkCommons.
November 24, 2020
The Town of Newmarket has launched a 'Choose Local' Campaign just in time for the holiday shopping season. Choose Local was created to encourage residents to support local businesses during COVID-19 and to help keep dollars circulating through our local economy.
November 17, 2020
Santa Claus is coming to Town this Saturday, November 21st!!
And this year, Santa wants us to be safe and follow COVID-19 protocols because he knows how important it is. So he will see us on Santa Claus Lane!Santa Claus Lane is a short, quick, drive-thru event for families to get into the holiday spirit. Kids of all ages get a chance to see Santa on his float and even drop off a letter to Santa. Our drive through event should take approximately 5-10 minutes depending on traffic. This event is free however online pre-registration is required and so too is a car, truck or reindeer for the drive through!
Please visit https://www.newmarket.ca/santa to register.



November 17, 2020
The Annual Neighbourhood Network Holiday Gift Drive looks a little bit different this year, but it will deliver plenty of impact with our help! The program supports local families in need who reside in Aurora, East Gwillimbury, Georgina, King Township, and Newmarket. As you might expect, due to COVID, there is an increase in need, especially for the upcoming holiday season. To view a list of urgently needed items, or to donate to a Charitable partner agency, please visit: https://neighbourhoodnetwork.org/program/holiday-gift-drive/. This year more than ever there is a strong request for gift cards, especially for local merchants, to adhere to COVID-19 protocols.
November 16, 2020
Please remember that the Town will be ticketing vehicles for overnight parking violations between 2 AM and 6 AM between now and April 15th, 2021. Fines are not cheap, so please be mindful of the restrictions.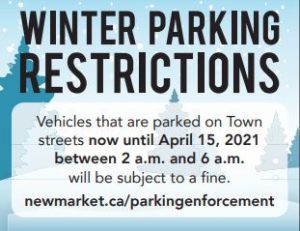 November 9, 2020
This Remembrance Day will be different for many of us as we observe a moment of silence for all those who served in wars and peace keeping during the last 100 plus years. As we remember our veterans this year, we can participate virtually in live and virtual ceremonies in Town and across Canada.
On November 11th, the Royal Canadian Legion is hosting a virtual ceremony via Facebook Live at facebook.com/CanadianLegion beginning at 10:45 a.m. A two-minute moment of silence will be held at 11 a.m.
The Newmarket Veterans' Association will present a live stream ceremony on November 11 at 11 a.m. on YouTube.
Participate in upcoming events virtually around Canada by visiting veterans.gc.ca eng/events.
And if you haven't yet, please buy and wear a Poppy. Proceeds go towards financial assistance to support Veterans and their families who are in need.

November 5, 2020
Watch live tonight…..The Town of Newmarket is hosting a Budget Engagement Virtual Session on Facebook tonight at 7 PM. https://www.facebook.com/TownOfNewmarket      More info: newmarket.ca/2021budget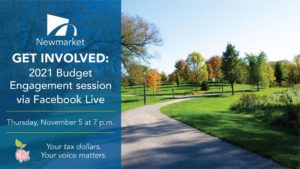 October 26, 2020
Trick or Treat!!
Last week, the Government of Ontario announced that traditional door-to-door trick or treating is not recommended in York Region.
As this is a recommendation and not a regulation, the Town is passing along a few ideas for some alternatives.
~dress up and participate in virtual activities and parties
~host a Halloween candy hunt with people in your own bubble;
~carving pumpkins and have your own virtual contest;
~enjoy a movie night or sharing scary stories at home with family
Visit the Provincial page here for safety tips and other information: https://news.ontario.ca/…/stay-safe-and-follow-public…

October 23, 2020
Newmarket Budget
A reminder that residents can learn how to get involved in our budget process by visiting newmarket.ca/2021budget.
Every year the Town of Newmarket creates a detailed budget to meet the needs of the community and at the last Town Council Meeting, a budget proposal with a 2.99 per cent increase was presented.
Council did authorize the draft budget with a final budget scheduled to be approved in December after public consultation. Please click the above link to provide your feedback and suggestions about the budget and future spending. And another reminder, this one for property taxes, which are due on Tuesday, October 27th. Please pay online, drop-off, by mail, or in-person at your financial institution. Questions, please contact Customer Service at the Town at 905-895-5193.


Southlake Health Centre has moved the COVID-19 Assessment Centre indoors to the Senior's Meeting Place at 474 Davis Drive. Interested parties must schedule an appointment by phone first in order to schedule their assessment time slot.
Please call 289-803-2199 or 905-895-4521, ext 2162 from 7 AM to 8 PM daily to book your time. Available appointment times are between 7 AM and 9 PM, every day, seven days a week!
October 15, 2020
Parking Exemptions ending as Winter parking restrictions begin November 1st.
All those wonderful parking exemptions provided by the Town are coming to an end soon and will be in effect until April 15, 2021. That means you may need to find some alternatives for the next 6 months. Fines for violations are not cheap, (https://bit.ly/378N3Ot) so please make a note of this if it effects you.
Restrictions include no vehicle is to be parked on any road between 2 AM & 6 PM, and/or parked for more than three consecutive hours on any street except between the hours of 7 p.m. to 11 p.m. unless otherwise posted. You can find all the details here: https://bit.ly/2H15Q3L
October 9, 2020
Happy Thanksgiving!
If you are visiting or hosting this weekend, remember to maintain your COVID-19 precautions where applicable. Enjoy your small circle of friends and family this weekend. Eat, drink, go for a walk, catch up on all the latest, and be thankful for your health, your family, our front line workers, and that we live in such a great country like Canada!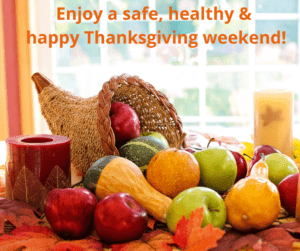 October 1, 2020
Yesterday morning, Council and the planning consultants visited the Mulock estate. We toured the property with drawings of the 3 design concepts in hand and the consultants were on site to show where the various proposed features would be located. We walked and listened, and the consultants answered questions, and listened to the concerns, feedback and suggestions from Council regarding the 3 design concepts.

September 30, 2020
This year's Neighbourhood Network's annual Fall Food Drive is a little bit different, but still promises to raise needed funds and provide food donations to our communities in need. The Fall Food Drive Community Challenge goes virtual until October 9th but the need is REAL.
A list of the most urgently needed items, as well as how to donate, has been created for each food pantry in the organization's catchment area (Aurora, East Gwillimbury, Georgina, King Township, and Newmarket) and is available at https://neighbourhoodnetwork.org/program/fall-food-drive/I have always found Newmarket residents to be supportive and giving and I am certain we'll do our share to help out!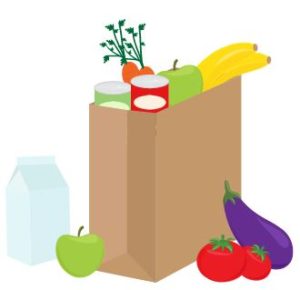 September 29, 2020
In case you missed it on Saturday, the Town unveiled our new "Community Living Room", a public art installation inspired by former Mayor Tony Van Bynen. During his 12 years as Mayor and a total of 18 years in office, Mayor Van Bynen held his "Mayor in the Square" public engagement sessions in our Downtown area. These beautiful sculptures located at Newmarket's Community Living Room a.k.a. Van Bynen Square at Riverwalk Commons were created by Edward Falkenberg.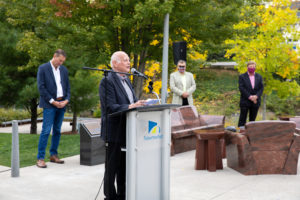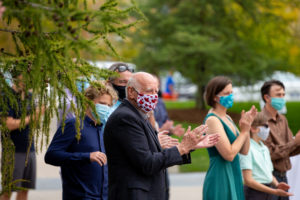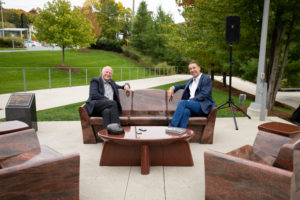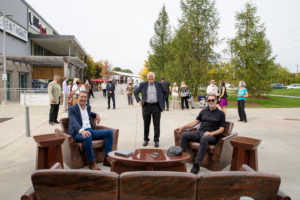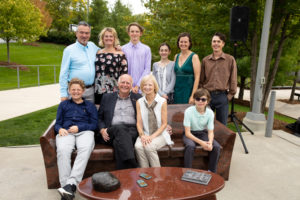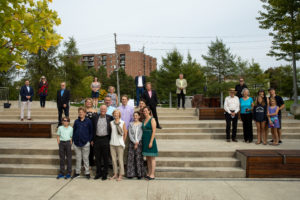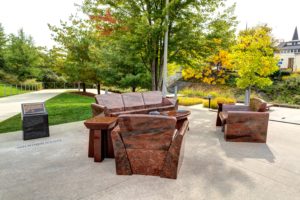 September 28, 2020
Southlake 5K challenge.
Walking in the Regional Forest tracts and chatting with our Mayor John Taylor combines two great activities on a sunny Sunday. Walking for Southlake makes it even better. The Davis Tract is fairly new and makes for an easy walk through both a mixed bush and reforestation.
Thanks Mayor for the walk and your support of Southlake Hospital.
We snapped a few pictures while walking in the Regional Forest tracts on a beautiful sunny Sunday. Walking for Southlake makes it even better. If you enjoy a walk and prefer the sound and ambiance of nature along with a dirt or stone pathway to asphalt, concrete and traffic, I urge you to enjoy one of the many York Regional Forest trails. They are closer than you might think and worth the effort. Check out the website here: https://bit.ly/3cKztlh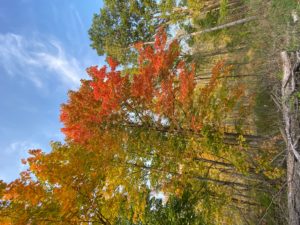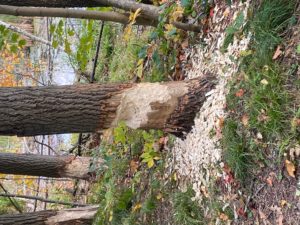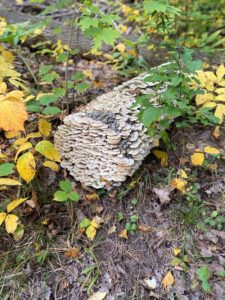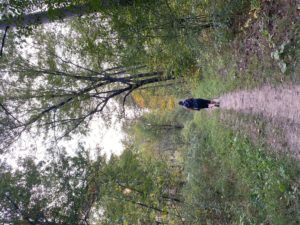 September 25, 2020
I wanted to thank Kendall K. for her very generous donation to Southlake Hospital during the Southlake SL5K Virtual Challenge! I'll be walking and hiking a bit more today and again on the weekend with some members or Council. If you are able to help Southlake with any size donation it will be used towards replacing equipment that helps improve patient care and save lives.

September 24, 2020
Nature's Emporium Run for Southlake – SL5K Virtual Challenge!
This year's virtual Run for Southlake started yesterday, Sept 23 and continues through the 27th.
I started off at the York Regional Forest – Brown Hill Tract, a wonderful place for a walk, hike or for biking! If you would like to support Southlake, simply click this link: http://srhcf.convio.net/site/TR?fr_id=1501&pg=pfind
Next, scroll down and search for someone you know you is participating. And if you can't find a friend I would be thrilled to be that someone!

September 20, 2020
Our Terry Fox Marathon of HOPE happened differently this year as we celebrated the 40 Years anniversary continuing to raise money for cancer research. Becky and I finished our walk at 11:40 this morning in the crisp air and lovey sunshine. We are so glad for the Volunteers who have continued to help during this difficult time. Terry Fox would be proud of your work!
September 18, 2020
What's next for the Mulock Property?
On September 29th, there is a Special Committee of the Whole meeting where Council will be presented different Mulock Property design concepts. The next day, Council and Town Staff will walk the property to visualize how the concepts may come to life considering space, location, landscape and the various design elements.
September 16, 2020
STARTS TOMORROW!
Nature's Emporium Run for Southlake – SL5K Virtual Challenge!
This year, the Run for Southlake turns virtual! From Sept 23 through the 27th, the running, walking and biking is real, but the competition, comradery and excitement is virtual.
The Goal this year is $150,000 to help Southlake replace the equipment and purchase new technology that helps improve patient care and save lives.
Please join me if you can and participate yourself, or if you are able, support someone you know you is running, walking or biking. I invite you to visit my Facebook page to see some of my walks through the woods in some of the region's wonderful forested trails and conservation areas.

September 14, 2020
Know a local area youth who would like to learn about Canada's political process, discuss their viewpoints on issues and most importantly, get involved in their communities? Then suggest they apply to become a member of the Newmarket-Aurora Youth Council. The deadline has been extended to Friday, September 18 at 11:59 pm.
The Newmarket-Aurora Youth Council is a non-partisan volunteer program that will meet virtually once a month from September to June. Members will have the opportunity to discuss important issues such as climate change, gender equality, youth employment and more. The program will also be an opportunity to learn more about Canada's political process.

September 11, 2020
Riverwalk Commons is closed for the season.
As per our Town Staff, mechanical issues at the water feature facility will require considerable time to fully diagnose and repair. Traditionally open until Thanksgiving, the water feature is now closed for the remainder of the season.
Staff needs enough time to fix the issues and ensure that repairs do not interfere with our outdoor ice rink season. The repairs needed are underground at the facility and will require some excavation. The good news is that both Frank Stronach and Rogers Spray Pads will continue to operate until the end of September.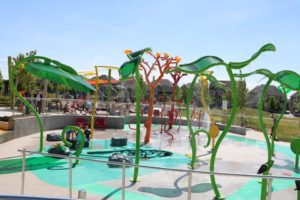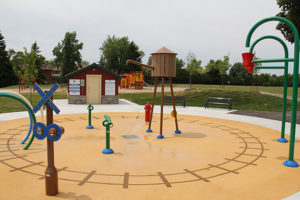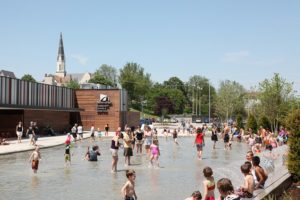 September 10, 2020
Newmarket's BYD hit a huge milestone in its Canadian operations delivering its first bus from the 45,000 square-foot Newmarket BYD assembly facility to the City of Toronto. Ten, zero-emission, 40-foot K9M battery-electric buses will be put into service by the Toronto Transit Commission.
The TTC currently boasts the largest battery-electric bus fleet in North America! PIctured are Toronto Mayor John Tory and The Honourable Catherine McKenna, Minister of Infrastructure and Communities.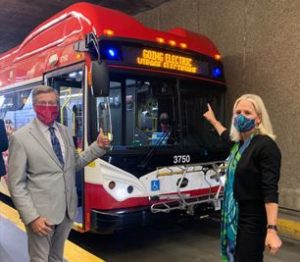 September 10, 2020
Whatever you can do to help, be sure it iis appreciated!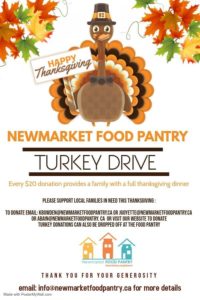 September 4, 2020
It's hard to believe that the Labour Day weekend has arrived already and another summer has come and gone! But there is still plenty to do, see and be a part of as well as lots of great weather ahead of us this fall. The big news, especially this year, is "Back to School"!

August 27, 2020
Moonlight Movies – Two new dates added for our FREE under the stars movies!
Don't delay, all other dates sold out. Reserve ASAP. https://play.newmarket.ca/Activi…/ActivitiesDetails.asp…
August 18, 2020
More Good News!
The skate park at the Recreation Youth Centre re-opened today and the Magna Fitness Centre re-opens next Wed, Aug. 26. Both spaces have been carefully modified and new steps are in place to help ensure members' safety.
The skate park will be open daily, Tuesday to Saturday from 1 PM to 7:30 PM but only for open skate sessions. Participants are encouraged to pre-register for their preferred time slot at www.play.newmarket.ca. There will be limited spots available for walk-ins. more info at www.newmarket.ca/youth
The Magna Fitness Centre will offer residents an opportunity to safely stay active and enjoy a workout on new machines in a modified environment. The Fitness Centre has been relocated to the Magna Centre Honda Rink to ensure physical distancing can be achieved. Members will be required to pre-register for a workout time slot which will also facilitate contact tracing.  For more info, click: https://bit.ly/31Z6chM




August 5, 2020
Masks & Face Coverings!
As we have all been doing for the last two weeks, each of us must wear a non-medical mask when we are inside an enclosed public space in York Region and many other regions in the Province. Places like any retail store, place of worship, common areas of condos, hotels; basically any place where more than a few people might be at any one time, we should be wearing a mask or face covering.
There are many types of masks available, ranging from cloth or material non-medical masks to N95 respirator masks.
Every type of mask has its place, but not every mask is appropriate for day-to-day use.
July 31, 2020
Central York Fire Services reminds us all that fireworks are not permitted on the Civic Holiday long weekend. Fire Services ask residents to keep fire safety top of mind when BBQ-ing or having a backyard fire this long weekend.
In Newmarket and Aurora fireworks are only permitted for use during Victoria Day and Canada Day weekends, NOT this Civic Holiday weekend. Fireworks are NOT allowed on public property, including parks, streets and open fields/spaces.
Fines for improper use of fireworks in Newmarket start at $600 in accordance with Fireworks By-law 2015-18. Fines for improper use of fireworks in Aurora start at $105 in accordance with Fireworks By-law 5373-11. Newmarket residents can report bylaw infractions, such as the use of fireworks, by calling the Town's After Hours Line at 905-895-5193 (press 3). For more information, safety tips and links to Town by-laws, visit cyfs.ca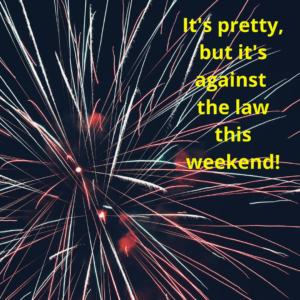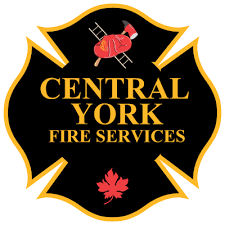 July 30, 2020
Newmarket Parks
If you haven't heard the good news yet, every Newmarket park and playground will have reopened by this coming Saturday, August 1st.
There will be signage reminding parents and children of the COVID-19 pandemic safety protocols which remain in place; the need for social distancing, wearing a mask if you can't keep your distance, as well as using hand sanitizer before and after enjoying the playground equipment.
July 28, 2020
As many of us know, the Town of Newmarket continues its cautious reopening procedures with the health and safety of our community and staff in mind. We are slowly opening playgrounds, then some select facilities will be opened now through the fall. The Magna Centre will be the first facility to reopen starting with a COVID-19 protocol modified Fitness Centre along with one ice pad. We will be opening a few smaller playgrounds spread across each Ward.
Each week, we have activity ideas for kids and families. Get outside and see your friends & neighbours, following Public Health guidelines, of course. Staying indoors? We offer at-home family adventure night with easy, themed, DIY fun activities. Discover the fun at newmarket.ca/summerpopups.
July 23, 2020
A few months back I wrote about the old Fire Hall on Main Street being available as part of a Request for Proposal (RFP) for a 10-year lease agreement for the adaptive re-use of the Old Fire Hall property. Well, congratulations are in order to the Old Flame Brewing Co who will be a welcome addition to Newmarket's Main Street when they open their doors early next year.
Located at 140 Main St at the corner of Main and Millard Ave, the Old Fire Hall is a unique 5,000 square foot property in downtown Newmarket with significant potential to enhance the vibrancy of Main Street and act as a catalyst for further development north on Main Street towards Davis Drive. Constructed in 1952 and used as a fire hall for the majority of its lifespan, the Old Fire Hall is located close to key cultural sites, community facilities, shops and restaurants.
July 15, 2020
The Newmarket Library starts its limited re-opening July 28!
We are following the York Region Public Health's recommendations in order to keep our users and staff safe. All visitors will be required to:
– Wear a mask or a face covering.
– Sanitize their hands prior to entry.
– Follow physical distancing rules at all times.
We must ask visitors to wait in line outside as a maximum number of visitors inside the library will be in effect at all times.
Library services will initially be limited to:
– Picking up and checking out items on hold.
– Issuing and renewing library cards.
– Using public computer workstations for one hour only.
– Returning materials using the outside drop-off slots only.
Sorry, but no browsing of shelves or use of study or lounge furniture will be permitted.
Hours of operation will be:
Tuesday to Thursday 11 a.m. to 7 p.m. and Friday and Saturday 11 a.m. to 5 p.m.
July 13, 2020
We may not have Kids summer Camps this year, but the Town is providing a variety of free and low cost options for family fun!
Pop Up Park Program – Kids on the Move – Age: 6-12. $5
This two-hour program features a variety of games, sports, arts and crafts and outdoor activities that are designed to allow participants to have fun while practicing physical distancing. Pre-registration required.
When: Mondays, Wednesdays and Thursdays from July 16 to August 28 from 10 a.m. to noon. Locations:
– Mondays: Paul Semple Park, 145 Savage Rd
– Wednesdays: Ken Sturgeon Park, 1035 Lockwood Circle
– Thursdays: George Richardson Park, 395 Bayview Pkwy
Cost: $5 per child per day. Register at www.play.newmarket.ca
Pop Up Bicycle Obstacle Course – Wheeling Through Summer. Ages: 6 to 12 years old. Cost: FREE
This drop-in cycling obstacle course is geared towards beginner and intermediate cyclists providing skills development and challenging riders to a variety of obstacles that will help improve balance, control, heads-up reaction riding and safety while having fun. The cycling course will take approximately 5-10 minutes to complete.
When: Tuesdays and Fridays beginning on Friday, July 17 until Friday, August 28 from 9 a.m. to 12 p.m. locations:
– In July, on Tuesdays and Fridays at the Magna Centre, 800 Mulock Dr., south parking lot.
– In August. on Tuesdays and Fridays at the Ray Twinney Recreation Complex, 100 Eagle St W., north west parking lot
No registration is required. Sign-in is required upon arrival to allow for contact tracing.
Family Scavenger Hunt – Seek and Search- FREE
Families are encouraged to join the Town for this weekly fun scavenger hunt that will take place in each of the seven wards in Newmarket. Come together to explore their neighbourhood. Wednesdays from 6:30 to 8:30 p.m. from July 15 to August 26. Ward locations:
– July 15 – Magna Centre, 800 Mulock Dr., south parking lot (Ward 1)
– July 22 – College Manor Park, College Manor Dr., (Ward 2)
– July 29 – George Richardson Park, at Leslie St. (Ward 3)
– August 5 – Marilyn Powell Park, 435 London Rd. (Ward 4)
– August 12 – Fairy Lake Park, Water St. (Ward 5)
– August 19 – Paul Semple Park, Savage Road (Ward 6)
– August 26 – Environmental Park, Woodspring Ave. (Ward 7)
Age: Suitable for families with kids of all ages. Cost: Free
Register: No registration is required. Sign-in is required upon arrival to allow for contact tracing.
DIY Thursday Adventure Day
Each Thursday, the Town will be updating its website 
http://www.newmarket.ca/summerpopups with new adventures and activities that you can do at home. Each weekly activity will be a new experience and families are encouraged to share their experiences on social media by using the #TONSummperPopUps.
When: Every Thursday from July 16 to August 27
Where: In the comfort of your own home
Moonlight Movies – Drive In Style
We will be scheduling three movies – one per week during the last two weeks of August and the first week of September. These movies will be held drive-in style and will be located at Ray Twinney Recreation Complex as we want to ensure we have appropriate space to accommodate.

July 8, 2020
40 Days of Summer Camper Kits
In response to the COVID-19 pandemic and to help fill the void of full-day summer camps for the 2020 season, the Town of Newmarket is introducing a "40 Days of Summer Camper Kit" offering parents a ready-to-go activity kit to help keep kids busy this summer within the safety of their home.
Each Camper kit includes 40 activities, supplies and directions to entertain and educate children's curious minds with a range of self-directed and hands-on learning experiences. Geared towards children 4 to 12 years old, each kit provides 10 activities in each of these areas:
Sports and Physical Activity
Arts and Crafts
Games and Adventures
STEM (Science, Technology, Engineering and Mathematics)
July 3, 2020
Sidewalk etiquette.
There are expanded patios all over town, but especially along Main St. There on the streets, sidewalks, lane ways, back alleys, parking lots and parks! The Town is helping out our local restaurants and Main St merchants as much as we can. Shop & dine in town, it's fun and it helps.
That said, walking along Main St is always interesting and enjoyable, but we remind you to please follow COVID-19 guidelines and give each other 6 feet or 1.8 metres of space. In Canada, we stay to the right when we walk along the sidewalk, and in some instances, we may need to walk single file. Feel free to nicely remind others of this.
June 1, 2020
Can never say "Thank You" enough!!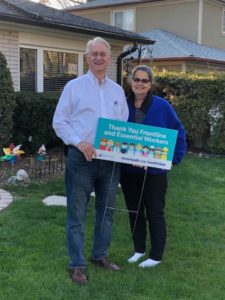 May 22, 2020
Province of Ontario Re-opening Information. Businesses are encouraged to review the provincial guidelines for opening and the guidelines for Health and Safety while they develop their re-opening plans. Those with questions about re-opening should contact the BAC. Click: www.newmarket.ca/BAC
More details on this can be found from the Province can be found at www.ontario.ca/page/reopening-ontario-stages
Industry Resources and Tools for Doing Business During COVID-19. Below are some resources that might be helpful to your business during the response and recovery periods of COVID-19's impacts on the economy.
May 21, 2020
The Town of Newmarket announces Newmarket Mentorship Access Program as part of the Town's Economic Resiliency Action Plan. The Town has launched an innovative Mentorship Access Program (MAP) which provides small and medium-sized businesses access to a directory of volunteer mentors to provide strategic advice and guidance on how to adapt to these unprecedented times and map out a business plan, during and post COVID-19.
Local business owners interested in the mentorship program can contact the Town's Business Assistance Concierge (BAC), a virtual business support centre at 905-895-5193, ext. 2753 or visit newmarket.ca/BAC. As part of the services provided by the BAC, all participants will have the opportunity to work with an experienced mentor. The mentors include retired executives, members of the Newmarket Economic Development Advisory Committee and respected business leaders looking to give back.
This new design is a huge improvement both in its appearance and practical use. The new bridge structure is significantly longer and higher to avoid erosion and flooding. The bridge was completed a couple of months ago, and the grading and landscaping will be completed soon.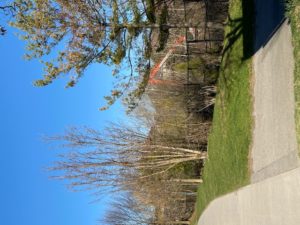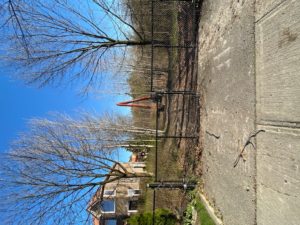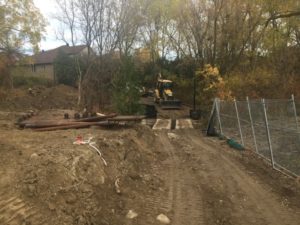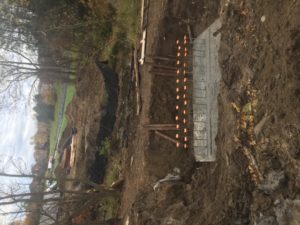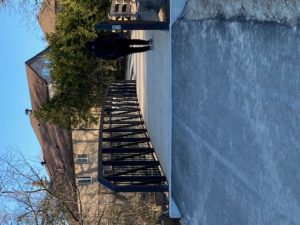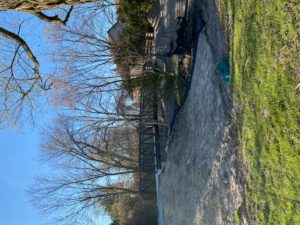 May 4, 2020
As many of you may know, I am the Town's representative on The Historical Society, a post i truly enjoy. The Newmarket Historical Society is calling on members of the community to help us create history and capture accounts of every-day life during COVID-19! "The COVID-19 pandemic is undeniably a period in time that will hold an important chapter in our history books." said Erin Cerenzia, volunteer President of the Society.
The Society's volunteers have been actively preserving news articles and photographs since the pandemic began that will be catalogued and documented in the Archives. However, we are looking to add "social history" elements, specifically the experiences of Newmarket residents, such as:
• Letters, stories, or artwork explaining your feelings and what a typical day is like
• Quarantine games and other 'at home' activities you are partaking in
• Stories of positivity and every-day heroes in our community
April 25, 2020
Canadians from every Province joined a virtual vigil Friday evening in memory of the victims of the Nova Scotia mass shooting.
People like Becky, myself and so many others took time Friday night to pray for the Nova Scotia families. It is hard to imagine their loss. Families praying for families. The online service garnered mentions from Prime Minister Trudeau and countless social media references from across the country. If you missed the live streaming of the service, you can watch it here.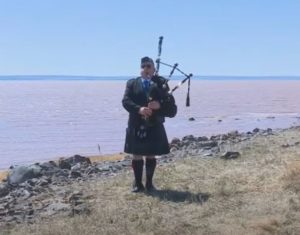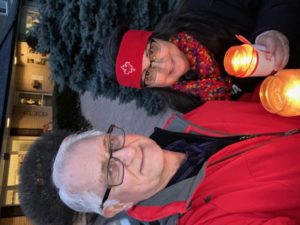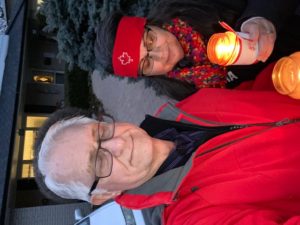 April 22, 2020
Happy Earth Day 2020!
Earth Day was founded 50 years ago on April 22, 1970 as a day of education about environmental issues. 20 million Americans, mostly university students, took to the streets to protest environmental ignorance and demand a new way forward for our planet. The first Earth Day was effective at raising awareness about environmental issues and transforming public attitudes. That first Earth Day is credited with launching the modern environmental movement and is now recognized and celebrated all over the planet!
If you are participating in your own Earth Day events this year, wonderful! Click this link if you would like to find more information on Earth Day. To see what is happening "digitally" in other countries this year, click here.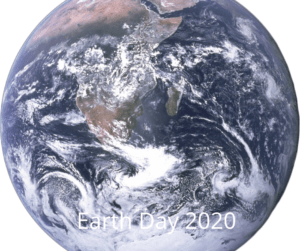 April 20, 2020
Lorne Chase, the marketing and communications coordinator at Newmarket Public Library wrote the following article about the Newmarket library computers helping in COVID-19 research.

While in lockdown, Newmarket Public Library is helping fight COVID-19 by lending its computers and tech equipment to organizations that are either creating personal protective equipment (PPE) for hospital workers or conducting research into the virus. Last month, the library's 3D printers were loaned out to local makerspace NewMakeIt to help in the production of face shields for medical staff. And now the library is helping an organization focused on disease research by providing the use of its computers.
April 13, 2020
A friendly reminder that while we are staying safe at home, we can't ignore that Cyber-Criminals are still trying to steal from us and it can start with just a Typo. . .
Cyber-crooks create fake websites to look like the company you wanted, but their site has a missing or misplaced letter in the address. These fake websites prompt visitors to provide account information or download a risky file that could appear like Adobe Flash Player or JavaScript update. The malware could then give hackers access to your computer and everything on it.
April 11, 2020
In Newmarket, Ontario, Canada, local community leaders, musicians, entrepreneurs and residents joined together through the power of song to create an inspirational video during the COVID-19 pandemic.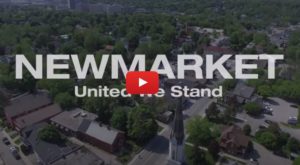 April 9, 2020
Like many of us, fellow Town Councillor Grace Simon is a person of faith and she wanted to do something this Easter weekend for praying for our Town. Wanting to create a beautiful and significant personal event, yet for the community, and with the help of Mayor Taylor, they came up with this wonderful initiative, "Light up the Night" prayer stand for Good Friday from 8 to 8:30 PM. My wife, Becky and I will take time Friday evening at 8:00 PM for prayer for our community and country, for individuals and families. If you wish, please join us in prayer Friday night and if you would like to, share this message.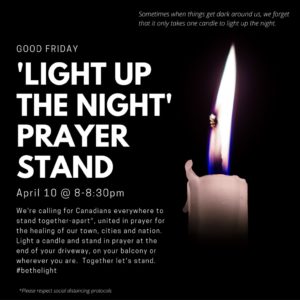 April 9, 2020
To say the least, it's a most unusual holiday weekend this year. My Jewish friends celebrated first Seder of Passover last evening but with no large family gatherings. Christians are celebrating Easter this weekend in their own homes without friends and family. There are numerous religious events and special occasions that are being celebrated in a very different way this year. Birthdays, anniversaries, graduations, religious holidays are all being spent without family and friends.
April 2, 2020
Becky and I went for a walk last evening we found these little beauties hiding just off of Leslie Street, just north of On Bogart Pond. Spring is officially here and it looks like the weather may be catching up with bright sunshine and warming temperatures! Let's look for the good things. And by the way, most of Ward 2, our first yard waste pick-up of the season is tomorrow/Friday. Now that's a sure sign of spring!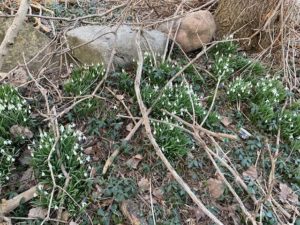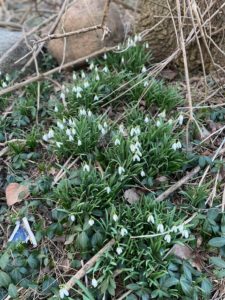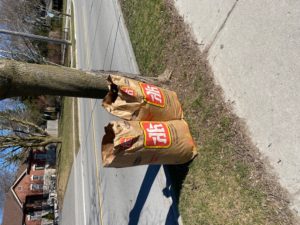 March 27, 2020
You can still borrow from the Library!
NewmarketToday had a great article today about still borrowing from the library. Many of us knew that, many didn't. There are ebooks, audio books, movies you can stream, digital copies of magazines, access 10 million songs and thousands of music videos, and so much more! You can read the entire article here. So, what are we taking for granted? Be well & stay safe!
March 26, 2020
Like so many people everywhere, and for the greater good, we are staying at home as much as possible and keeping our "social distance" from others. But it's still nice to see many people out walking every evening enjoying some outdoor family time.
Our walk tonight was around part of Fairy Lake. We saw this fox looking for the eggs of the mallard ducks. The ducks squawked loudly trying to deter the fox from its success.
And the sun performed wonderfully!!
More importantly, it will come up again tomorrow morning.
If you look for the good and the beauty, you will find it.
Stay safe, stay healthy!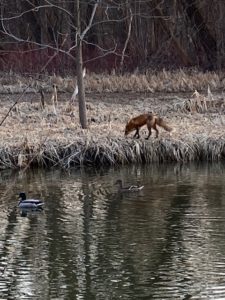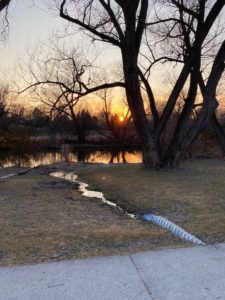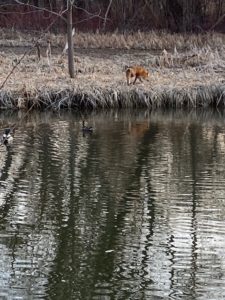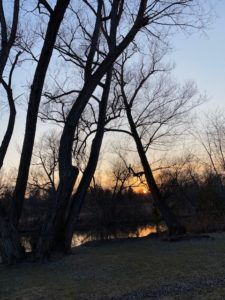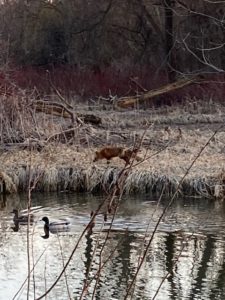 March 24, 2020
We are so proud of how our entire Southlake team is coming together to work through the COVID-19 pandemic to keep patients safe, from the staff and physicians on the front line, to our environmental staff and facilities team, to our security team, the screeners, food services, lab, IT, finance, communications, IPAC, occupational health and so many more. Thank you all for your incredible work during this difficult time!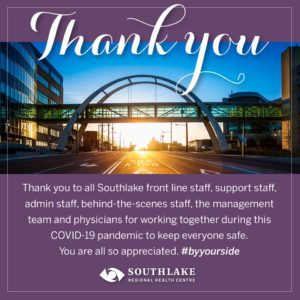 March 23, 2020
Valley View Alliance Church was successful in providing 43 meals, all handed out in the parking lot through a drive-thru and walk-thru set-up. The Church was also able to provide the Loft Street Outreach Van coordinator, Mary Ann with 32 leftover bagged meals which she distributed today on her run through York Region. Partnership is a very good thing!
The expenses for this meal were almost double in order to comply with the health regulations and the addition of packaging. We all hope this COVID 19 situation does not become a threat to the Valley View Community Dinner program as it has to so many other aspects of all our lives these days.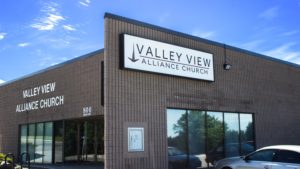 March 13, 2020
A Covid-19 update for Residents.
The Town's internal COVID-19 staff task group is working with York Region Public Health, other Health Services, the Province and others to prepare and develop our next steps as the Covid 19 situation continues to evolve. As we are learning, out of an abundance of caution, many organizations are postponing events that attract large groups. The Town will continue to run our programs and events in facilities. If or when decisions are made to change those plans, we will communicate them to you as soon as possible.
March 7, 2020
A reminder that Daylight Saving Time starts this weekend! When our local time hits 2:00 AM on Sunday, March 8, our clocks should be advanced or turned forward one hour to 3:00 AM local time. It will feel like we're losing an hour but there will be more daylight in the evening. A nice way to start off the spring!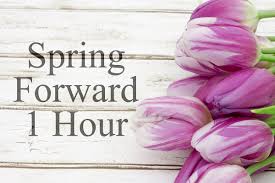 March 3, 2020
Local business owners, Council and Town staff gathered at the Old Town Hall Thursday morning to discuss strategies that ensure Newmarket continues to be a desirable community in which to live, work and play. The Chamber, Envi Network and Newmarket-Tay Hydro along with Deputy Mayor Tom Vegh , Councillors Christina Bisanz, Kelly Broome, Trevor Morrison and Jane Twinney were also in attendance to both listen and provide input.
It is very important to the our future health, growth and prosperity that we are clear on what we need to focus on going forward. We also need to understand what businesses require to locate, hire and stay in Newmarket. Council will be discussing and approving an updated strategy in the coming months. The time spent was both insightful and encouraging.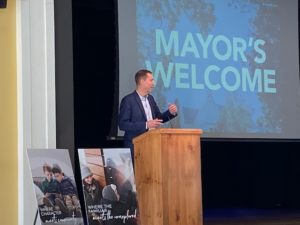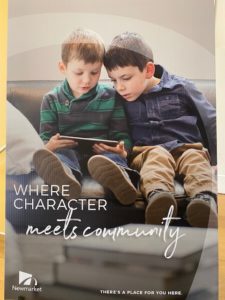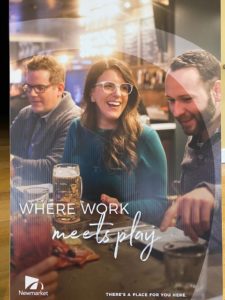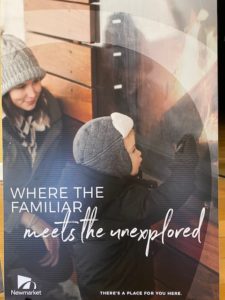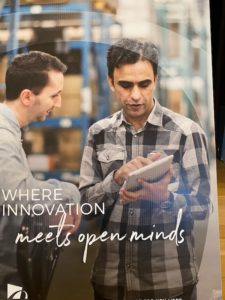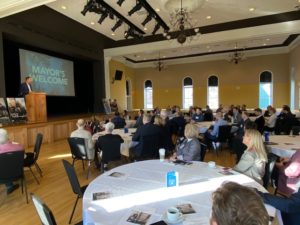 February 28, 2020
In War, there are always Heroes to be recognized and appreciated. One set of heroes of any war often are the Medics. Their work required bravery, determination and a unique skill set to work around and help those who were wounded. Author Ted Barris spoke passionately about the stories he uncovered in researching his book, Rush to Danger. 80 people attended the Historical Society presentation to hear incredible stories of the work of Medics during the last major wars.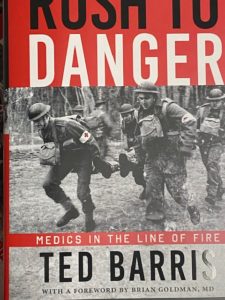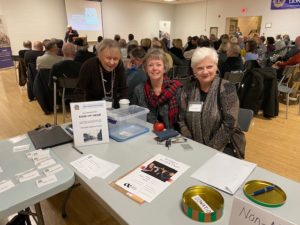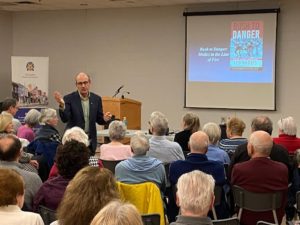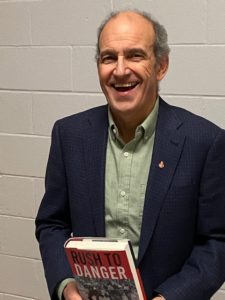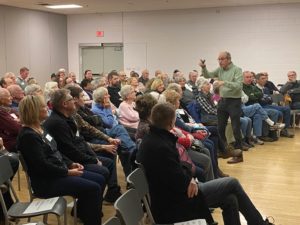 February 25, 2020
NewMakeIt Open House
Have you ever wanted to try pottery, making a knife, building or creating any other items? Consider visiting NewMakeIt and find your inner artisan instead of buying it or storing all of the tools and equipment yourself. This past Saturday's Open House at NewMakeIt highlighted the opportunities that this unique space brings. NewMakeIt provides the environment and resources for collaboration, learning, creativity, and innovation. It is a beautiful, spacious, multi-functional coworking and makerspace shared facility in Newmarket. Check out their Workshop Calendar and Services here.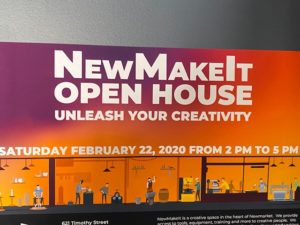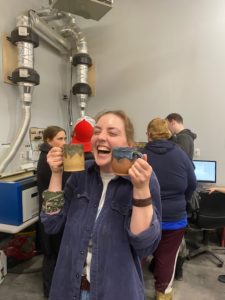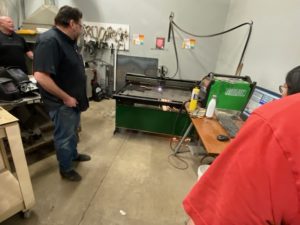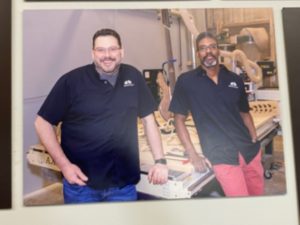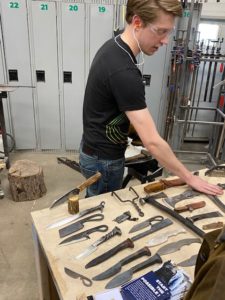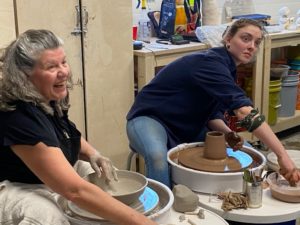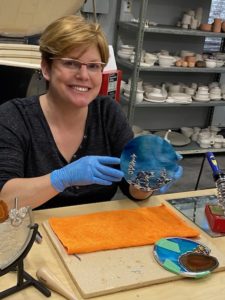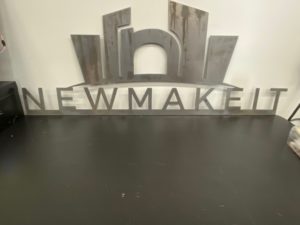 February 24, 2020
Way to go Newmarket!!
The Coldest Night of the Year is a family-friendly walk that raises awareness and money for charities serving hungry, homeless and hurting people in our community. This year's walk was on February 22 and raised over $85,000! Every city, town and community has individuals who are homeless. They may not be visible, but people without a home are still here. As Mayor Taylor reminded us, how we treat those in need is a great indicator of a caring town. Many people come together to make this happen, 232 walkers, 45 volunteers and hundreds & hundreds of supporters! For information or to donate, please visit www.cnoy.org/location/newmarket. It's never to late to help.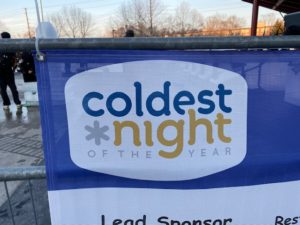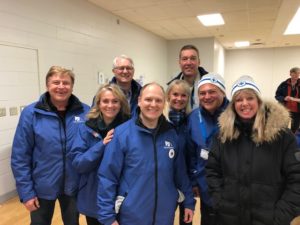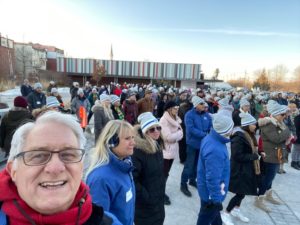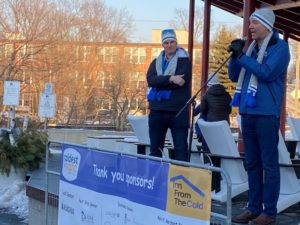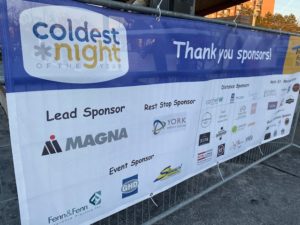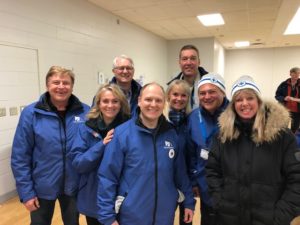 February 22, 2020
Tribe Studio, a new Fitness business had its official opening at 160 Pony Dr on Thursday. Mayor Taylor, Deputy Mayor Vegh and I tried out the gloves and other equipment, then I offered to "go a few rounds with anyone in the house". (Fortunately there were no takers.) Welcome to the Newmarket business community and congratulations to Karen & Reza Yazdani on the opening of Tribe Studios. https://tribestudios.ca/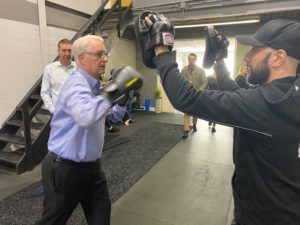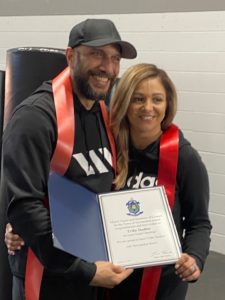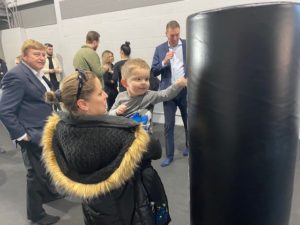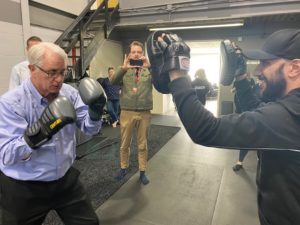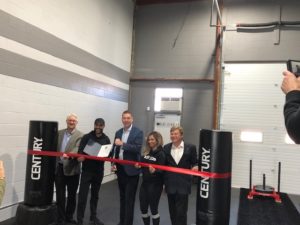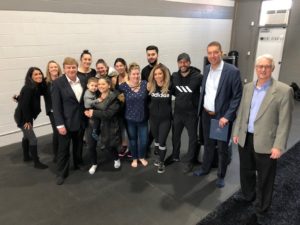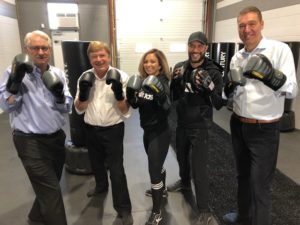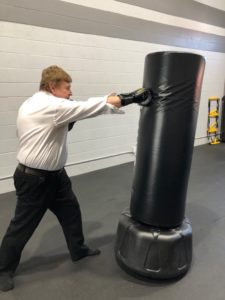 February 19, 2020
The Honourable Elizabeth Dowdeswell, Lieutenant Governor of Ontario visited our art exhibit in honour of Black History Month today. The exhibit is located at Newmarket's Old Town Hall and is entitled, Heart of Africa: Retracing our History pays tribute to Black History Month. It is in partnership with the Newmarket African Caribbean Canadian Association and is featured until February 22.
"There is no Ontario, as we know it today, without the incredible contributions, voices, and achievements of Black Canadians," says Her Honour, Elizabeth Dowdeswell, Lieutenant Governor of Ontario. "It was a delight to visit the exhibition Heart of Africa: Retracing Our History and to join the Town of Newmarket in celebrating the work of the Newmarket African Caribbean Canadian Association alongside the inspiring young women of Trust 15. The history of the diaspora here in Ontario is older than the province, and its legacy is carried on today in the young women and men who are building on the accomplishments of those before them." See the full press release here: http://bit.ly/2SFDXBk
Please visit Newmarket.ca/blackhistory for more information on the exhibit and other events in Newmarket honouring Black History Month.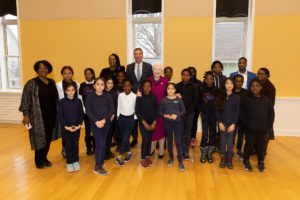 February 16, 2020
Winterfest 2020 was Cold, yes! Fun, Free and Fabulous, absolutely! Winterfest again this year attracted many families, and lots of people looking for a great Saturday morning! Sledge hockey, pancake breakfast $2.00, tube slides and upbeat music. (No, I wasn't the DJ, just pretending) If you were there, I'm sure you had a great time, if you missed it, it's only 363 more days till next year's Winterfest!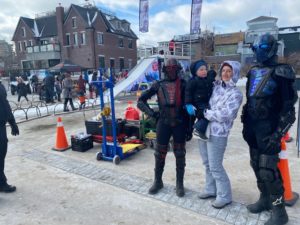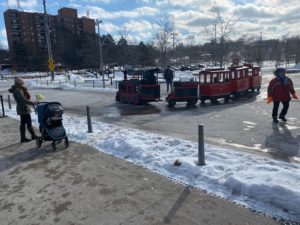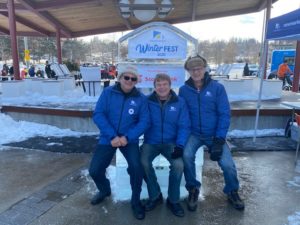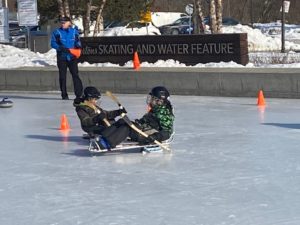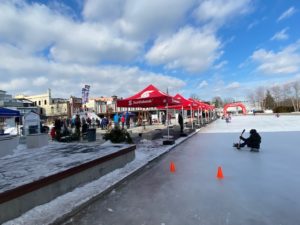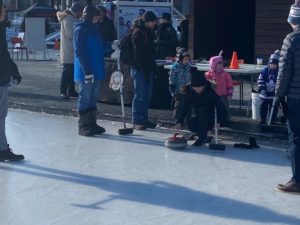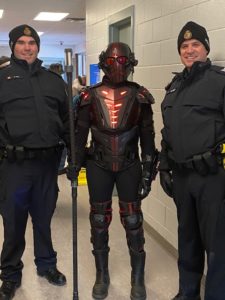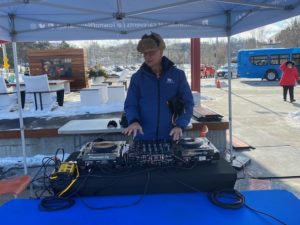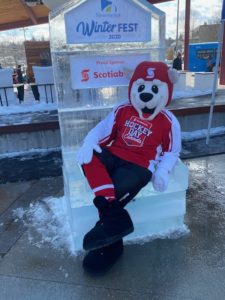 February 14, 2020
Some of you may know that I was in Army Cadets during High School at Port Perry HS, so I have a keen interest in Cadets life! Our local Royal Canadian Sea Cadet Corps 221 PATRIOT meet at Optimist Hall in Town.
I was fortunate to attend and assist the Reviewing Officer to inspect and review the Cadets during their Ceremonial Parade Review. Following the Review, I took the opportunity to provide a few words of encouragement and stress the importance of discipline and sacrifice in everyday life.
The Cadets are very serious about all they do both in the review as well as their classes. Royal Canadian Sea Cadets learn about the naval and maritime environment by participating in a variety of activities on and off the water. Sea Cadets also participate in ceremonial events and citizenship activities that allow them to connect to their Canadian naval heritage. You can learn more about the Sea Cadets here.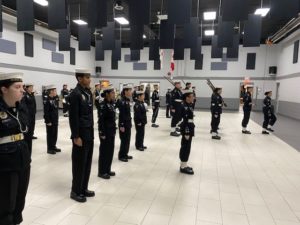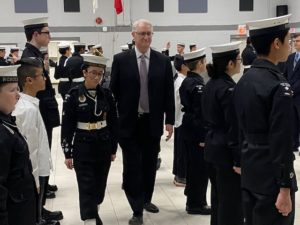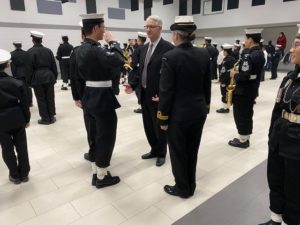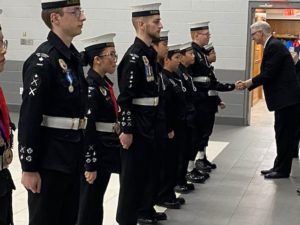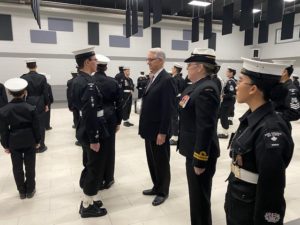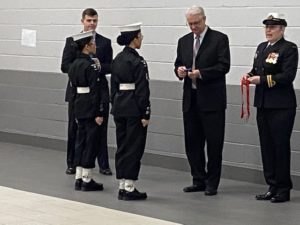 February 12, 2020
Winterfest 2020!! Come join us with your family and friends for some indoor & outdoor winter fun this Saturday, Feb 15 at Riverwalk Commons & Lions Hall! There is Learn to Curl and learn to play Sledge Hockey followed by free skating and an Ice Sculpting demonstration. Activities are free, but there is a charge for the Pancake breakfast from 9 to 11 am and other food services. There are lots of other free fun things to see and try up to about 3 pm. Plus on Sunday at the Ray Twinney Rec Complex, there is free indoor Skating from 12 noon to 2 pm followed by free Swimming 2 to 4 pm. More info at www.newmarket.ca/winterfest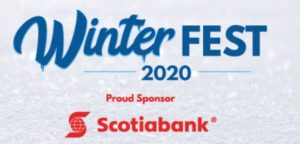 February 11, 2020
Newmarket's newest dining experience, "The George" on Main held an official opening Tuesday evening. Guests enjoyed decor restored from it's time as a hotel and "public house" from the late 1800's onwards. Inside this beautiful and unique restaurant is a micro brewery offering a wide selection of styles and flavours to satisfy purists and adventurous beer drinkers alike. Both Mayor Tom and John Taylor and former Mayor Tony Van Bynen attended the opening while many celebrated the incredible work done in bringing the old building to life again.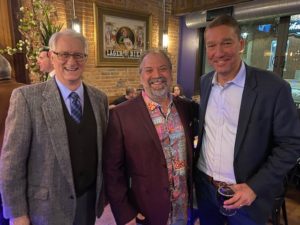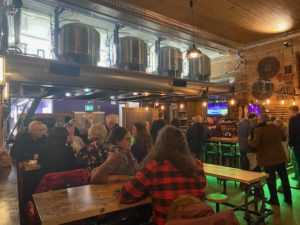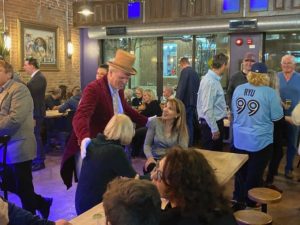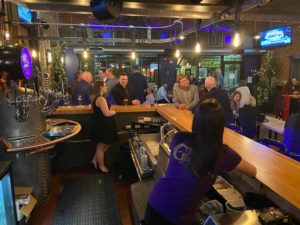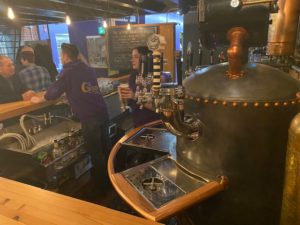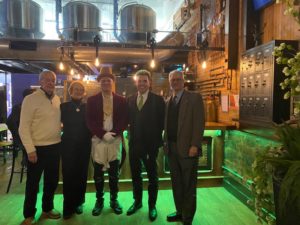 February 7, 2020
The Lendery!
Are there times you need a crock pot for the annual family get together? Or you plan to hang a few pictures for the first time. Well instead of buying the crock pot or drill, why not borrow it from your friendly library?
Starting February 5th, the Newmarket Public Library is lending a large variety of tools, household and kitchen items and more. Please stop in and see for yourself! If you have items in good repair that you don't use any more and think could benefit local residents, consider asking if they can use it at the Lendery.
If you have items that need a small repair, consider getting it fixed for free at the new Repair Cafe. Visit www.York.ca/repaircafe for details.
Hopefully we can start a Toy Library in the future as well! Perfect for parents, grandparents and of course kids. I will bring it up at our next Board meeting . In the meantime please use The Lendery and please tell your friends there are even more reasons to visit the Library today!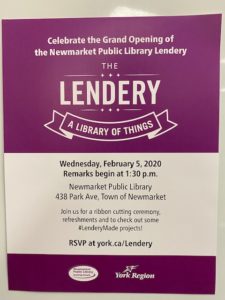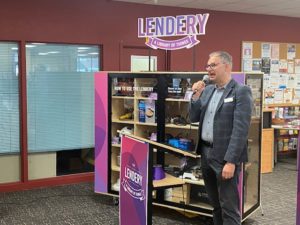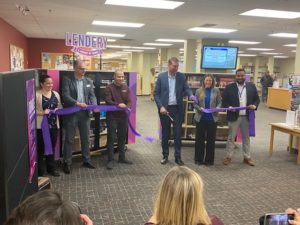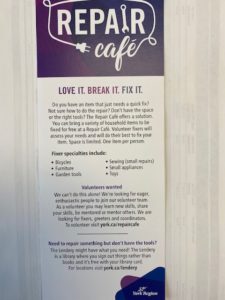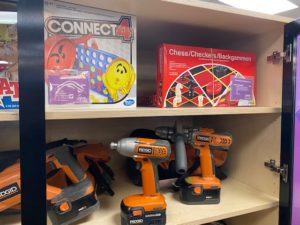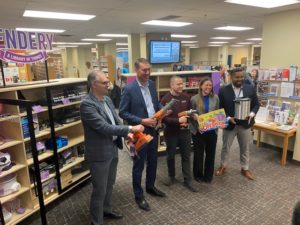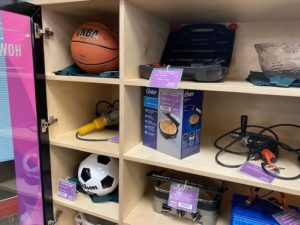 February 6, 2020
The Town of Newmarket wants to thank the many residents who participated in the visioning workshop for the Mulock Property last night. The Town is continuing to seek feedback by asking residents to imagine what #mymulock could look like in the future.
"We have a very unique opportunity to honour our past… while shaping this historic property into a major cornerstone of our community for generations to come" says Newmarket Mayor John Taylor. "We have heard many truly amazing ideas so far and by sharing your stories and your vision, it will help us to create a master plan that balances our past history and heritage with our very bright future."
Here are some ways to share your stories and vision for the Mulock Property:
Visit the Mulock engagement booth at the Town's Winterfest on Saturday, Feb 15 at Riverwalk Commons Get creative and share your vision through an interactive activity.
Complete a survey at http://bit.ly/2GY0NgW until February 19, for a chance to win a $100 Upper Canada Mall gift card.
You can find out more and share your thoughts, stories and your vision here: http://bit.ly/2H26MRL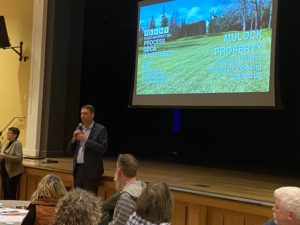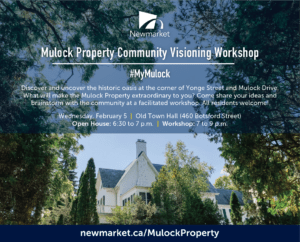 February 3, 2020
Recently the Town held a drop-in style evening to look at potential changes to the bylaws surrounding animals. The provincial laws have changed and this affects which group or agency does what. The session included dealing with wildlife and what to do if you encounter injured animals. Bylaws concerning how long a dog can be tethered, under what temperature and for how long, are all issues being considered. A map showing coyote sightings in 2019 are in black and sightings 2020 are in red. Soon Council will receive a report on the input received from residents and recommendations for bylaw changes. When I have some details, I will pass them along.
Other drop-in informational meetings that might interest you:
Mulock Station Area Secondary Plan Public Information Centre on Tuesday, Feb 4, from 7: to 9:00 PM in the Front Lobby Area of the Municipal Offices, 395 Mulock Dr.
Mulock Property Community Visioning Workshop on Wednesday, February 05 from 6:30 to 9:00 PM at the Old Town Hall, 460 Botsford St.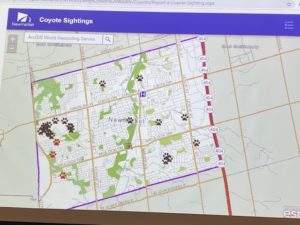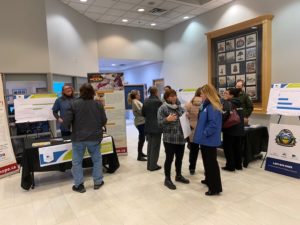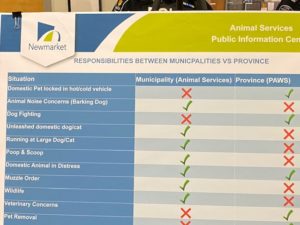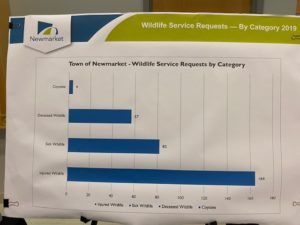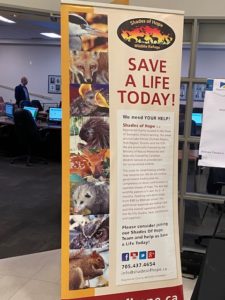 February 1, 2020
Each January, Valley View Alliance Church hosts a spaghetti dinner and live auction. The youth volunteer by serving and assisting with the baked goods auction. Money raised helps the youth in their programs and training. The pasta is professionally cooked and the desserts are absolutely delightful. I had the opportunity to be the auctioneer this year and together we raised $3,000. "A relaxing and fun night" is how many people describe the event. Good fun for a good cause.  https://www.vvac.ca/ https://www.facebook.com/valleyviewnmkt/   https://www.instagram.com/valleyviewnmkt/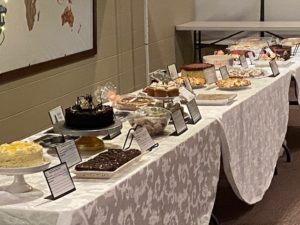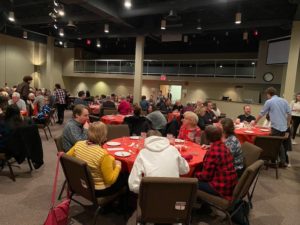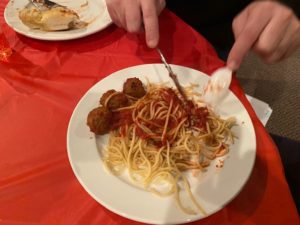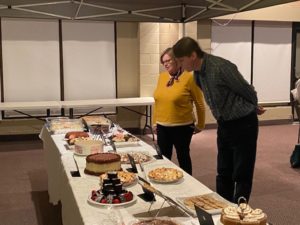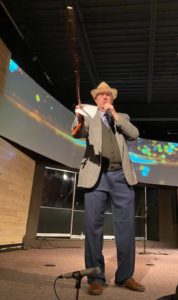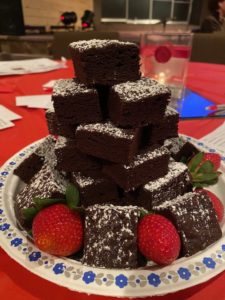 January 27, 2020
Many residents are shocked at this and with good reason!!
Last night, criminals vandalized two Newmarket schools with racist slurs, disgusting imagery and hate-motivated graffiti. The thought process behind this despicable act is one that is learned and it saddens me deeply to think that someone is teaching, much less thinking these thoughts. If you know who the perpetrators are, please act!
York police appeal to witnesses and anyone who has information, dashcam or video surveillance footage in the area of Newmarket's Sacred Heart Catholic High School and/or St. Paul Catholic Elementary School to contact Newmarket's #1 District criminal investigations bureau at 1-866-876-5423, ext. 7141. You can also call Crime Stoppers at 1-800-222-TIPS or leave an anonymous tip online at www.1800222tips.com.
January 13, 2020
Silver Stick Hockey Tournament
Although the tournament began on Thursday, the Silver Stick Tournament opening ceremony was held Friday evening at the R.J.Twinney Complex.
71 teams were in Newmarket, 17 from the US, the balance from all over Ontario, including 7 Host teams competing for 8 different Championships.
Before the official sanctioned tournament began, the Timbits teams players were by far the most fun to watch. This is a huge undertaking and the organizing group deserves high praise from all those who attended. Certainly great to have this incredible event here in Newmarket. It also has a very positive economic impact on the Town filling Hotel rooms, packing many local restuarants with money spent on shopping and attractions.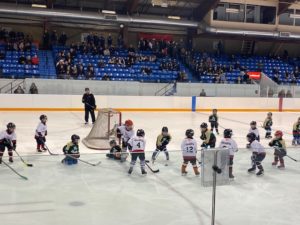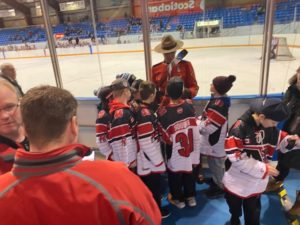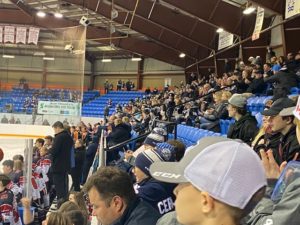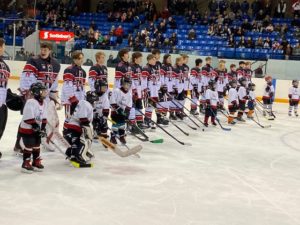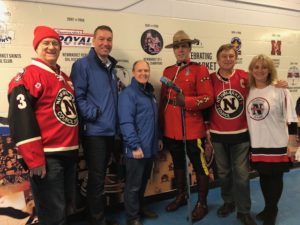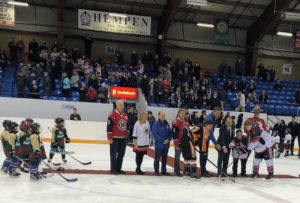 January 12, 2020
Prince Charles Public School
If you are hungry, it is very difficult to learn. Not every child has a good breakfast before coming to school, some just aren't hungry, others can't afford it. In December, I contributed $225 to the Prince Charles Public School breakfast program. The program provides breakfast for any student who wants it and also has fresh fruit available at the office any time during the school day. Thanks to the parent volunteers and staff for their ongoing commitment to this program. Your work is appreciated. Does your child's school have a program like this one?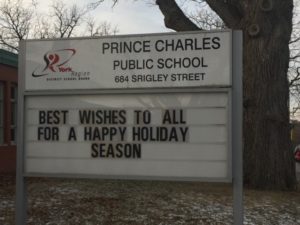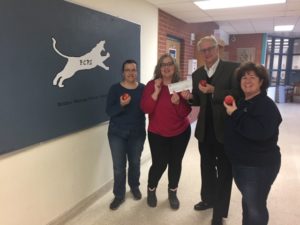 January 11, 2020
Rain, rain go away, come again another day! It's still coming down and is forecasted to continue. Lots of Rain. With all the rain and much more still to come, please drive carefully. There is flooding in Town as pictured here, but Town crews are out and about clearing drains.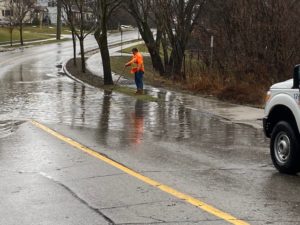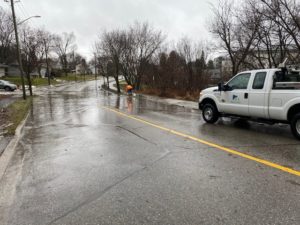 January 9, 2020
Mayor Taylor's New Year's Levee NEW DATE!!
Due to forecasted inclement weather, the event has been rescheduled to Friday, January 17th from 6:30 to 9:30 pm at Riverwalk Commons & Community Centre & Lions Hall. A good time will be had by all as the event features:
Live music by the Bianca Rollo Band, DJ between sets, laser effects, outdoor skating, the Tim Hortons Express Train, hot chocolate provided by Cachet Supper Club with Food trucks on site. Please support Newmarket's green initiatives by walking, carpooling or busing. Full info here.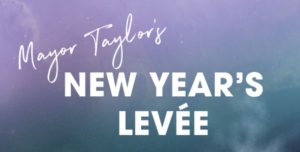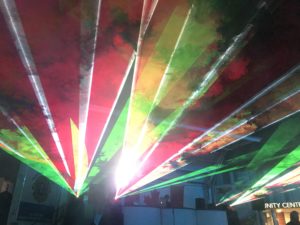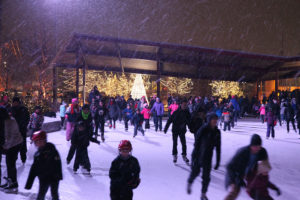 January 6, 2020
Happy New Year to all my Friends, everyone in Ward 2 and to all Newmarket Residents!
Chances are, we have all gotten a little introspective over the last week or two and have made decisions that will impact us in the new year, like: learning something new, or to be better at something we already do, to help others more often, to give a bit more of ourselves if we can. Your list, like mine is personal to you, but if you are looking for ideas, please consider volunteering this year.
You can Volunteer for a one time or one day event, or for weekly, monthly or ongoing needs. There are many places that could use your help, the Hospital, Food Pantry, Women, Youth and Homeless Shelters and many Charities and Community Groups are looking for the personal touch from someone just like you. Over the Holidays, many found great satisfaction in giving. Volunteering can make you feel that way more often.
Whatever your challenges and goals are for this year, Good Luck and strive to succeed. And remember, help is available if you need it.
Becky and I would like to wish each of you Best Wishes for a safe, happy and healthy New Year!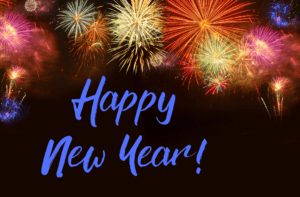 December 18, 2019
Winter Wonderland
Dont forget about Frozen Friday this upcoming December 20, 27 and January 3, from 6 pm to 9 pm at Riverwalk Commons! Stop by this Friday for DJ music, free outdoor skating, free mini-train rides, weather permitting and the Wickedly Sinful food truck selling fries and poutine. There will be the two fire/LED shows, free Tim Hortons hot chocolate and free Cobs Breads fun buns along with giveaways from Jay Miller.  More info here.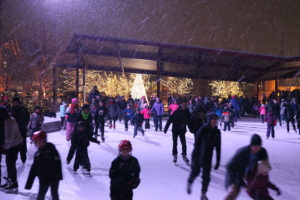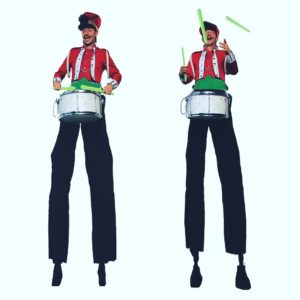 December 12, 2019
Can you help the Newmarket Coats for Kids Program?
The Program helps hundreds of area families every year through the generous donations of coats, cash and space! But its current donated space on Gorham St will be up for sale in April of 2020 and the Program will need a new home. To best help local families, they will need a new, rent-free space that's easy to get to by transit.
The Program, which is co-run by the 3 Newmarket Lions Clubs, needs space for storing the coats in warmer weather, plus is an easy to access location where people can stop in to donate or collect a coat from October to March. Last year, about 1,500 coats were distributed to local children. If you can help, please get in touch with me or with the Progam directly on their Facebook page.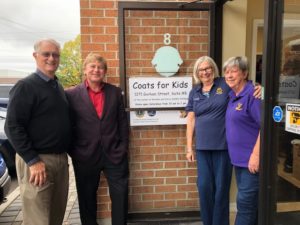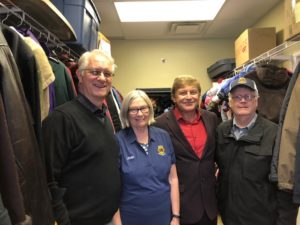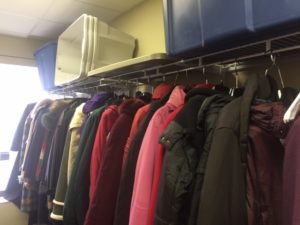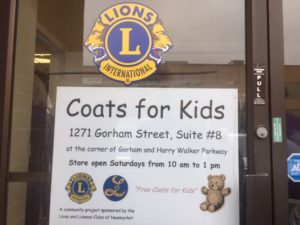 December 6, 2019
Yes we have snow again!!! More than usual and more snow forecasted! At a recent open house, the Town had a snow plow simulator for residents to try out. Plus we had sidewalk plows on display and a reminder of how much ice and snow Newmarket received in 2014. I like snow but I was kind of hoping we would get a little less this year.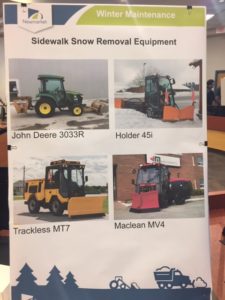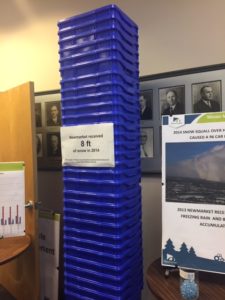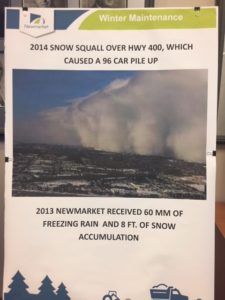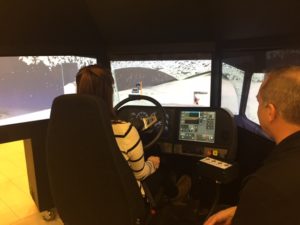 December 5, 2019
Starting in January 2020, Central York Fire Services is implementing a cost-recovery program when responding to vehicle collisions in the Towns of Newmarket and Aurora. It is a two-year pilot program to recover costs associated with responding to collisions on municipal roadways in both Towns.
This affects drivers who are deemed at-fault and invoices will be sent directly to the insurance company of the at-fault driver. Fees are typically paid by the insurer.
Currently, Central York Fire Services is the only fire service in York Region that does not charge a service fee for attending motor vehicle collisions on municipal roadways.
You can read the full media release here.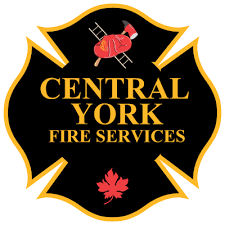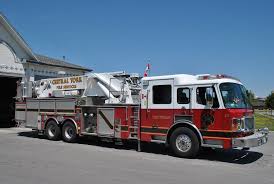 November 30, 2019
The Craft Show hosted by the Newmarket Seniors Centre was a huge success. Incredible crafters and artists provided a wide array of beautiful crafts and gifts items. My wife, Becky was thrilled with a gorgeous quilt and I carried the lovely dolls as gifts for 2 little girls. (shhh, don't tell anyone!) Thanks to the crafters and Seniors staff for a wonderful show and enjoyable day.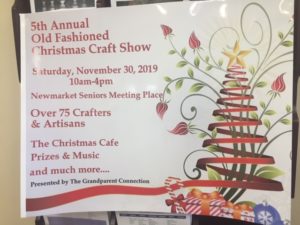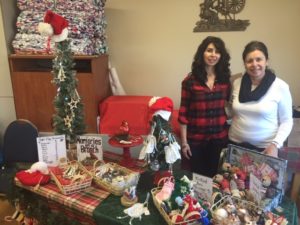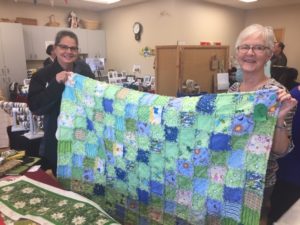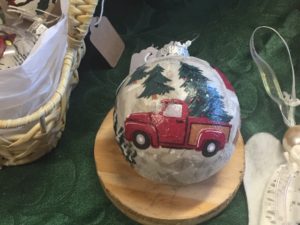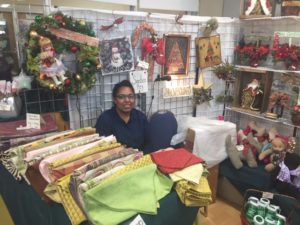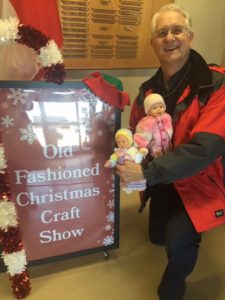 November 25, 2019
On Saturday morning, hundreds of local residents came out to John's No Frills on Leslie St to support the Valley View Alliance Church's annual Jingle Bell Blitz in collecting food items for the Newmarket Food Pantry. Thank you Newmarket, this year, 4500 pounds of food was collected! The Jingle Bell Blitz began in 2013 by the Valley View Alliance Church and over the last 7 years has collected over 34,000 pounds of food. It sounds like a lot, and it is, but the Newmarket Food Pantry could always use more. If you need their help or want to offer yours, please visit www.newmarketfoodpantry.ca or call 905-895-6823.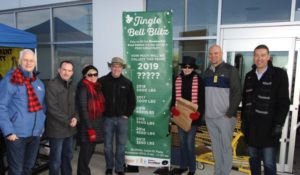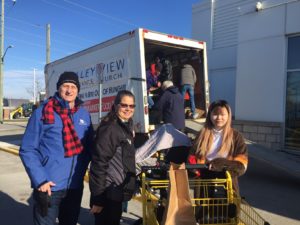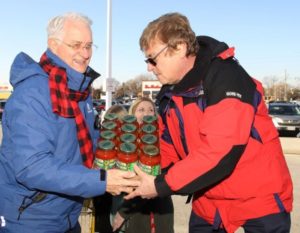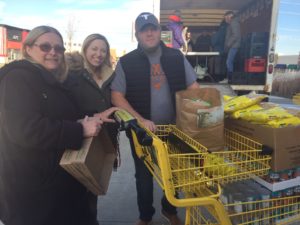 November 20, 2019
The Newmarket Historical Society held its annual Potluck supper and social get-together tonight. Part of the evening included delicious food brought by its Members, a silent action followed by a live auction. There were homemade knitted hats and mitts for sale on the Christmas tree and many other great prizes to bid on for a culturally important organization in Town. It was an enjoyable and relaxing evening. I had the opportunity to serve as the auctioneer. (And you know I enjoyed that!)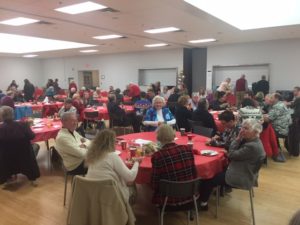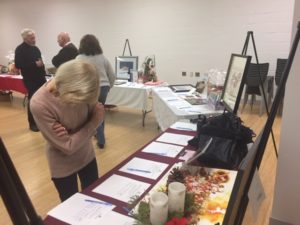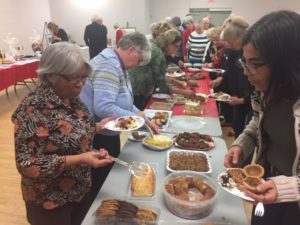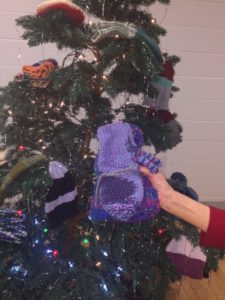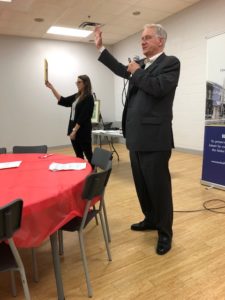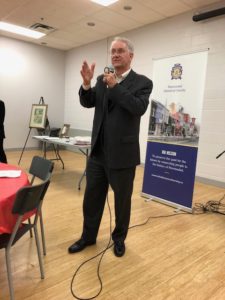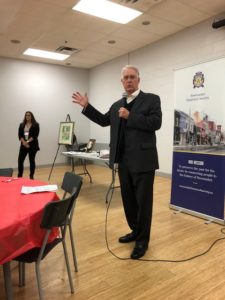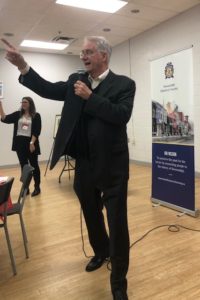 November 21, 2019
Ted Fullerton pays it forward to Newmarket!
Renowned Canadian artist Ted Fullerton is making an original lithograph print of his Sun Rise with all proceeds in support of the Newmarket Old Town Hall's Gallery.
Fullerton has generously donated a limited number of original lithograph prints of Sun Rise from his Figure in Landscape collection to the Town to sell at a discounted price. The gallery programs at Newmarket Old Town Hall will receive 100 per cent of print sales.The one-of-a-kind original prints are hand-printed, signed and valued at $1,800 per print unframed. In time for the holidays, a limited quantity is available for sale at a price of $475 plus tax. To purchase a print, learn more about lithography printing and watch a video with Ted Fullerton on how Sun Rise was created, visit www.newmarket.ca/tedfullerton, or visit Old Town Hall, 460 Botsford Street until December 24, 2019 to see Sun Rise on display.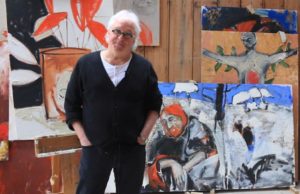 November 20, 2019
Central York Fire Services & Enbridge Gas are working to bring fire and carbon monoxide-related deaths down to zero. Enbridge Gas has invested $275,000 in Project Zero this year; and over the past 11 years, the program has provided more than 44,356 alarms to Ontario fire departments. Central York Fire Services received 252 combination smoke and carbon monoxide alarms through Project Zero, a public education campaign providing alarms to residents across Ontario. When properly installed and maintained, combination smoke and carbon monoxide alarms help provide the early warning to safely escape from a house fire or carbon monoxide exposure. You can uncover a lot of information at www.cyfs.ca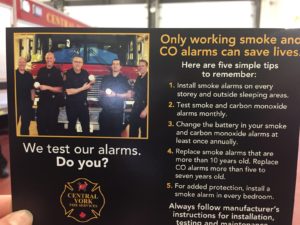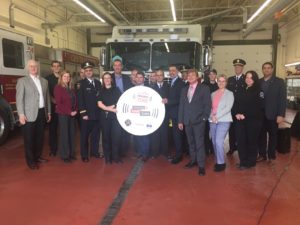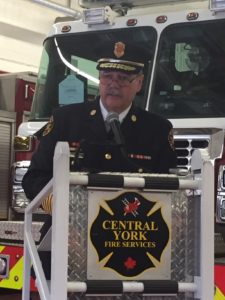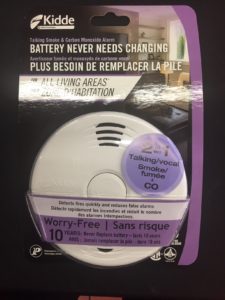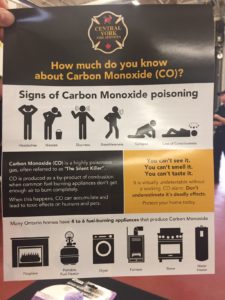 November 19, 2019
Valley View Alliance Church is hosting their Annual Jingle Bell Blitz this Saturday, Nov. 23rd from 9 AM to 11:30 AM.
This is the day where we as a church community partner with residents to serve our Newmarket community in one of the hardest seasons of the year. On Nov 23rd, we set-up shop outside NoFrills on Leslie St, play Christmas music, serve breakfast and fill whole trucks with food for the Newmarket Food Pantry. When we say we "fill the pantry" in a day, we mean it! From 4,000-7,000 pounds of food is donated annually through this event and we love it! We get to provide people in our town with meals all through December! Please join us Nov. 23rd by coming to NoFrills on Leslie St., buying some food, enjoying breakfast and feeding a ton of families in Newmarket this December! You'll feel "full" in more ways than one!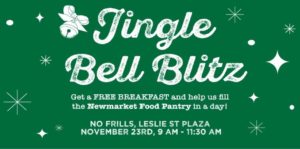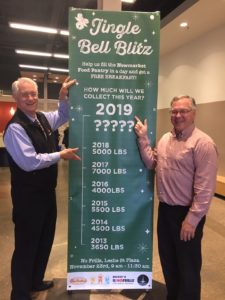 November 19, 2019
We have all seen them, maybe it's time to be one! . . . . . The Newmarket 2019 Christmas Kettle Campaign has between 60 and 80 Volunteer shifts a day until Christmas Eve and all funds collected go to the needs of area residents. The 2019 Christmas Kettle Campaign needs your help, and if you can give 2 hours of your time you are truly Giving Hope. To register as a volunteer, http://bit.ly/2OnaWHeChristmas. For inquiries, please email nancy.harrison@northridgesa.com or call Nancy on her cell phone at 905-392-5900.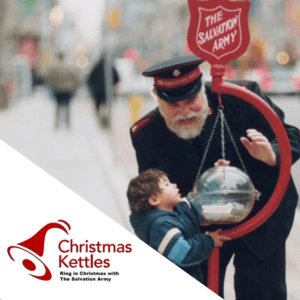 November 16, 2019
Santa Arrived Saturday!
At the parade today Town Council and MP Tony Van Bynen collected food donations for the Newmarket Food Pantry. It was perfect weather and there were many excited children and adults lining the sidewalks in anticipation of seeing Santa! After a long line of wonderfully decorated and creative floats, the moment we were all waiting for, Santa!! When you're marching in the parade it's hard to get pictures, so if I find more, I will post them on my Facebook page.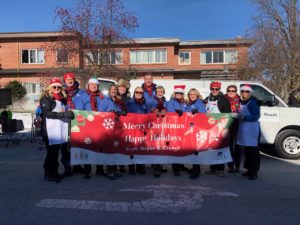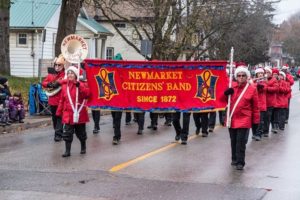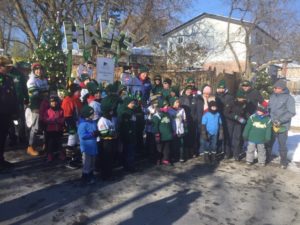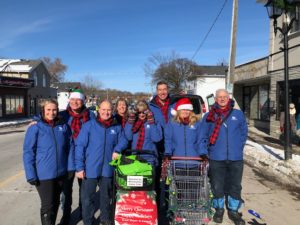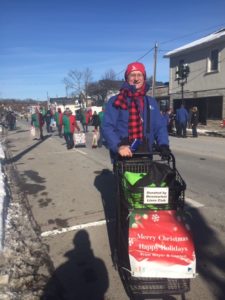 November 15, 2019
Newmarket Candlelight Parade
Cool weather, hot chocolate, lots of families and friends, the incredible Newmarket Citizens Band, the sweet Presbyterian Choir, Christmas carols and a giant brilliantly lit tree. That was the Candlelight Parade on Main Street Friday night.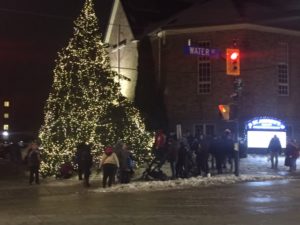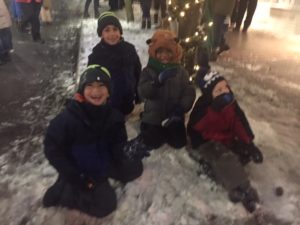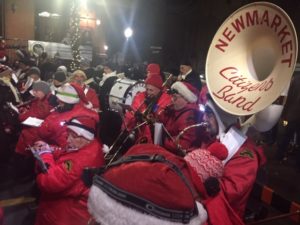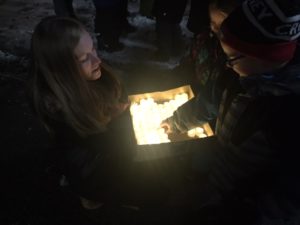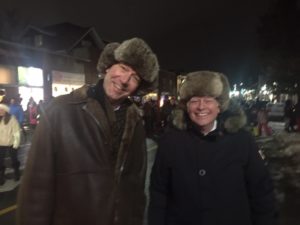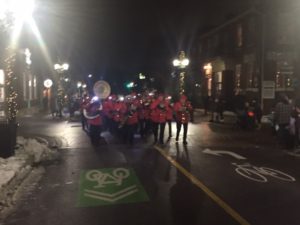 November 13, 2019
Merry Christmas & Happy Holidays from your Mayor and Councillors!
November 7, 2019
Newmarket Legion Members held a Veterans Remembrance service for the residents of Southlake Village long term care facility on Thursday afternoon. Many of whom know all too well what a War can do to family, friends and country.
I had the opportunity to present a reflection on what a Veteran's life and sacrifice means to me today. Staff and Residents appreciated the time and the service presented by Legion members.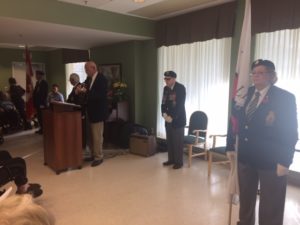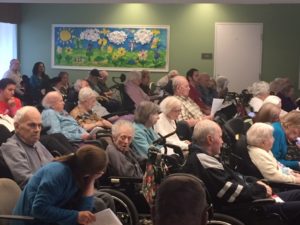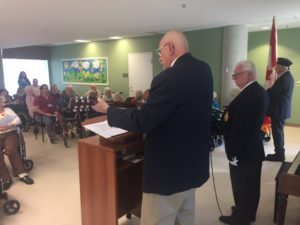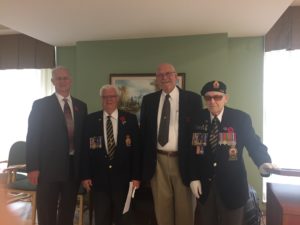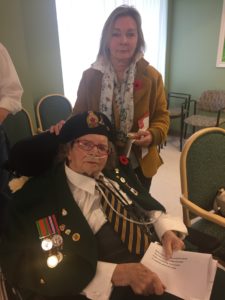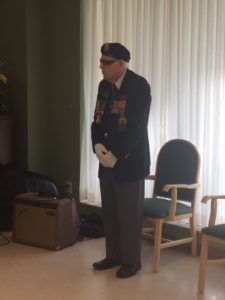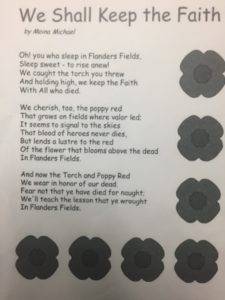 November 6, 2019
Please join us for Remembrance Day Services
The Remembrance Day Parade is Sunday, November 10 at 1 p.m. It begins at Doug Duncan Dr and proceeds west on Water, then Eagle Street, and will arrive at Veterans' Memorial Park, Church & D'arcy for the service and wreath laying ceremony. Following the Service, refreshments will be served at the Royal Canadian Legion, 707 Srigley St. Info: Royal Canadian Legion: 905-895-5481.
November 4, 2019
The Pumpkins were on Parade Friday evening at Riverwalk Commons. Two hundred pumpkins were dropped off by residents and visitors were asked to vote for their favourites in each of these catagories: Jack of all Lanterns (Newmarket's Favourite) – Scariest Pumpkin – Cutest Pumpkin – Most Creative Pumpkin. I was surprised at how many wonderful creations there were to choose from. Here are just a few!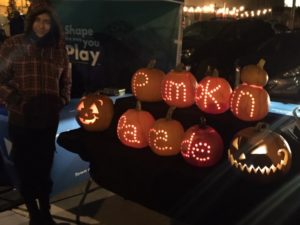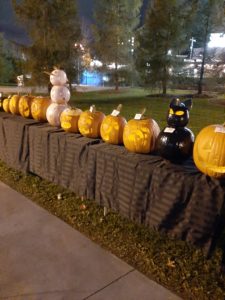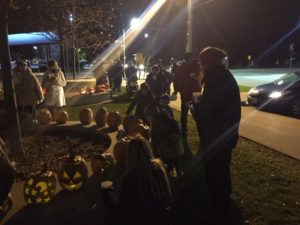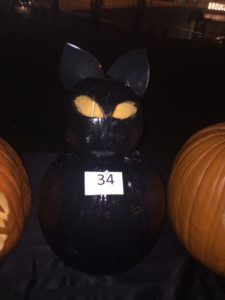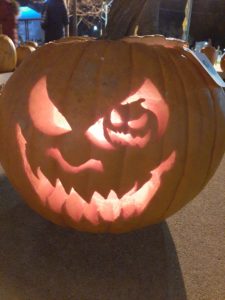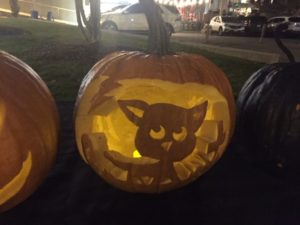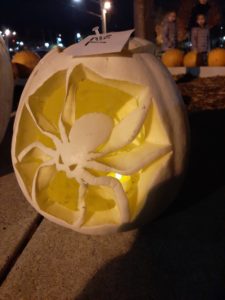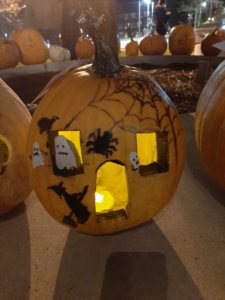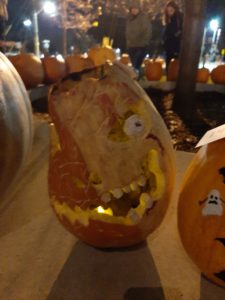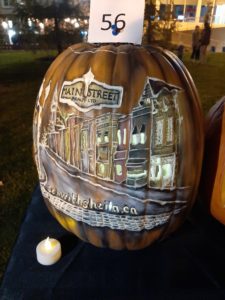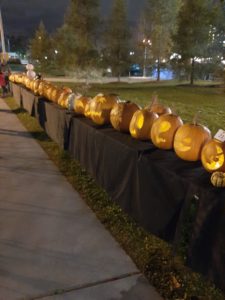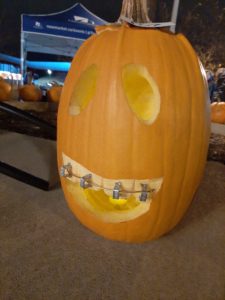 October 29, 2019
No one enjoys having part of their neighbourhood park taken over with construction equipment, but that's the situation we have right now in College Manor Park. However the people I spoke with indicated they do want to be sure their sewage gets processed. The twinning of the sewage pipe all through Newmarket will go a long way to ensuring we don't have a major sewer backup.
The other project, replaces the bridge at the north end of the park. The new one is much stronger and a little higher to maintain access even during the spring run off. While inconvenient, the work was purposely delayed until after the summer to ensure residents were able to enjoy their summer in the park. Note: the park walkway and playground are still accessible. There may be a short walk on the grass around work vehicles during the weekdays. Thanks for you patience.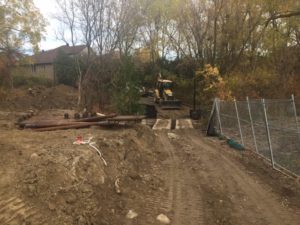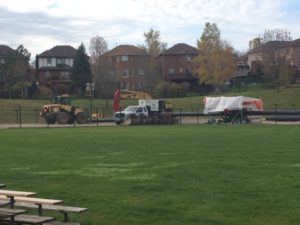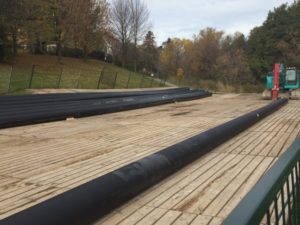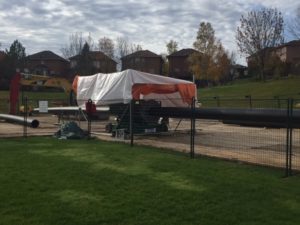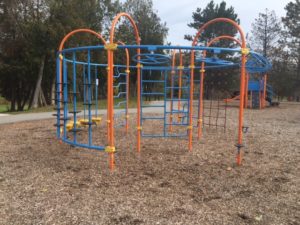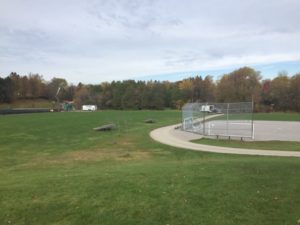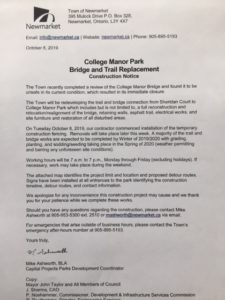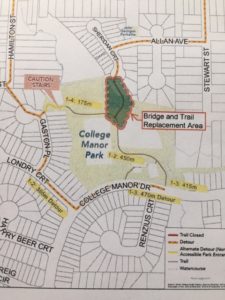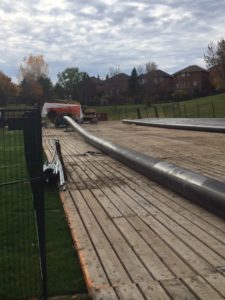 October 20, 2019
It was a beautiful, picture perfect fall day with over 1000 residents visiting the Mulock Estate. Visitors of all ages enjoyed the Grand Ole Mulock House and Grounds Tours, cider tasting, apple snacks and pumpkin races! A few Visitors dressed for the event, and took some candid and 'not so candid' photos. There was a developing sense that the Mulock Estate will be a real jewel for Newmarket residents for generations to come!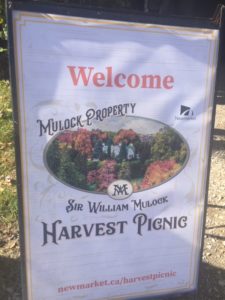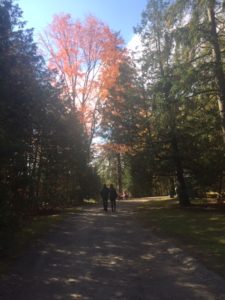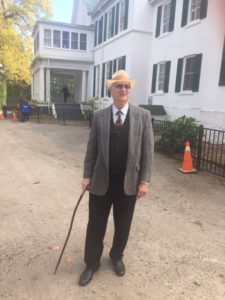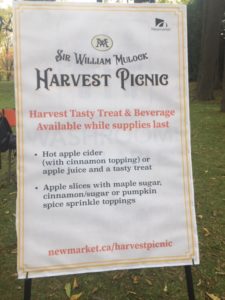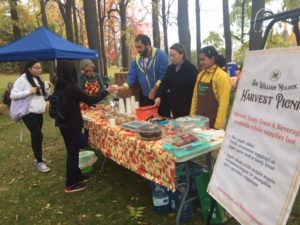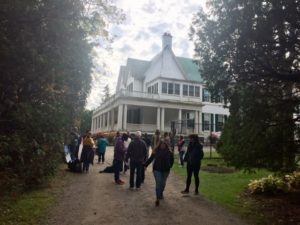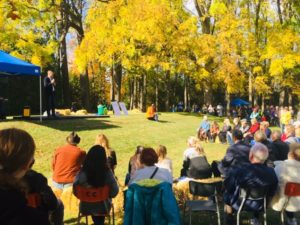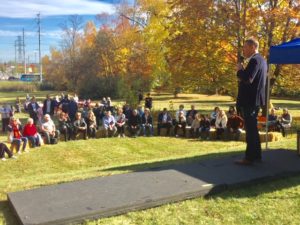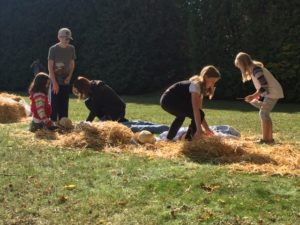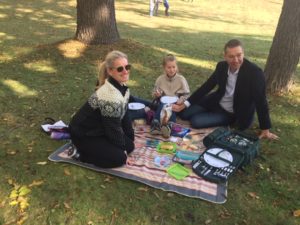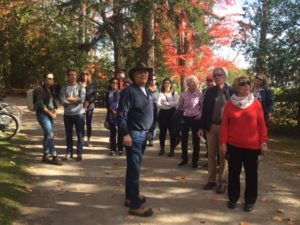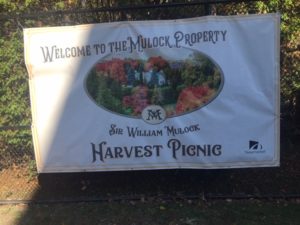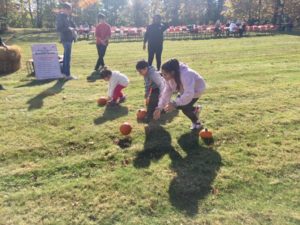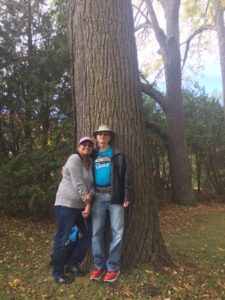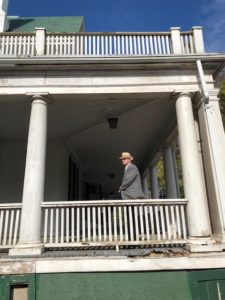 October 17
It was a cold and windy evening, yet filled with wonderful neighbours, many of whom brought a food donation! Thank you!
The Blue Door staff were great and the BBQ food delicious. On Thursday evening we had the opportunity to hear a little of the work done at Blue Door. Their short-term emergency housing supports the needs for individuals and is such a critical service. It's a shame we need them, but we do. To find out more, or to see if you can help out in some way, please visit Blue Door.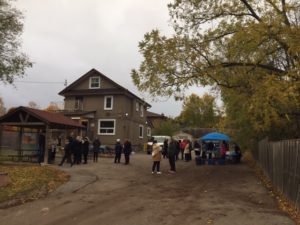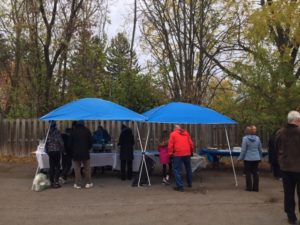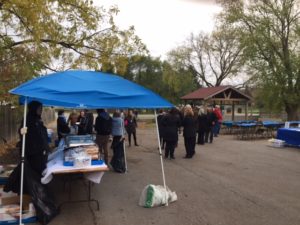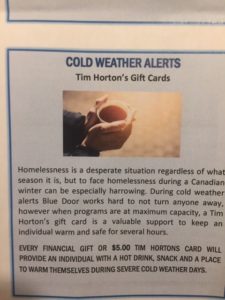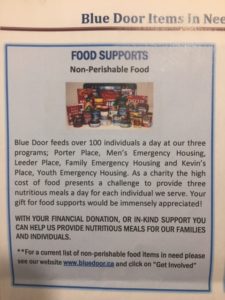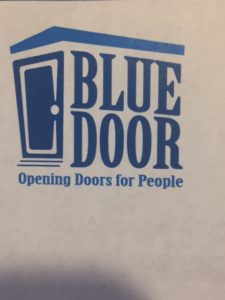 October 16
York Region "Officially" opened 2 new Para Med stations. One is at 135 Aspenwood Drive, in the NorthWest section of Town where the ribbon cutting ceremony took place and the other is on Harry Walker Parkway south in the SouthEast corner of Town. (You may remember me posting about that earlier this past spring.) Minister Elliot, Mayor Taylor and most members of Council were in attendance.
These additional Paramedic stations will provide better area coverage and quicker response times. With our growing population and with our aging population, a faster response means saving lives!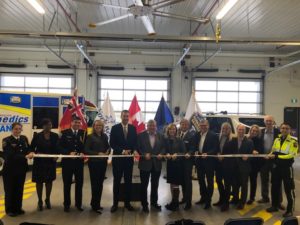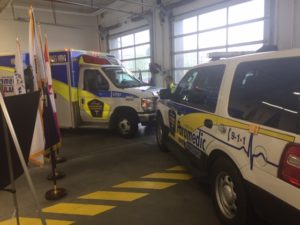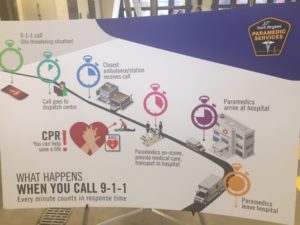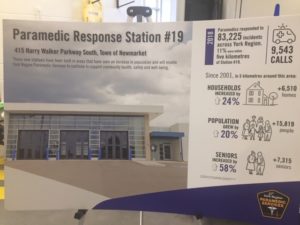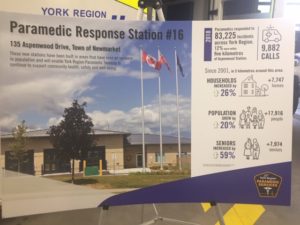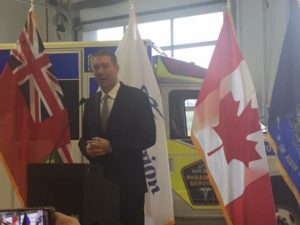 October 16
Hello all my Friends in Newmarket Ward 2!
Tomorrow, October 17th between 4:30 & 6:30, the Blue Door team and I are hosting a Community BBQ at Kevin's Place, 835 Gorham St. You are cordually inviited to stop in for a quick bite and a hello! You can learn a bit more about how Blue Door helps provide safe and supportive emergency housing and/or chat with me about any concerns you might have as a resident.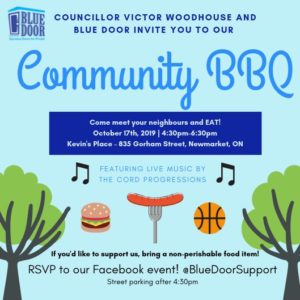 October 13
Few things tug at a parent's heart like being unable to provide for your child. While it may be too easy to judge why that could happen, the fact is that everyone, especially children need to be warm during the cold winter months.
The Lions Club of Newmarket is once again working to acquire and then distribute coats, hats, mitts and snow suits to anyone in need. A HUGE Thank You! to the many the Lions and Lioness of Newmarket for your many hours of volunteer work. This is both needed and appreciated.
To drop off coats, mitts, boots, snowsuits or to pick-up, visit 1271 Gorham St Unit #8, on Saturdays from 10:00 to 1:00 or Wednesdays from 10:00 to 11:30. More info at: http://bit.ly/2MjQ9Vb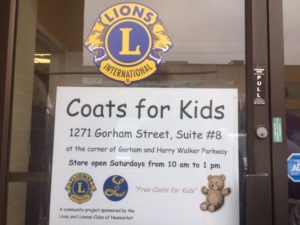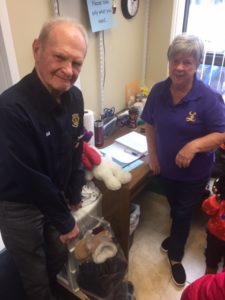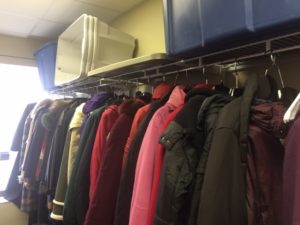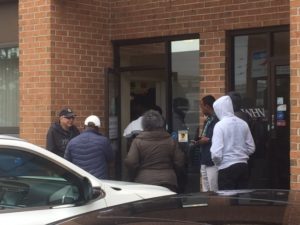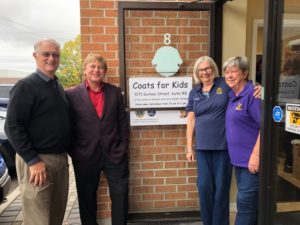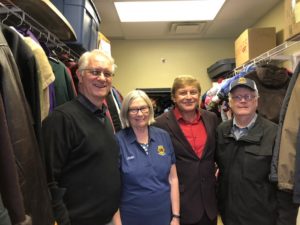 October 10
The Inn From The Cold will open in early November for the winter season. On Wednesday evening, the Inn held an Open House to highlight the services they provide to those that require shelter during our long and sometimes bitterly cold winter months. Tours of the building helped visitors understand the assistance and services offered to guests of the Inn.
It was great to see Tom Taylor there. Tom and I worked together to help get the Inn From The Cold started and running for its first 8 years.
When you crawl into your bed tonight, be thankful. I am grateful that volunteers, donors and staff provide a safe, warm place on a cold winter's night. If you would like to learn more, sponsor a night or volunteer, please get in touch: www.innfromthecold.ca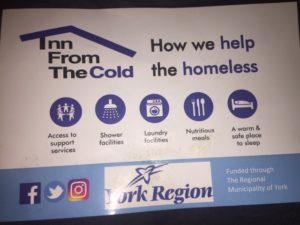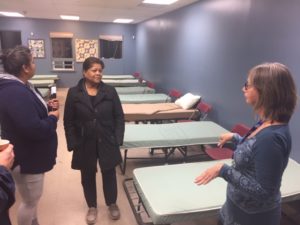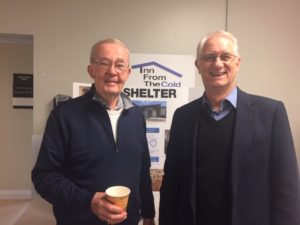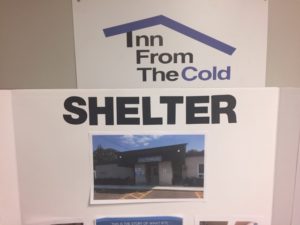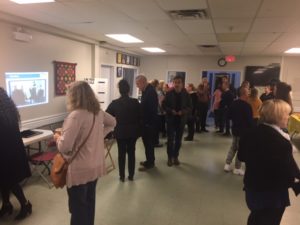 October 9
The 11th Annual Newmarket Art Walk & Studio Tour was an excellent event exhibiting the work of 34 artists at 16 locations in the downtown area over the weekend. The quality, variety and sheer volume of art and art objects was a display usually shown in a much larger venue and city. Well done Newmarket and kudos to the Newmarket Group of Artists! Here is a sampling of work, and you can see much more of their work in paint, glass, photography, ceramics and more of all Members of the NGA here: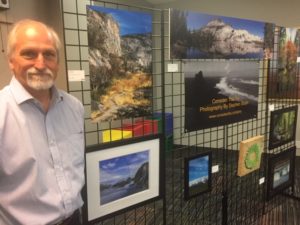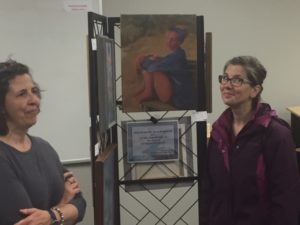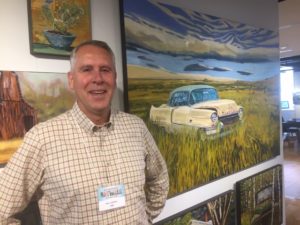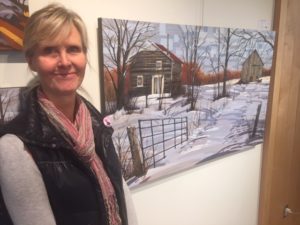 October 3
Hello all my Friends in Newmarket Ward 2!
On October 17th, the Blue Door team and I are hosting a Community BBQ at Kevin's Place, 835 Gorham St. You are cordually inviited to stop in for a quick bite and a hello! You can learn a bit more about how Blue Door helps provide safe and supportive emergency housing and/or chat with me about any concerns you might have as a resident.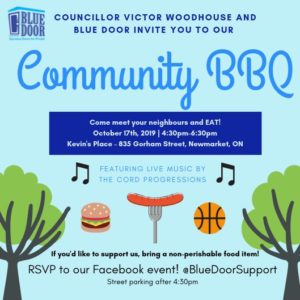 September 30
The Annual Central York Fire Services Open Houses are always fun, well attended and extremely informative. This weekend's event was no exception as there were many firefighters in attendance, lots of food, educational interactive displays and of course Firetrucks on hand for all to enjoy.
At the Gorham Street fire hall, there was also a display honouring the life of firefighter Al Longhurst who passed away from cancer in 2014.
A cheque presentation to Fires Services from Firehall Subs was made and will help to place smoke and CO2 detectors into Newmarket homes.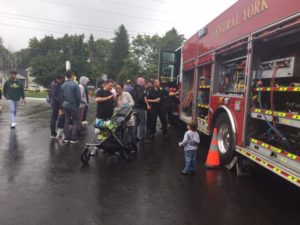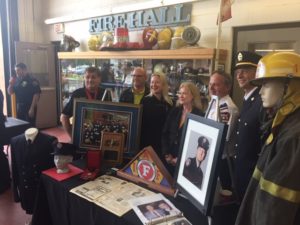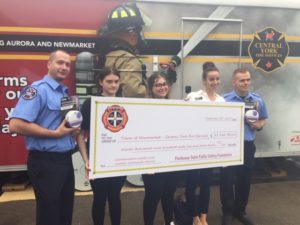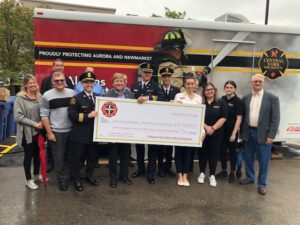 September 27
On Thursday evening, most of our 'Riding' candidates in the October Federal Election were at the Old Town Hall to explain what they and their party might do if elected. Lois Brown was not present and no explanation was provided. Since then I read she had a scheduling conclict.
Most of the positions put forward related to climate change, plus how to deal with and how to assist businesses displaced by the shift to a greener economy.
The Green Party candidate used metre long stick to illustrate where we are and where greenhouse emissions need to be.
Our climate has become one of the most important issues in this election and it's one issue that affects every Canadian!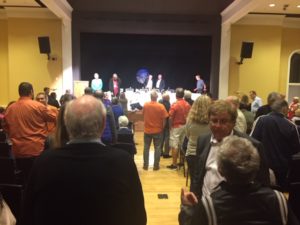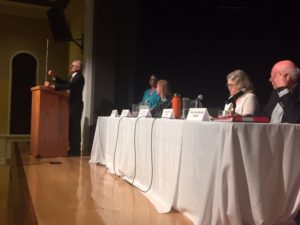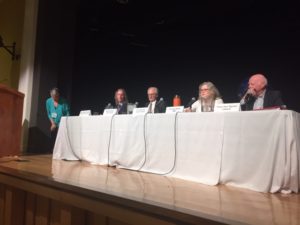 September 13
The Calm before the Storm!
I was at the Hoedown grounds today volunteering at the Student Magna Hoedown. Over 1000 special needs students and assistants will be here soon. Right now it's quiet as the volunteers prepare for the influx of people. Most Hoedown pictures show huge crowds having a great time! Enjoy these calm and quiet shots that you may not usually see! Then the Students arrived! This was the 5th annual student Hoedown and students along with those who came to support them had a fabulously fun time. Many said "we'll be back next year" because they enjoyed themselves so much. The groups playing Friday evening had a full dress rehearsal to the delight of their student audience. Students also enjoyed a bst dressed cowboy and cowgirl contest along with the local music and dancing. Magna continues to support many local charities through this weekend of entertainment.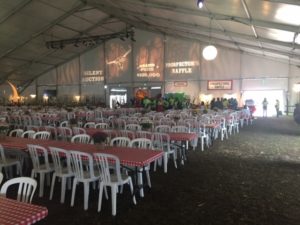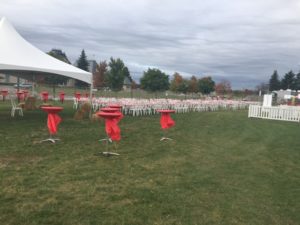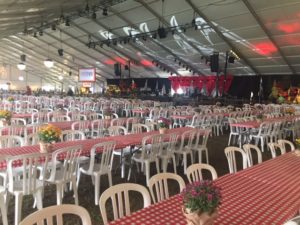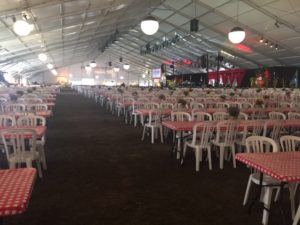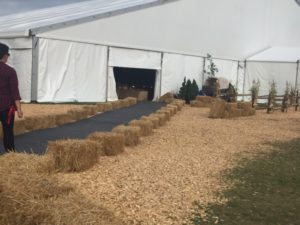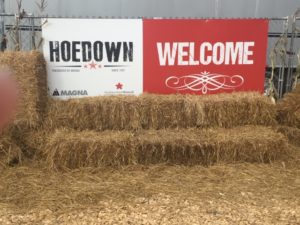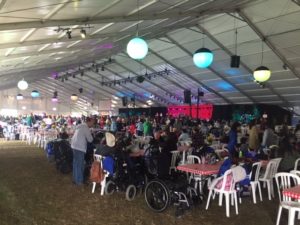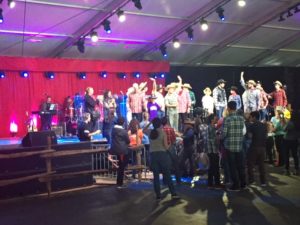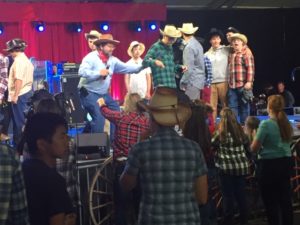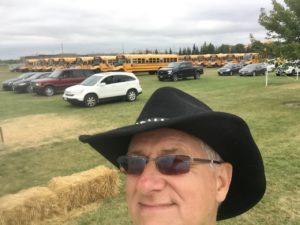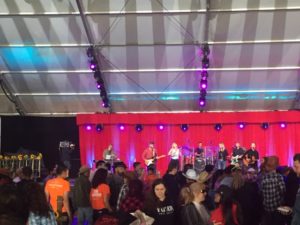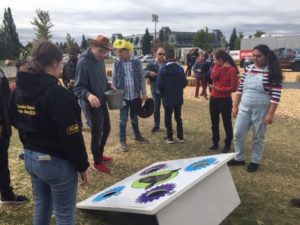 September 10
Sir William Mulock Harvest Picnic!
Bring the Family and join us at the Mulock Farmhouse property on Sunday, Oct 6, from 1 to 4 PM. Pack a picnic lunch basket and bring a blanket for an afternoon of outdoor heritage harvest fun. Explore this wonderful outdoor space and learn about Mulock Farm's heritage past.
As there is no parking on the property, parking will be available at Ray Twinney Recreation Complex, 100 Eagle Street West, with accessible buses shuttling to the Mulock Farm and back. There will be a variety of activities, contests and games for the
hole family. More info to follow soon or visit the Town website: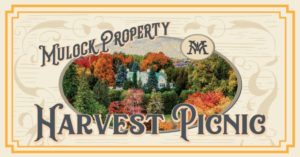 August 15
What a wonderful time we had last night!
Mother Nature cooperated with great weather for Moonlight Movies in the Park while Friends and Residents from Ward 2 enjoyed free Popcorn and Ice Cream!
York Central Fire Services was on hand as were some very friendly Staff from the Town to help movie-goers of all ages appreciate another fun Town event!
Nice to see Tom Vegh, Bob Kwapis and Grace Simon in attendance as well!
Special thanks to my Volunteers Greg and Suzanne Taylor and Congratulations to the Winners of our raffle Gift Card prizes; $100 from Dolphin Pools, $50 from No Frills on Leslie and $50 from Vince's Market in College Manor.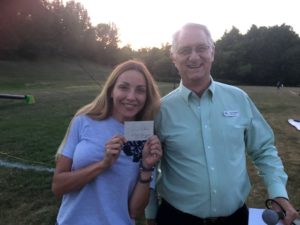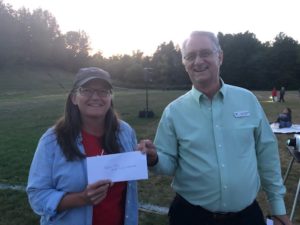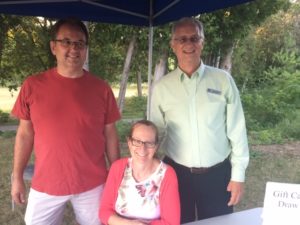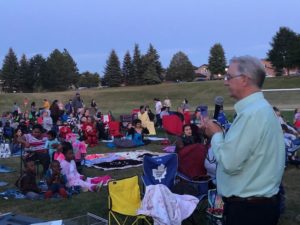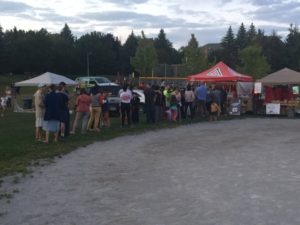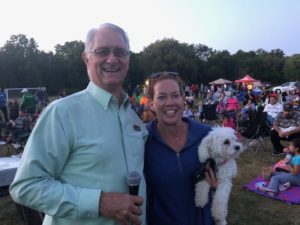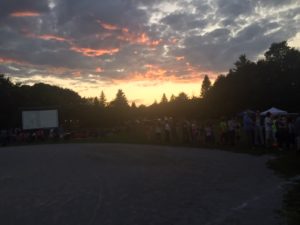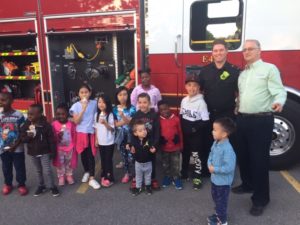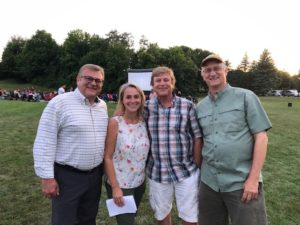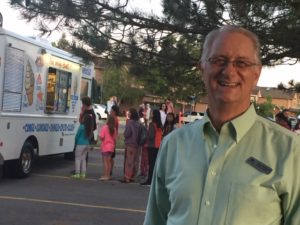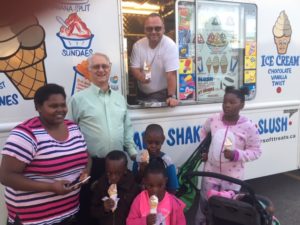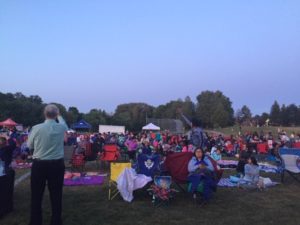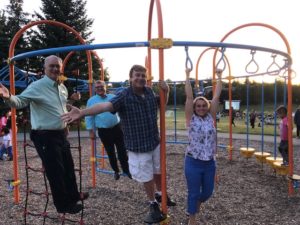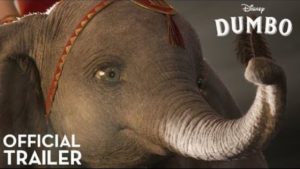 July 25
It's BuskerFest this Saturday, July 27 on Main Street from noon to 10 p.m.
Come early and be prepared to be amazed!! Incredibly talented & unique international street performers will provide a day of entertainment for the whole family! Plus vendors, patios, games, and fun activities for the whole family!
Guests are welcome to bring non-perishable food items to donate to the Newmarket Food Pantry. Newmarket Food Pantry donation bins will be located on site at the Town of Newmarket booth. More info: https://www.newmarket.ca/buskerfest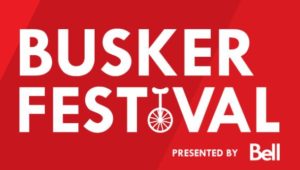 July 8
If you're looking for a way to stay cool in Newmarket this summer, remember the Town offers a variety of swimming pools and splash pads to keep you cool and busy having fun in the sun! Pack some snacks and head on over to any of the Town's great pools and pads! You can find out operating times and more info here: Don't forget the sun screen!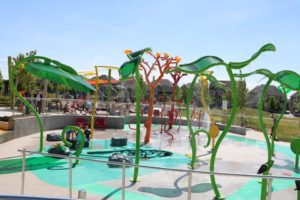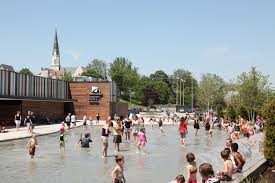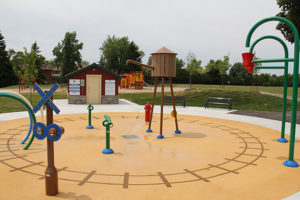 June 27
The snapping turtle mommas are back!
(This is a snippet from an internal Town email from our resident Turtle Momma, Cat Bezubiak) Three turtles have laid eggs at the head of the trail beside the accessible parking space on the west side of Town Offices parking lot. Josh will be putting up a fence of some kind to mark the area. In the meantime please be cautious if you're walking there. The nests are delicate right now. If you spot more turtles laying eggs around the office please let someone at the Town Office know and we'll make sure they are protected. And remember, don't disturb a snapping turtle laying her eggs! Even the little ones can easily take your finger off. The countdown to baby turtles is on! Watch out for them starting in late August.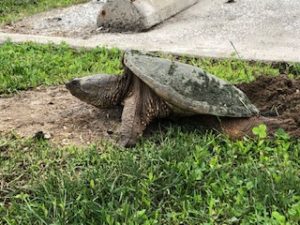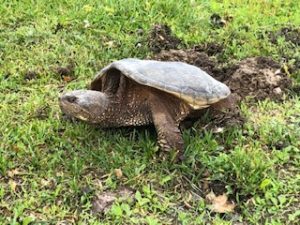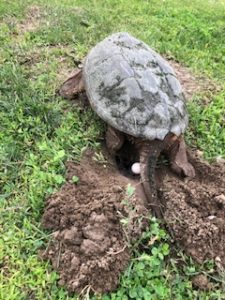 June 25
My insurance business taught me that no one wants to think about death or dying. But when a loved one is in the final stages of life, with a prognosis of 3 months or less to live, life changes for the entire family. Given a choice, and if possible, many would prefer to spend that remaining time at home with family. If that is not a possibility, one option offering "home-like" care  is Margaret Bahen Hospice. The 10 bed residence is located behind Southlake on Queen St and provides private rooms and round the clock nursing at no cost to the resident or their family.
The goal at Margaret Bahen Hospice is to ensure that a person's quality of life is maintained or even improved and is free of pain from an interdisciplinary team. Pippa and Deborah provided a tour and it is unlike any other medical facility I have seen. There are sitting and gathering areas and the home-like feeling is very real. Family can come into the kitchen and always find fresh food and home-baking. Margaret Bahen Hospice is a truly wonderful residence and I am pleased that they are located in Ward 2, Newmarket. For information, please visit: www.myhospice.ca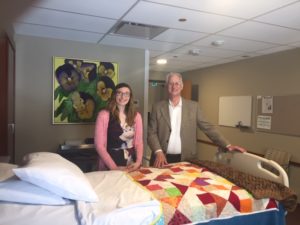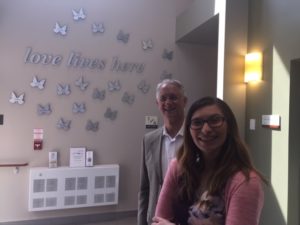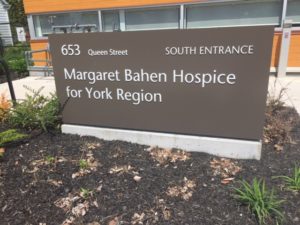 June 6
Today in France, around the world and in Newmarket, people commemorated the 75th anniversary of the WWII landings of the Allied Forces in northern France, D-Day! The Elman Campbell museum held a ribbon cutting to mark the 75th Anniversary of D-DAY today at 2:00pm.
The museum has opened a fascinating detailed display of items related to the ending of World War II. Veterans, Legion members, Council and many residents came to the opening of the display.
May 29
It's turtle nesting season again! Thanks to the Town's own Cat Bezubiak for all this info!
For the next few weeks keep an eye out for turtles of all sizes on the roads and trails near any water source, and especially for big snappers near the parking lot at 395 Mulock and along Cane Parkway and beside Fairy Lake. Snappers are the only turtle that can pose any safety risk. Be very careful of them and never pester them, especially one that's nesting. They could easily take your fingers. All turtle species in Ontario are considered at risk or threatened and could use your help making it safely across roads.
Cat provided a link to a Toronto Zoo video for anyone who wants to know how to safely move a snapper. https://youtu.be/Lgd_B6iKPxU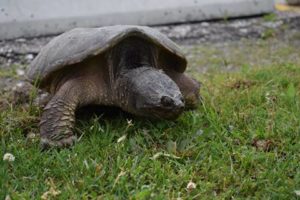 May 27th was Bike to Work Day. The weather cooperated wonderfully for the Bike to Work Day at Riverwalk Commons. Town and other business' employees, business owners, Staff and Council rode their bikes in a symbolic gesture of ways to get around town. Having bike lanes on Srigley, Prospect and Timothy make the ride so much more safe and comfortable. Thanks to Spoke O'Motion and others for their continued sponsorship!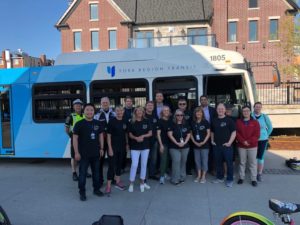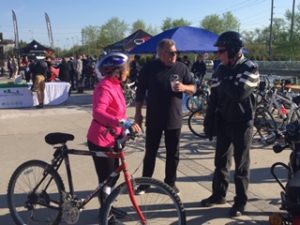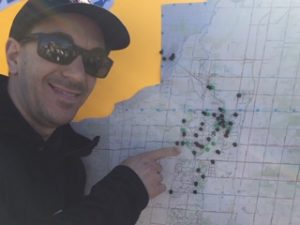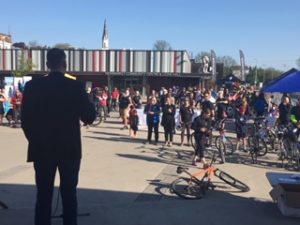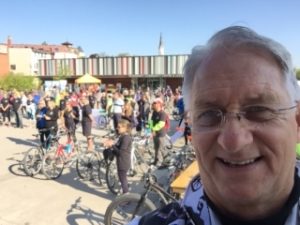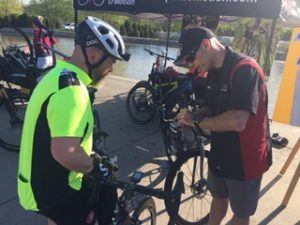 May 8th was McHappy Day and here in Newmarket, it was a real pleasure "working the counter" at the Davis & Leslie St McDonald's! There were lots of Town Staff and Volunteers working to make this another successful day for Ronald McDonald House and our own Southlake Hospital. Many people were stopping in to say hi and show their support. On McHappy Day, at McDonald's everywhere, when you purchase a Big Mac®, Happy Meal® or hot McCafé® beverage, $1 is donated to RMHC & local children's charities across Canada and the US. Here I am enjoying McHappy Day with my wife Becky and granddaughter Larkin!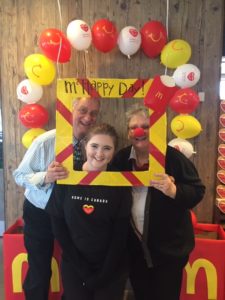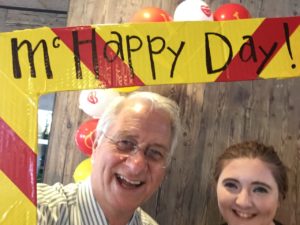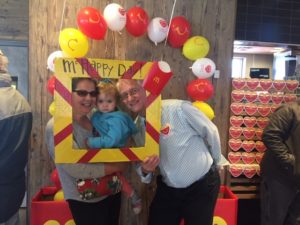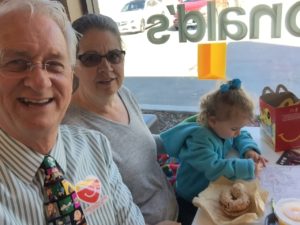 Residents are invited to a developer-led meeting looking for community feedback & input on a re-development proposal of #66 Roxborough Rd. Note that this proposal has not yet been seen or approved by the Town.
If the developer decides to move ahead, there will be a statutory public meeting so the Council and Town staff can hear concerns from residents.
This 1st meeting is Thursday, May 23rd, starting at 7:00 pm at Ray Twinney Complex; Lounge 2. A short presentation explaining the development proposal will be made by the Development Consultant, followed by a question period and open discussion. All input, comments and concerns will be collected and considered as the development proposal advances through the review and approval process in accordance with all statutory requirements under the Planning Act. For additional information please contact: Michael Frieri, michael.frieri@hotmail.com or 416-254-2062
If you have friends living near Southlake, see picture map, please share this information with them.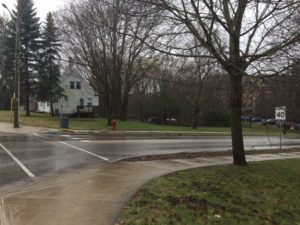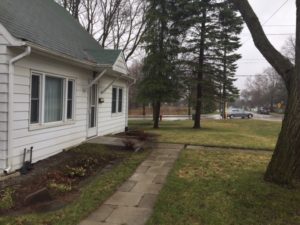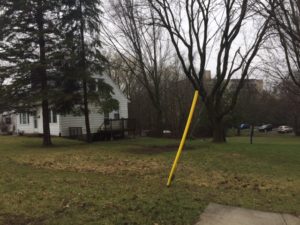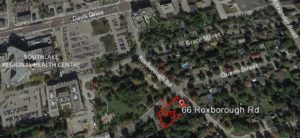 Today was the Newmarket Chamber of Commerce Annual Mayor's Luncheon hosted at Cardinal Golf Club. This was Mayor Taylor's his first formal address to Chamber Members and Guests and he delivered an excellent overview of development, debt, taxes, economic development as well as a discussion of Newmarket's future. The event was sold out and highlights the interests and contributions of many people and organizations.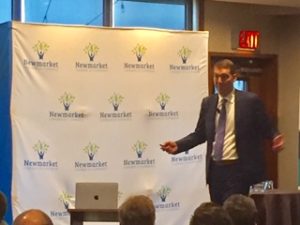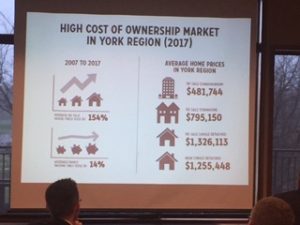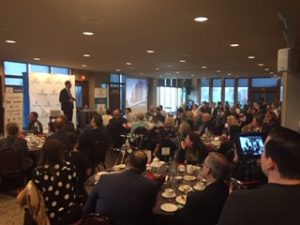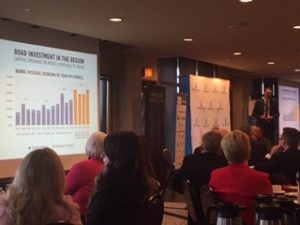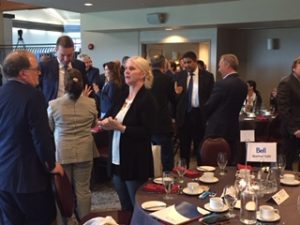 As the Town Councillor for Ward 2, I was fortunate to be invited to Southlake Hospital recently and was given the opportunity to get an inside peek and learn a bit more about this much appreciated resource we enjoy having in Town. Like many of the residents in Newmarket and upper York region, I have been to Southlake for both a planned and unplanned visit for myself or for a loved one and I continue to be amazed at high quality, innovation and passion of their great staff.
Some facts that you may find interesting is that Southlake enjoys the support of over 800 Volunteers who donate over 100,000 hours of their time annually! There are only 426 beds at Southlake, over 32,000 admissions and over 500,000 out-patient visits. Many of us have visited Emergency, in fact there are over 113,000 ER visits every year, that's like a patient visiting ER every 4.5 minutes!
Most interesting is the concept of trying to determine where health care changes will go and still provide outstanding help to those who are in their care.
My favourite stat: 2649 babies were born there last year!
My least favourite stat: our regional population over 65 will double in the next 20 years. I'll be in that stat group and although it concerns me as a resident, I am impressed that Southlake's strategic plan addresses that situation, as well as many others.
Many thanks to Arden Krystal, the CEO and Kim Stephens-Woods, Director of Southlake's Emergency Department for the tour and fascinating information. Read the Southlake strategic plan here.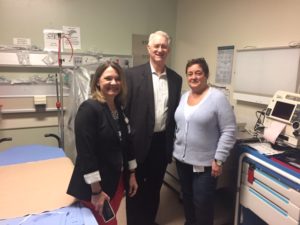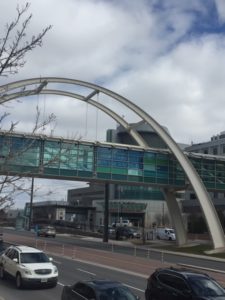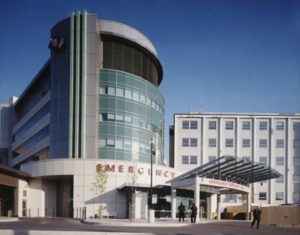 Central York Fire, York Regional Police and Paramedics came together April 6th for the "Be a Hero" event to raise money in support of local children with cancer and Southlake's Pediatric Cancer Care. Fire Chief Ian Laing and others allowed their heads to be shaved in return for donations from friends, family and the crowd of supporters. Everyone rallied together offering $500 to Chief Laing if he would shave off his beloved moustache. He accepted and was left hairless!! Over $80,000 was raised.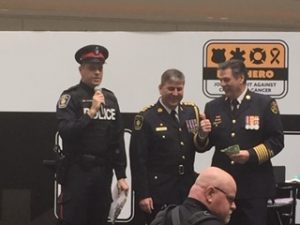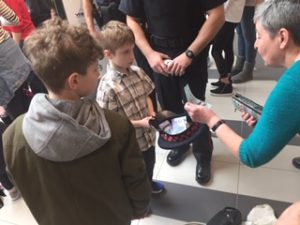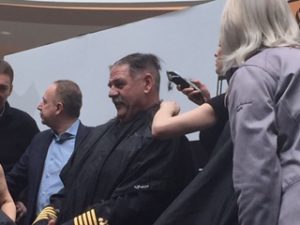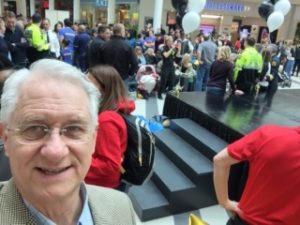 If you like to design and build things and haven't heard about NewMakeit yet, you should pay them a visit! NewMakeit provides an environment and resources for collaboration, learning, creativity, and innovation. Located at 621 Timothy St, they are hosting an Open House on April 7 from 11 am to 3 pm and it's an excellent opportunity to view the space and the work of their 100 members. 70 hobbyists and 30 entrepreneurs use NewMakeit to utilize a complete wood and metal shop as well as their digital workshops. Instructors and insight from other entrepreneurs make the environment ideal for business success. Please share this link with anyone who might want to join or use the facilities to start a project or a business! It's worth a visit! www.newmakeit.com We visited the facility on April 1st and "no fooling", it's worth the visit!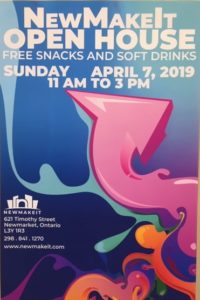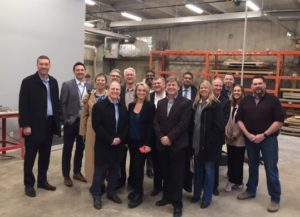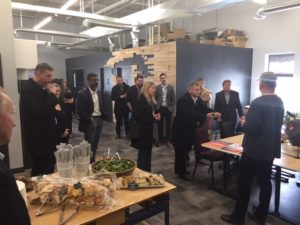 On Saturday, March 30th, Brooklyn of the Newmarket Boys and Girls Club and a few members of Newmarket Town Council are pictured here in the lanes bowling in support of the Boys and Girls Club.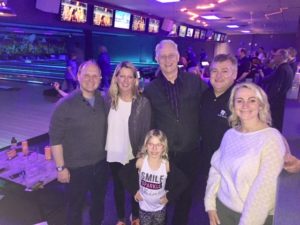 Over the March 29 through 31 weekend, the Newmarket Chamber of Commerce hosted their annual Home Show. It was well attended featuring many varied and wonderful Home Service Providers. Kudos to the Chamber & Staff for another extremely well organized Home Show! Here I am pictured with fellow Chamber Member Arlene from the Downsizing Diva and a couple of Storm Troopers who were visiting from "a Galaxy far, far away" and applying for Chamber membership. I was happy to share the value the Chamber can provide.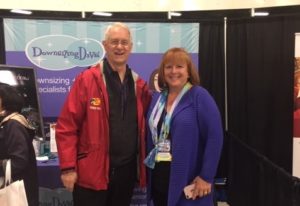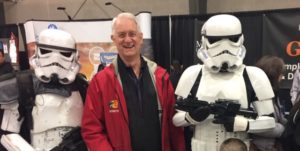 On Wednesday March 27, a longtime friend to Newmarket and an automotive icon, Pfaff Motors on Leslie St, hosted a "Thank You" event to thank the many Coaches and Volunteers of the Newmarket Minor Hockey Association. Newmarket is richer because of the countless hours put in by these great volunteers, allowing kids to play minor hockey and experience the value of relationship building in a team sport. Mayor Taylor brought greetings and thanked them for their significant involvement. Go Redmen!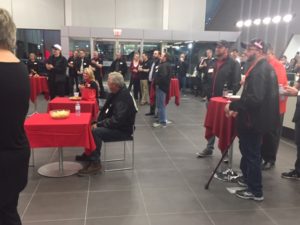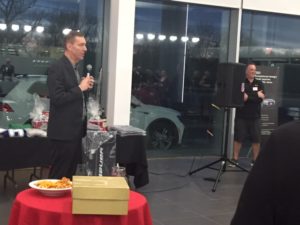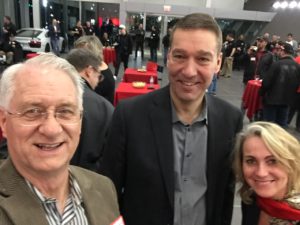 This Sunday afternoon, community and faith groups gathered at the Old Town Hall to support and encourage those of the Muslim faith. In a very moving afternoon, Speakers of many religions reminded us we are all brothers and sisters.
Mayor Taylor emphasized that we don't just tolerate Muslims, we welcome them and love them. It is important for each member of society to overcome evil deeds by supporting and caring for others, including those that worship differently.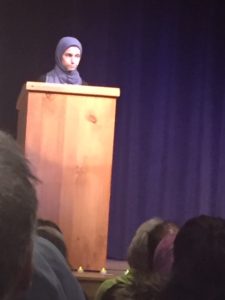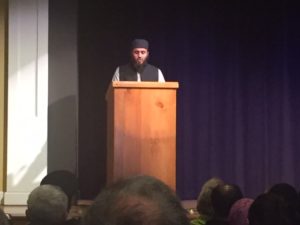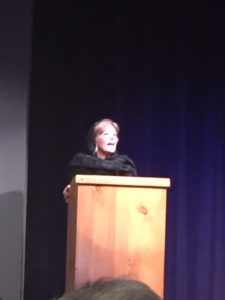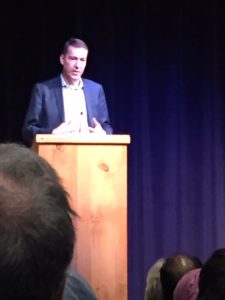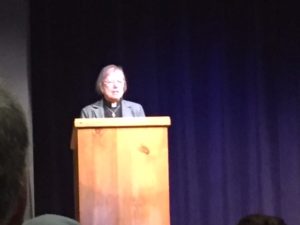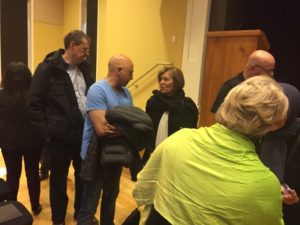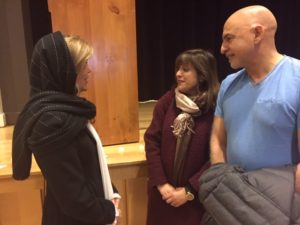 MPP Christine Elliott brought words of encouragement and spoke with attendees following the prayer vigil.
Newmarket Churches held a Prayer Breakfast this morning, March 6, at Cardinal Golf Course. Prayer was given for Diversity, Youth, First Responders, the Marketplace, Pastors and Political leaders. The speaker was local business owner and community leader Diane Mitchell. She shared her story of success and finding God when forced to slow down due to illness. Inspiring and thought provoking, Diane's day includes prayer and meditation.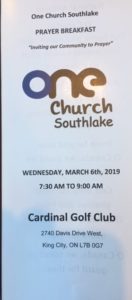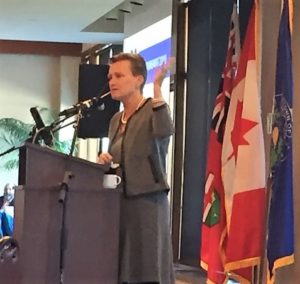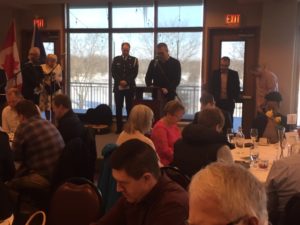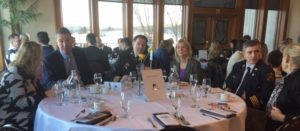 Learn more at the Elman W. Campbell Museum, 134 Main St South, until Feb 28, Tuesday to Saturday, 10 a.m. to noon; 1 to 4 p.m., FREE admission. https://www.newmarket.ca/ThingsToDo/Pages/Heritage-and-History.aspx
On anther note, I am pleased to say that I have been appointed to the Historical Society.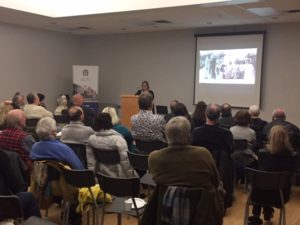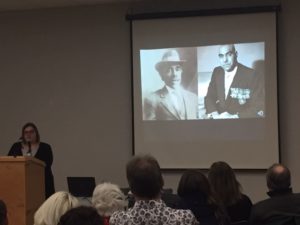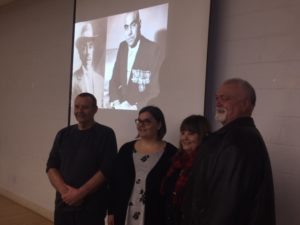 Lots for families enjoyed the Winterfest experience in downtown Newmarket on Saturday, February 16th. A fast toboggan ride, sledge hockey, and curling. Thanks to the Town of Newmarket and the many volunteers who help make fun events like this possible.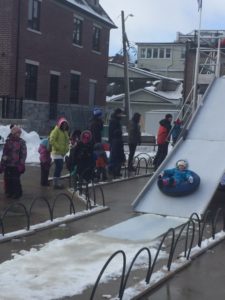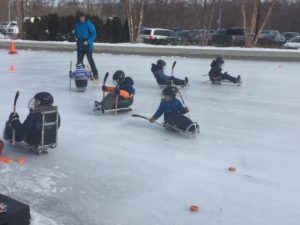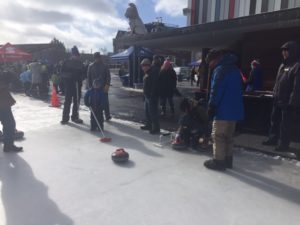 In late 2018, Celestica moved its headquarters to Newmarket. They have hired many new employees and they continue to seek additional staff for a variety of positions. Located at 213 Harry Walker Parkway South, they need skilled workers and offer good wages and many benefits. Check them out.
Celestica, its great to have you here in Newmarket!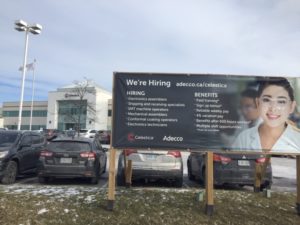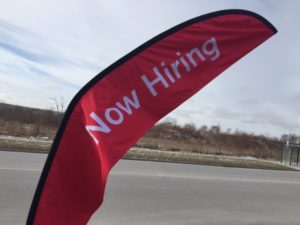 As part of York Region's commitment to provide excellent paramedic response, a new Paramedic Services station has been opened recently. Located on Harry Walker Parkway South, it is close to the 404 and Mulock, offering improved coverage for the east side of both Newmarket and Aurora.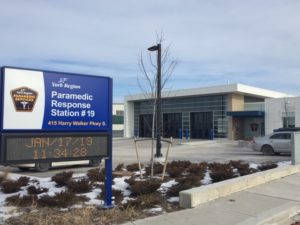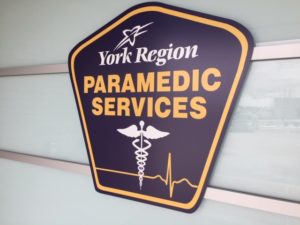 Newmarket Minor Hockey and our great Redmen Volunteers work extremely hard to make the Newmarket Silver Stick Tournament among the very best in all of North America. Thanks for your time, commitment and a first class tournament! Some pictures of Organizers and Council members you might recognize here.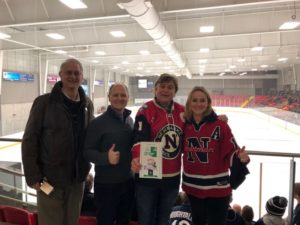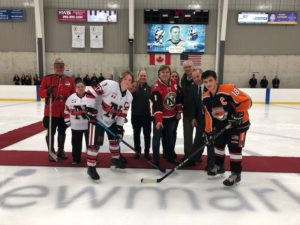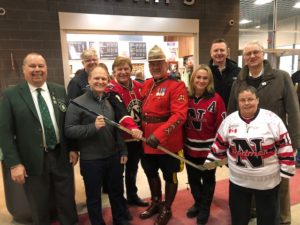 On Friday January 11th, about 250 people braved the very frosty evening weather to enjoy Mayor John Taylor's New Year's Levy. Special versions of beavertails and poutine were available at Riverwalk Commons. The light show, skating and music made braving the frigid night more than worthwhile.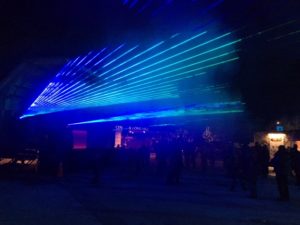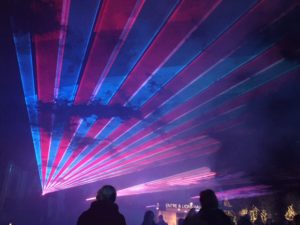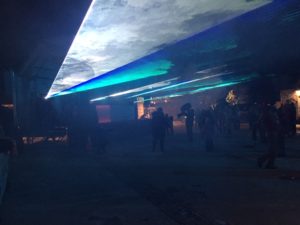 Most of us have driven by, many of us have stopped in at one point…. Today, December 21, 2018, demolition began on the old North York Farmers building located on Leslie Street just south of Davis for the last 40+ years. The property was recently sold and the business relocated to Harry Walker Parkway.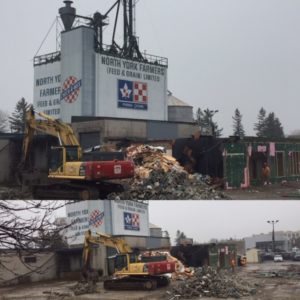 At the Town's annual Christmas Toy Drive, gifts and food are donated by residents and staff to assist the Salvation Army and their work with families in need. The response again this year was great and will be enjoyed by local children and their caregivers. Many Thanks to all who helped! If you are able to help out and haven't yet, please do so. The need before Christmas is always great, but your help anytime is always appreciated!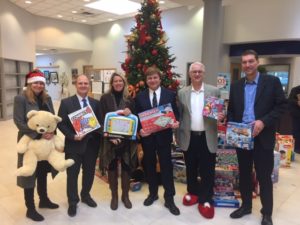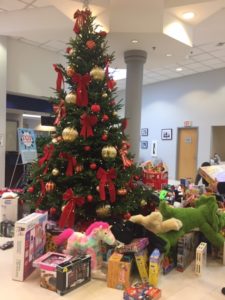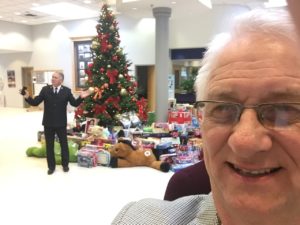 For years now, Town Staff, Newmarket Councillors and the Mayor serve a special turkey Christmas Lunch for our local seniors at the at the Newmarket Seniors Meeting Place. Newmarket seniors have contributed to make Newmarket the great place Town it is and it is an honour to to serve them.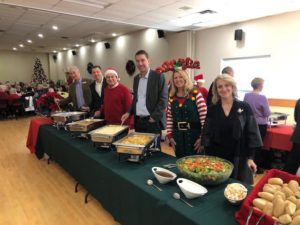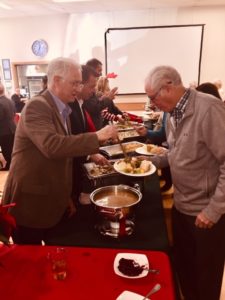 Here are some pictures from the November 30th lighting ceremony at Riverwalk Commons. There were a large number of families as well as youth and groups of friends enjoying the festivities. Skating, a fire show, great music, Tim Hortons train and food were available for all in attendance!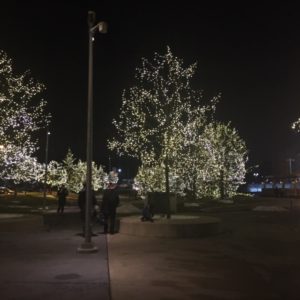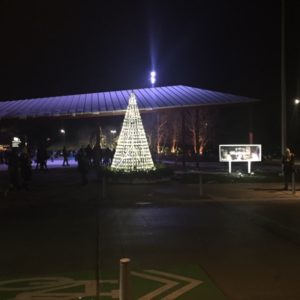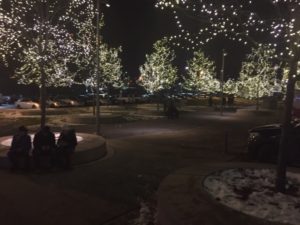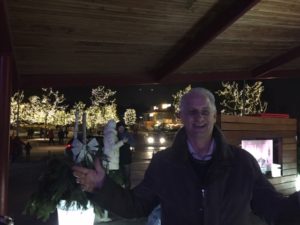 I recently enjoyed meeting the new Mayor and Councillors for the Town of Newmarket and Snap'd was there to take the photo. It's the beginning of a busy Holiday season and an excellent time to think about giving a hand to those who might need it.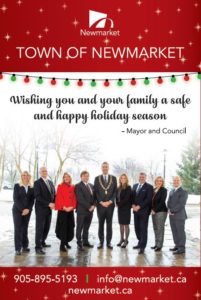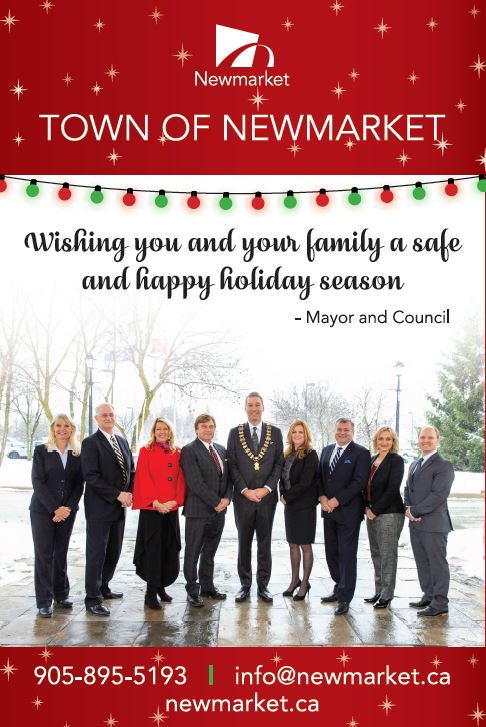 I am both proud and pleased that retiring Ward 2 Councillor Dave Kerwin has endorsed me for Ward 2 Councillor in this election. The days when we knock on doors together in Ward 2 are fun. So many people know Dave and all he has done for the Town!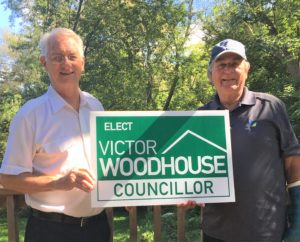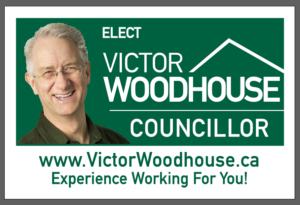 On Saturday Sept 29 the Fire Station in Ward 2 held their annual Open House. Tons of great information to keep your family safe, demonstrations, toy hats and of course, firefighters. I am pleased to have been the Council Liaison that recommended Newmarket and Aurora join to become Central York Fire Services for better service with significant cost savings.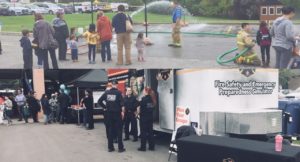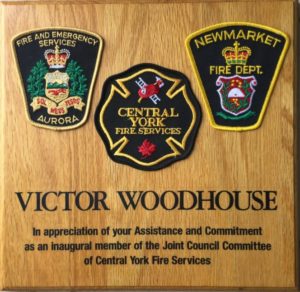 A celebration honouring retiring Councillor Dave Kerwin took place Sept 30. A park bench was unveiled in thanks for his many years of service and commitment to environmental issues. Dave and Erica, extended Kerwin family, as well as Past Mayor Tom Taylor and retiring CAO Bob Shelton were in attendance.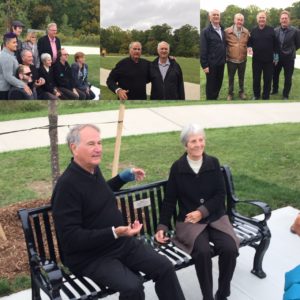 Can't help but reminisce sometimes. . . . When I first came to Newmarket in 1979, Newmarket High was operating at the corner of Pearson and Prospect Streets. My father attended here until moving to Toronto at age 14. The building had character and history! https://en.wikipedia.org/wiki/Newmarket_High_School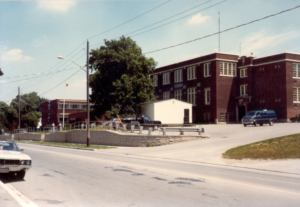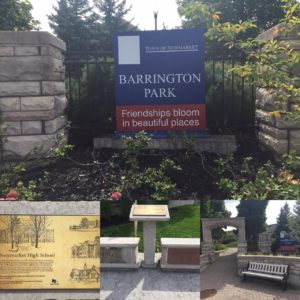 Have you seen. . . . There are new Commercial/Retail Buildings nearing completion just opposite the No Frills plaza on Leslie Street. In addition 15 acres between is slated for development shortly. New employment opportunities are sure to follow!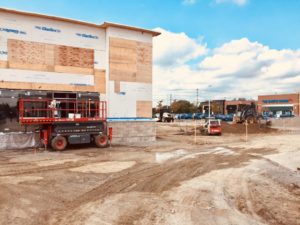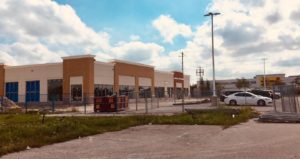 Here are an assortment of photos taken during my travels from living in Town and from events in the community that I have attended previously as a Town Councillor. Enjoy!